HB Reavis UK retrospective
With 2020 now in full swing, we're excited to deliver another batch of success over the months ahead, as we look forward to what will be our biggest year to date but we're still reminiscing about another truly remarkable 2019 for HB Reavis in London, during which we continued to grow our portfolio, projects and team in the capital.
Let's explore some of our highlights from the past year, and what we're looking forward to in 2020.
HubHub launches at 20 Farringdon Street
In February 2019 HubHub, our co-working concept landed in London at 20 Farringdon Street. More than just a space for business, HubHub members from a variety of industries enjoy inspiring and educational events and exciting networking opportunities between the very best potential partners, collaborators, VCs and investors. From a variety of industries, HubHub members can come together under one roof to collaborate and develop
HubHub marked the opening with a 'Tech for Good' themed party which you can read all about here. In true HubHub style, the evening was brimming with innovative tech, robots and VR experiences, inspiring talks from special guests, a Tech for Positive Impact exhibition and tours of our co-working space.
Not only is 20 Farringdon Street a hub for collaboration, the building provides a variety of lease types all under one roof. We have now leased the entirety of our plug and play offering, having secured three back-to-back lettings at 20 Farringdon Street and 33 Central with TMF Group, Savills and ExWorks Capital.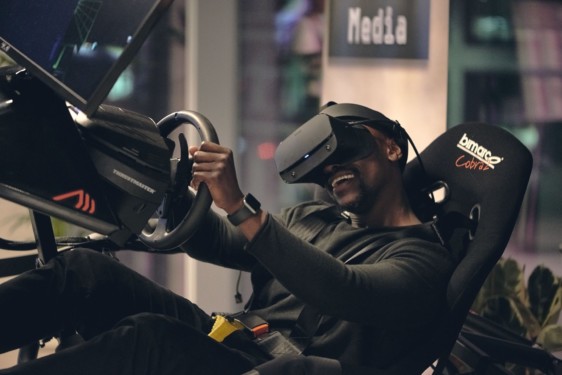 A new home at 33 Central
In April we moved to our new home on the seventh floor of 33 Central, which has helped see our team grow and grow.
33 Central was our debut development project in London, making it a fitting base from which to build on our fantastic growth in the UK market. The space features many of the state-of-the-art facilities and technologies that we continue to provide for our clients. This includes our bespoke Symbiosy service, our tech and sensory platform that provides insights into user experience, space utilisation and environmental factors, with the aim to improve occupier wellness and efficiency. Having smart workspace solutions in our own UK headquarters at 33 Central allows us to test and monitor enabling the data to inform our future workspace design and function.
Bisnow – London's Creative Office Bash
In the same month, our UK CEO Steven Skinner gave the opening remarks at Bisnow's London's Creative Office Bash conference, which was hosted within our plug & play space at 33 Central. Steven sparked discussion and challenged ourselves and the industry by discussing how we can be creating workspaces that truly meet occupier needs.
Double celebrations at Elizabeth House
It was cause for double celebrations at the end of July as we launched the second phase of the 'Past, Present and Future Waterloo' exhibition, a collaboration between Morley College and HB Reavis at Elizabeth House. It was also in July where we marked the relocation of the Waterloo Job Shop to Elizabeth House and welcomed new retailers; With Love, Eyedetic and Graffiti Shack.
Talks inspired by HB Reavis
In October we hosted the latest edition of our 'Talks inspired by HB Reavis' event. Hosted by BBC Science and Technology presenter, Dallas Campbell, the packed event saw industry thought leaders give fascinating and thought-provoking talks related to smart building technology, workspace lifestyles and more. See the highlights here.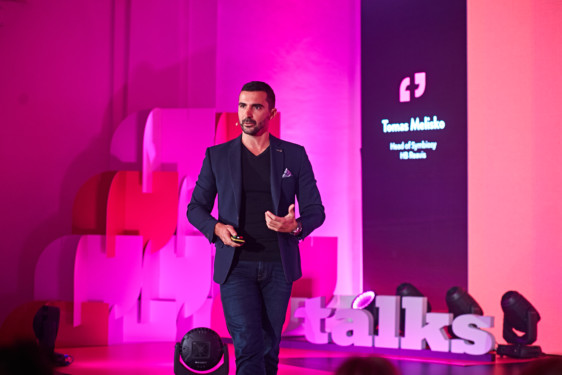 Our plans for the redevelopment of Elizabeth House, Waterloo
In case you missed it, on 15th October 2019 we were delighted to announce that Lambeth Council's Planning Applications Committee unanimously voted in favour of our proposals to redevelop Elizabeth House in Waterloo. Designed by Stirling Prize-winning architects AHMM, the plans will create over one million sq ft of workspace, new retail and transformed public realm next to Waterloo Station, supporting up to 11,000 jobs.
You can read more about it here.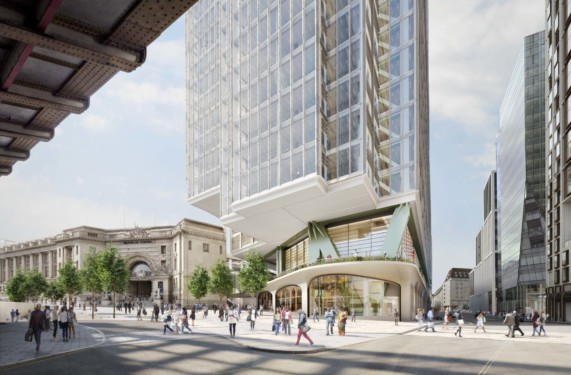 Bloom Clerkenwell hits the top
2019 saw us start construction of our latest project Bloom Clerkenwell growing in the heart of London's thriving design district and by Tuesday 15th October we celebrated it's topping out, with the completion of the building set for Spring 2021. Bloom focuses on its future occupiers' health, wellbeing and connectivity. Testament to the work of our in-house design and construction teams and John Robertson Architects, we are working to reach a WELL Certified Platinum rating – the world's leading framework for assessing how buildings can improve occupier health, as well as BREEAM Outstanding and WiredScore Platinum ratings.
Be sure to follow the updates on the Bloom Clerkenwell Instagram @bloomclerkenwell.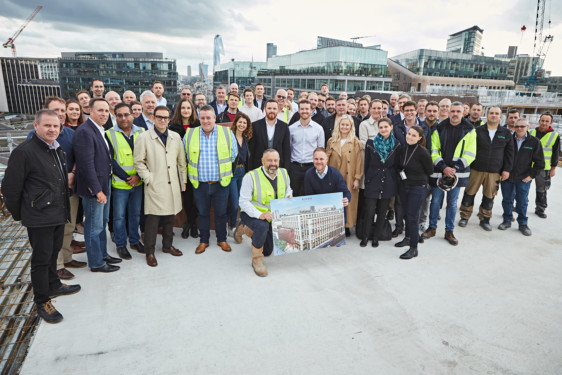 Venture into Proptech
The HB Reavis calendar was bursting with events throughout 2019 and finishing the year on a high was 'Venture into Proptech' at HubHub, 20 Farringdon Street. The digital competition sought best-in-class technologies that could be deployed across our projects. We attracted 100 high-quality applicants from around the world, from North America to South East Asia. The 10 finalists were selected by 24 independent reviewers from senior executives to department heads at HB Reavis.
The first prize was awarded by the crowd who selected the best pitch of the night: Nucon. The company won over the hearts of the audience and was also selected unanimously by the judges as the overall winner of the night. We look forward to working with you Nucon!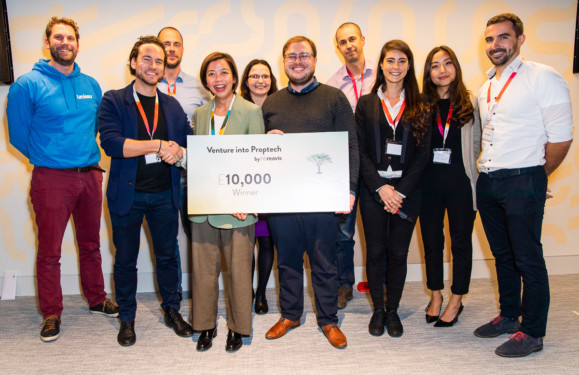 In conversation with Steven Skinner and Property Week
Our UK CEO Steven Skinner was the Property Week cover star for December as he gave his first interview to Property Week since being appointed to the role in August 2018. Steven spoke about the power of the integrated approach we take to creating new workspaces, and how "we're trying to change that relationship [with occupiers] …through genuine collaboration and that involves breaking down a lot of barriers, inhibitions and mindsets." Quite fittingly held the interview in the secret garden on top of our 33 Central development.
And the nominees are….
During the course of 2019, we are pleased to have been recognised along with some of the biggest names in the UK property market by being Shortlisted in the following awards categories:
Estates Gazette 'Offices Company of the Year'
Property Week 'Property Company of the Year'
Property Week 'Entrepreneur of the Year'
Office Agents Society 'Fund / Developer of the Year'
Office Agents Society 'New-build (City)' award for 20 Farringdon Street
Our UK workspace proudly won:
International Property Awards 2019/2020 – Award Winner Office Interior London
Novum Design Awards 2019 – Golden Award
A'Design Awards 2019 – Interior Space – Silver Award
Shortlisted for:
Mixology Awards 2019 – Finalist
FX Awards 2019 – Finalist
DNA Paris Design Awards 2019 – Honorable Mention
The Twenties is the big one…
2020 is set to be an even bigger year for HB Reavis in the UK as we continue to focus on sustainability, productivity and have people at the heart of what we do.  It will see us head towards delivery of Bloom Clerkenwell, progress with the next phase of works at Elizabeth House, Waterloo, focus on creation of our workspace services and more – so keep your eyes peeled!
You can follow us on Instagram @HBReavis and Twitter @HBReavisUK to keep updated with our projects, insights and all the events we'll be attending and hosting in the new year!
From our team to yours, here's to a successful year ahead!