Office wellbeing for the future of work
When we spend 90% of our time indoors, it's natural that the office environment can affect how we experience the working day. A smartly designed workspace focused on people's health and wellbeing can unlock greater productivity.

We explored this concept with BBC StoryWorks and have put together a series of resources for you to start your own office wellbeing journey.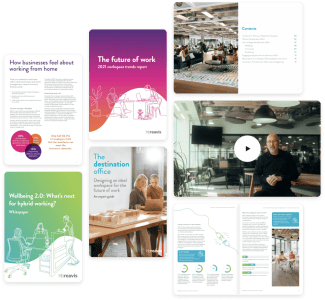 From the destination office to the future of wellbeing: it's all here
Get unlimited access to informative articles, infographics, reports, and guides. Look through our award-winning Future of Work report, check out practical advice on enhancing employee wellbeing and productivity, and learn how to navigate the issues created by hybrid working.
See available resources
Discover the four elements of office wellbeing
Redefining 'feeling well' with smart tech and design
Wellness
Healthy bodies, minds, and relationships
Engagement relies on an enriching space that can boost wellbeing in every way. Provide relaxing surroundings to help people unplug, active design to stretch their legs, and social spaces to bring them together. Supercharge productivity with optimised temperature, lighting, and air quality, powered by smart office tech.
Efficiency
Workplaces where things happen
The office isn't just a place to go – it's a part of the daily routine. From tailored office design to support multiple working styles to services and facilities to help people get more out of their day, transform your workspace into a destination.
Inspiration
Creativity starts here
Creativity flows in a relaxing, supportive and collaborative environment. Design an environment that inspires big ideas. With green terraces, patios or even a roof, employees can blow off steam after a big meeting and get back to a happy headspace.
Responsibility
Working towards a better future
Becoming a responsible business can seem an overwhelming yet necessary task. Motivate your teams to bring them on the journey and collaborate for a better future. From optimised recycling to cycling facilities, make responsibility a core pillar of your office space and community.