London Real Estate Forum: Louise Ioannou talks future-proofing our workspaces and bringing together communities
This week, HB Reavis attended the London Real Estate Forum, an annual thought-leadership conference that brings together key decision-makers from across the built environment. The theme for this year's programme was Resilient Cities. It was the perfect opportunity for our leasing manager, Louise Ioannou, to speak on the Future Workplaces panel to an auditorium full of people on the Barbican's beautiful Hall Stage.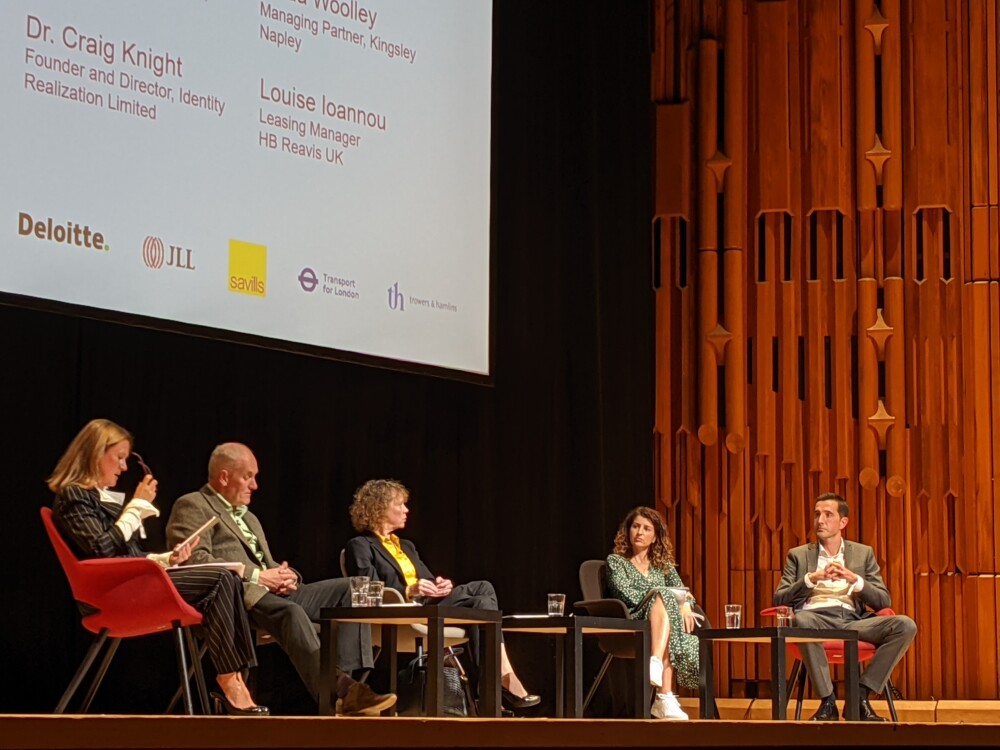 Katrina Kostic Samen, Head of Workplace Strategy and Design at KKS Savills chaired the panel and set the scene by exploring some of the themes that have emerged over the past 20 months, such as the shift in onus from the employer to the employee and how design can enrich wellbeing. The panel set out to provide a holistic view of the future of workspaces and the speakers' expertise spanned a broad range, from the science and psychology behind employee productivity and wellbeing, to current occupier priorities and how developers are anticipating and delivering for those needs.
An immediate topic which came to the forefront of the discussion was the importance of personal choice, autonomy and trust when it comes to facilitating new hybrid working patterns. Having overseen Kingsley Napley's move away from cellular working to activity-based and open-plan working, Linda Woolley, Managing Partner, touched on the lessons the law firm had learned about respecting individuals' unique working styles, without ever implementing hard and fast rules for how staff should use the building. This was echoed in Psychologist, Dr. Craig Knight's research: people are at their most productive and happy when they are trusted and allowed to make their own choices, wherever they work.
Louise acknowledged and built upon the importance of autonomy in the workplace, explaining that flexibility has always been at the heart of HB Reavis' development strategy – long before the pandemic altered how most of us work. She noted "it's not just how the building is designed but how employees engage with it through their working day." The creation of inviting and adaptable breakout spaces and lush green terraces must be paired with the use of data and understanding how people really use and interact with these spaces.
Louise explained how HB Reavis' smart workspace tech underpins all areas of its development strategy, which has long centred around flexibility, wellbeing and sustainability, themes which have been crystallised by the pandemic. The smart tech allows users to locate colleagues in the building, book meeting rooms and fitness classes at the touch of a button, while also providing the occupier with insights around how users interact with their workspace day-to-day, allowing them to customise the indoor environment for optimum health and comfort. On a similar note, Landsec's Head of Occupier Markets, Matthew Flood, spoke about the collective opportunities for the office sector to respond to the disruption caused by the pandemic, for example by enabling physical flexibility for occupiers to allow businesses to adapt their spaces as their company culture changes to support business growth.
Responding to an audience question on whether occupiers will still be looking to lease large offices, Louise noted that for HB Reavis, it's more a question of quality and the value the space brings to an occupier, rather than volume of space: "it's about understanding the fabric of the whole space and how it stitches together." At One Waterloo, for example, it's about connecting the retail ecosystem with the leisure, the local business community and the wider South Bank neighbourhood, making sure they complement each other in the right way to make it a truly motivating place to be. Examining the bigger picture, Louise acknowledged that the industry as a whole must "up our game" when it comes to strengthening and evolving the landlord-occupier relationship and reaching net zero. She pointed out that "developers play a critical role in helping occupiers achieve their own ESG goals." Drawing on the example of Bloom Clerkenwell to illustrate this point, Louise noted that the building was designed pre-pandemic but is "every inch what we should look to deliver in a post-pandemic world." It is set to achieve the highest certification across wellbeing (WELL Platinum), sustainability (BREEAM Outstanding) and connectivity (WiredScore Platinum), as well as targeting net zero carbon in operation with an EPC A rating and having an 11% terrace to office ratio, one of the highest in London.