Looking up, and forward, to Forest and its energy-efficient skin
Our second-largest Polish development, Forest, is starting to really come together. The six and nine storey, campus-style building has been topped out. The tower's now over 10 floors. And we can't wait to start fitting the environmentally friendly skin.
That skin is made from high performance solar control glass. This means the windows will guarantee wonderful clear views – and perfect indoor thermal temperatures, thanks to a special silver coating that blocks the majority of the sun's heat. Put together, it means the buildings will need less air conditioning, heating and artificial light.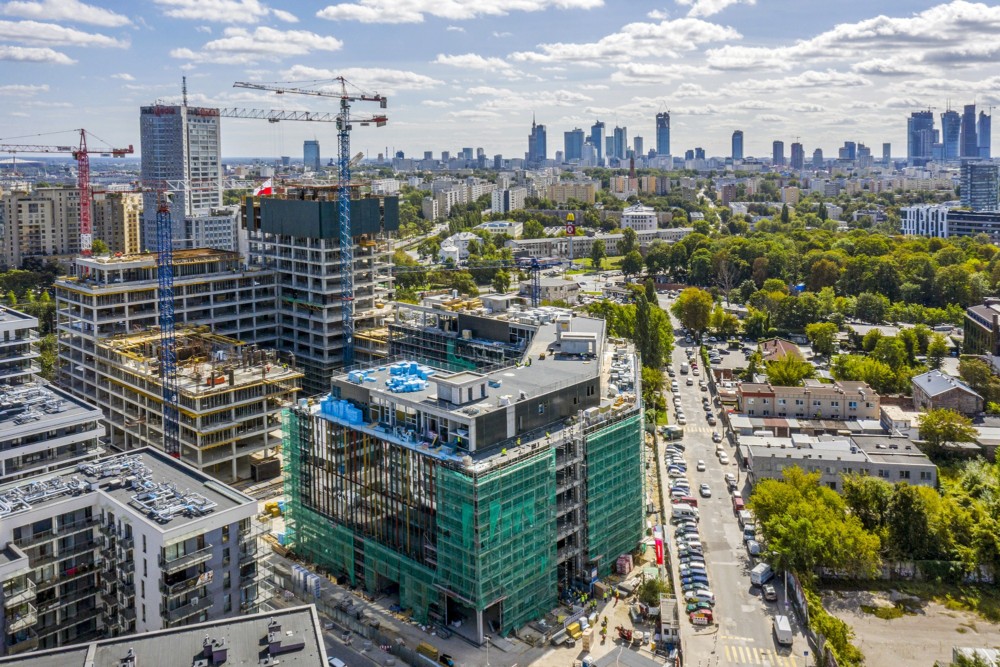 Forest will have a lot of space: 78,000 sqm of workspace (including the city's largest floorplate, at 8,000 sq m), along with ground floor retail and restaurant opportunities, and a public courtyard with around 400 trees and shrubs.
Aimed at corporate, creative and entrepreneurial workers; it's tailored for health and productivity – with roofs featuring a community farm, relaxation zones and views of the lush greenery, with the added convenience of the nearby Westfield Arkadia shopping centre. And with sustainable innovations like the re-use of rainwater, Forest now has green BREEAM and BREEAM Communities certifications to go with its wellbeing centric WELL precertification.
Work continues on track: it takes just one week to build a new floor of the 120-metre tall tower. The entire project should be ready to move into around the end of 2021.