Culture Works: A partnership with the iconic Southbank Centre supporting businesses through access to art and culture
On 31 March we celebrated the launch of Culture Works – in partnership with the Southbank Centre, the largest multi-arts centre in the UK, by hosting a drinks reception in the Royal Festival Hall. With the stunning backdrop of the River Thames, London Eye and Houses of Parliament, the event was the perfect opportunity to champion a unique partnership between two organisations from different industries but connected by a shared ethos: a desire to celebrate collaboration and community.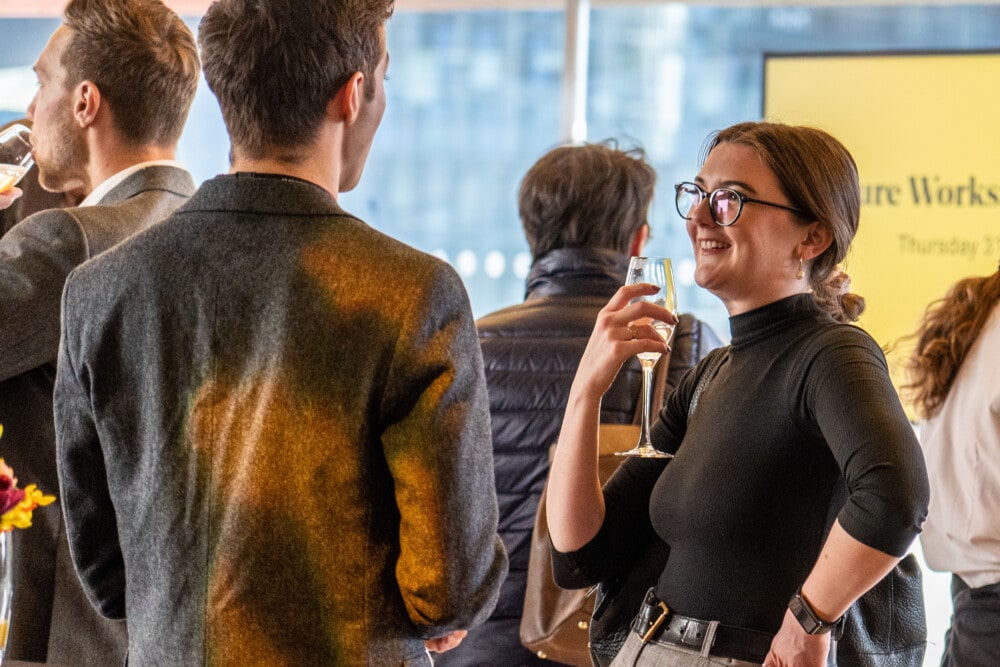 Culture Works is free and open to all small and emerging businesses in and outside Lambeth, providing them with opportunities to gain valuable commercial insights and connections through the lens of the arts. The programme will offer a series of curated in-person and virtual events that encourage cross-sector learning and invaluable networking opportunities, which will help support and inspire a new generation of creatively-minded business leaders.
The redevelopment of Elizabeth House is one of the most significant new projects coming forward in the capital and will define Waterloo and the South Bank. Next to Waterloo Station, it is the missing link to enhance this area as a thriving business and culture destination. More than a single building, One Waterloo will create meaningful spaces of benefit to the entire community – – through its three acres of gardens, terraces, public squares
With our target to start on site at the end of this year, it is extremely important to us at HB Reavis that we cultivate long-lasting and positive relationships with the local community in Waterloo. Since we purchased the site in 2017, we have engaged with the community through initiatives such as:
Acting as a long-standing partner of St. John's Church supporting the programme and events of the annual Waterloo Festival
Supporting Morley College students by providing space to showcase their artwork
Offering free parking spaces throughout the pandemic to NHS workers
This partnership with the Southbank Centre signifies the start of an exciting new chapter. We were thrilled to see so many of those who have been involved in our story at the launch event, from members of St John's Church, South Bank Employers Group as well as businesses who have already signed up to Culture Works.
In her speech, Louise Ioannou, Leasing Manager for One Waterloo said

"As the corporate world navigates new workstyles, we are still learning the full impact of hybrid working and its potential impact on our ability to connect, emphasise and build relationships within our organisations. So, as businesses, we can look to cultural organisations, like the Southbank Centre, for inspiration in the ways we connect with one another as we emerge into the future of work.
"The scale of the workspace we're creating at One Waterloo will provide home to 11,000 jobs giving us the platform to support a diverse and flexible ecosystem of occupiers. Through the Culture Works scheme, we'll be able to support the community, nurture talent and eventually like to welcome small businesses to One Waterloo, be it through our future flexible workspace, our events programme or our new public spaces.

"We are immensely proud of this partnership and feel that it not only reflects HB Reavis' ambition to welcome and nurture new, diverse talent, but also our dedication to shaping Waterloo as a beacon of cultural and commercial significance in London.
"We can't wait to share further news on our HB Reavis and Southbank Centre journey and look forward to welcoming more emerging businesses into our Culture Works network."
Find out more about the Culture Works programme and – if you're a London-based small or mid-size enterprise – make sure you sign up here.
---
Newsletter Form
"*" indicates required fields