Eurydice poem unveiling – a piece of Waterloo history finds a new home
Those who have walked through the underpass that once led from Victory Arch at Waterloo Station to the BFI IMAX would have made their way past the poetry mural 'Eurydice' by award-winning poet and art critic, Sue Hubbard. The widely recognised piece of public art, written in a series of three stepped stanzas and designed to foster a sense of safety for the Waterloo community, was first installed in the early 2000s. Sue, the Poetry Society's only Resident Poet to date, has recalled stories from marriage proposals in front of the mural to parents using it as a source of hope when taking their children to appointments at St Thomas' Hospital. The original installation had to be moved due to local infrastructure improvement works and, as a daily feature of Waterloo life for locals and visitors alike, it was vital that we worked to secure its relocation so it could continue to be enjoyed by the community.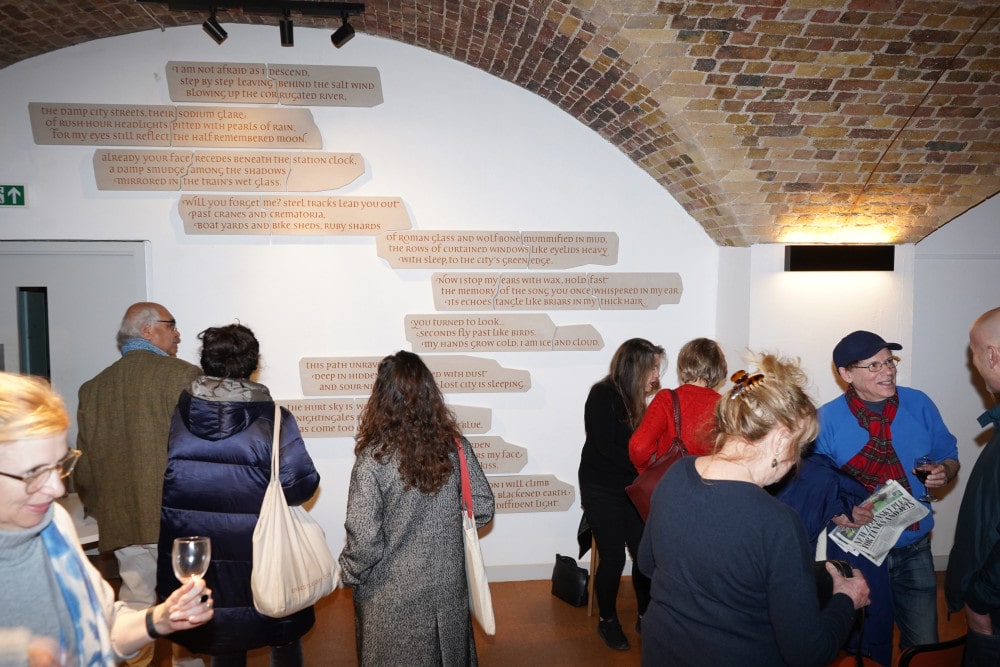 ---
With an appreciation for the power of culture and the arts to bring people together, we have worked closely with Sue Hubbard and Canon Giles Goddard, the vicar of the nearby church St John's Waterloo, to move the celebrated artwork to its crypt. In a peaceful and reflective space, the poem is on display a stone's throw away from its original home, allowing visitors to enjoy the artwork for generations to come.
The mural has been beautifully reimagined and hand-crafted in Purbeck stone for its new home. It took over two months of meticulous hand-carving by designer and sculptor Gary Breeze, the sculptor behind the Diana, Princess of Wales memorial at Althorp. The public launch of the new artwork was celebrated with a recital of a selection of Sue's poetry on 9 February 2023. Bringing together overfifty local people and art enthusiasts, the event demonstrated the degree to which culture can be used to involve communities in decision-making – something that will continue to shape our wider community engagement work, which includes Postcards from Waterloo, the community initiative to unearth and celebrate memories of the local area.
St John's Waterloo is open for the public to gain access to 'Eurydice' during the following times: Mondays to Fridays, 9am to 5pm; Saturdays, 9am to 11am. The poem can be viewed at other times by appointment. You can contact St John's Waterloo at https://stjohnswaterloo.org/.