Send us your Postcards from Waterloo!
Join us in celebrating London's Waterloo for the chance to receive a hand-crafted piece of art, inspired by your own stories
This autumn, we're unearthing special memories of London Waterloo and the area.
Whether you've grown up in Lambeth, spent weekends with family exploring the Southbank Centre or met the love of your life by the river, we want to hear from you.
For the chance to receive a portrait or illustration, produced by the skilled art students of Morley College London, all you have to do is share your favourite memory of Waterloo and the South Bank.
Artwork inspired by local stories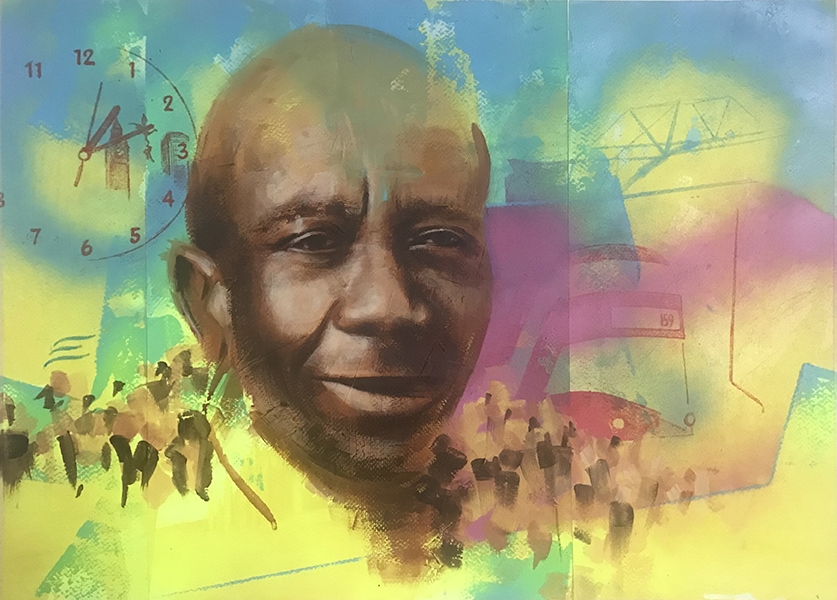 Cyril Johnson has worked in Waterloo for over 20 years, and in that time has watched the area transform.
Inspired by his journey to work, the Leake Street Arches and the international crowds he has watched pass through Waterloo Station, Cyril's portrait reflects the passing of time, and his memories of the area.
How can you get involved?
We'll select a number of memories that will be used to inspire a series of artworks. Together, they'll shine a spotlight on Waterloo, past and present.
If your memory is selected, we'll introduce you to a student from Morley College London. You'll work together as they transform your story into a memorable piece of art.
Everything will culminate in a celebratory exhibition of the area, with all artworks displayed at Morley College London in summer 2023.
Following the exhibition, you'll be able to keep the piece inspired by your memory as a keepsake to treasure forever. The artworks will live on when they are reprinted on the hoarding that will soon surround Elizabeth House, where One Waterloo will be delivered in the next few years.
So what are you waiting for? Submit your Postcards from Waterloo below.*
Postcards from Waterloo
Share your contact details alongside your memory so we can get in touch if your memory is chosen.
*Terms and conditions apply. Read here.
Don't forget!
The competition will close at 5pm on Thursday 1 December.
We will inform successful entrants before Christmas 2022, so keep an eye on your emails. Know someone who prefers to put pen to paper? Memories can also be submitted via postboxes located in Coin Street Neighbourhood Centre and St John's Church, Waterloo.
For any questions related to your entry, drop us a message to onewaterloo@hbreavis.com
Get involved in the campaign on social media, using the hashtag #PostcardsfromWaterloo