Student to Future Leader: Embracing Opportunities
By Priscilla Idowu, Social Impact and Inclusion Coordinator
Throughout my university experience, and increasingly as I began to draw close to the end of my final year of my International Business degree, there was always that worry of finding the 'perfect graduate job'. Little did I know that the 'perfect graduate job' – one that would prioritise my growth and progression – was on its own mission to find me. Better yet, who would have thought that I'd find it while scrolling aimlessly through Instagram?
An introduction to HB Reavis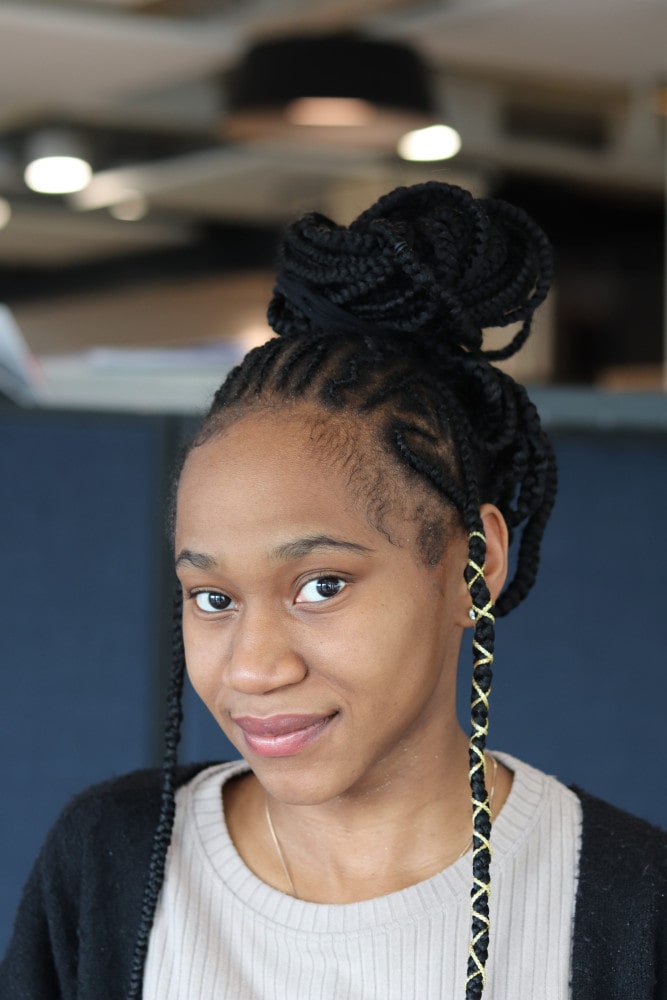 One simple post shared by a newly-established recruitment agency, Briqs, introduced me to HB Reavis and the built environment. Briqs, set up in 2021, connects young people with access to entry level employment opportunities in the knowledge economy. The programme provides support and enrichment opportunities, such as access to a mentor.
At HB Reavis, I have had the opportunity to take on a number of roles, to identify my interests and strengths. Initially starting in the front of house team at Bloom Clerkenwell – our latest workspace – this was my first foray into real estate and I was excited to learn more. Over the year, I gained experience within the asset management team before moving into my current role as Social Impact and Inclusion Coordinator.
Since joining HB Reavis, I have become very invested in the impact that the built environment has on our daily routines. Now, working within the Social Impact team enables me to have a tangible impact within the wider community, by helping to deliver our ESG Strategy.
Delivering social impact
Identifying opportunities where we as a business could be doing more to engage with the local community is a key part of my role. I love that my role allows HB Reavis to explore opportunities that will provide meaningful change for all those who come into proximity of our schemes. Most recently, I had the pleasure of working with community interest company, Rise 365, helping set up a youth event at Worship Square, adjacent to our 140,000 sq ft workspace currently under construction. Witnessing the creative ideas from passionate and talented locals, as they pitched and later executed their initiatives, during the event showed just how important it is for us to prioritise this work. Other elements of my day-to-day role include role include liaising with the project site teams to support specific social value KPIs, conducting local area research and recording social value activities so far.
Joining the EG Future Leaders Programme 2022
To further support my development, and recognising my progress so far, I was nominated by my recruiter as an ideal candidate for the EG Future Leaders Programme. The programme's aim is to showcase the diverse views of hidden talent across the real estate industry. Although initially nervous and a little unsure, the consistent belief my manager showed in my abilities, as well as encouragement from my closest colleagues, gave me the determination to challenge any self-limiting beliefs.
As part of the programme, EG's partnership with training consultant Ginger Leadership Communications, has been vital in providing effective training sessions to support the next 11 future leaders of our sector. Through these sessions, I have learnt important lessons such as how to formulate ideas, storytelling, dressing with impact and the importance of understanding your audience. These skills are all key as I continue to develop professionally.
At the end of this experience, I will be proud to have contributed to the wider conversation around ESG. I hope that by being part of the EG Future Leaders Programme will encourage other businesses to consciously invest in social initiatives as a priority.
The future of real estate, and my role within it
One of my biggest insights since joining HB Reavis is learning about the variety of roles that exist within the real estate industry. Whether you're data driven, creative or like to spend time working closely with people, there's something for everyone. When graduates move into the working world, there's a pressure to find your passion, but what's the rush? I'm grateful for the chance to explore different roles and opportunities here and look forward to continue my future placements in a company led by innovation and passion.