A spotlight on… Symbiosy
Say hello to Gilbert Lennox-King!
Gilbert, our Sales Director for Symbiosy in the UK & Western Europe, joined the HB Reavis team in 2020 and we're delighted to benefit from his knowledge of creating workspaces that are efficient and sustainable whilst supporting collaboration and performance.
Hey Gilbert, what's Symbiosy all about?
Symbiosy is a tech and sensory platform designed to enable excellent workspace management, boost cooperation and productivity.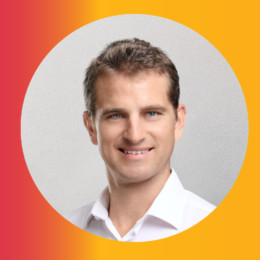 Developed through HB Reavis' 26 years of real estate experience, we benefit from the learnings and understandings of client needs transformed into workplace products and services, including HubHub, Qubes, Origameo, More – and of course, Symbiosy.
Symbiosy seeks to create a healthy workplace environment that ensures collaboration and creativity within teams – increasing the productivity & innovation potential of a company.
The insights gained through Symbiosy mean we can help our clients improve their employees' wellbeing and performance.
How?
Well, Symbiosy is a flexible workspace technology that assesses space utilisation, indoor environmental quality and in-company collaborative networks, helping companies and their employees connect and thrive. We do this through integrating a number of systems with the building's existing management system, wired and wireless sensors, in-room control and booking systems, and 3D virtual models. We give employees and the company real-time feedback on health, spaces and interactivity.
Why?
We do all this because we know that happy and healthy employees are productive too! Symbiosy is designed to support the overall experience for the building's users, mitigate possible negative effects and foster the positive outcomes in their overall space experience. And, in an office that sees Symbiosy implemented, everyone is empowered to have more control of their workspace.
Whether that's through booking systems that make sure you're working in the most suitable place, or through receiving air quality notifications – or especially relevant in the current times – wanting to monitor the cleanliness of our workspace and workplace densities in real-time.
People are going to be thinking about how their office buildings are contributing to their health and wellbeing, which has always been our start point for Symbiosy.
Get in touch
"*" indicates required fields
Bio
Gilbert joined HB Reavis in 2020 as Sales Director leading UK & Western Europe activities for HB Reavis' own tech and sensory platform, Symbiosy, which is designed to enable excellent workspace management, boost cooperation and productivity.
With over ten years' international experience, Gilbert co-founded and led business development for Hong Kong based energy efficiency consultancy, Energenz Consulting, with clients including Intercontinental, HSBC, and H&M.
He has led sales for building management technology provider, Demand Logic, to visualise energy inefficiencies, namely for The Crown Estate and LandSec. And most recently, Gilbert was responsible for business development at Guru Systems: a leading smart metering and performance management tech provider with clients including L&Q, Scottish and Southern Electric and Berkeley Homes.
HB Reavis now benefits from Gilbert's experience and passion for building technology, that benefits people and the planet through better performing buildings and spaces.