HB Reavis commits UK portfolio to net zero with a 50% embodied carbon reduction by 2030.
HB Reavis sets out new sustainability pathway 'Straight to Zero' for its UK portfolio
The strategy commits to reducing embodied carbon emissions by more than 50% and reducing whole building operational energy intensity by 60% by 2030
All new office developments will be designed to achieve net zero in embodied and operational carbon
All new buildings delivered by 2025 to target a minimum 5* NABERS UK energy rating and all projects thereafter to target 5.5* by 2030
HB Reavis UK corporate emissions to be net zero carbon by the end of 2022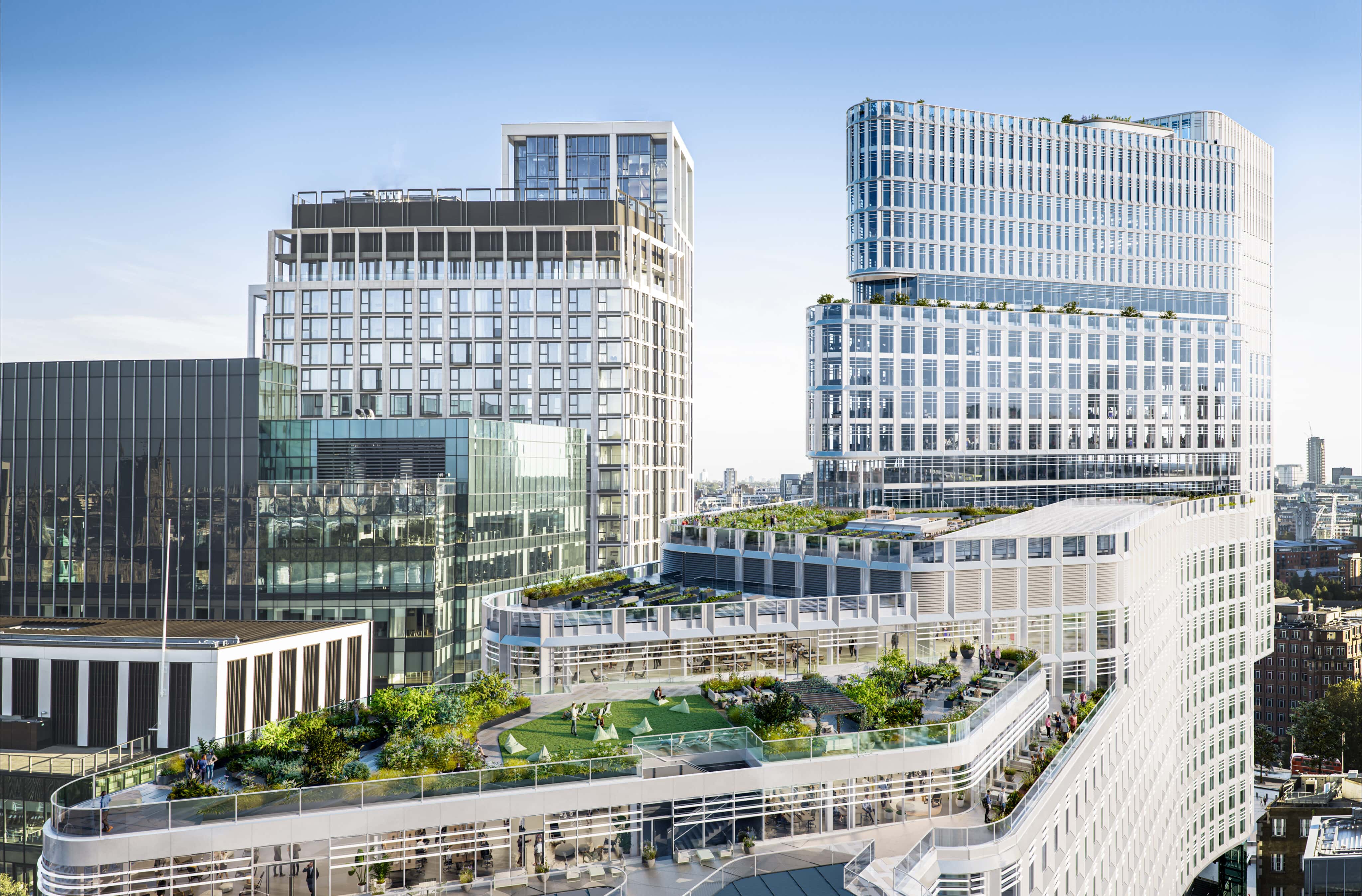 International workspace provider HB Reavis has today announced its pathway to achieve net zero carbon across all future projects in UK by 2030, committing its part to tackling climate change.
With three major developments in the UK comprising over 1.5million sq ft of office-led, mixed-use schemes, HB Reavis UK is setting a robust framework with ambitious 2030 reduction targets for its current pipeline* and future acquired projects.
Targets for all future acquired projects and HB Reavis UK corporate emissions include:
50% reduction on project embodied carbon
60% reduction on project operational energy
35% reduction on emissions from corporate activities
Named Straight to Zero, the pathway sets ambitious and transparent targets to become net zero carbon according to the sector-recognised UK Green Building Council's (UKGBC) definition. HB Reavis will achieve these targets by driving immediate impact and regularly monitoring and measuring results to stay accountable and deliver on its targets.
HB Reavis' net zero pathway comes in the wake of the most recent government report on climate change by the IPCC [published April 2022], which reaffirmed the urgent need to reach net zero carbon emissions to avoid irreversible climate change, for which the built environment is responsible for a significant 39%.
HB Reavis' full-service integrated model means it has the flexibility and ability to influence the whole lifecycle of the office: from design, procurement and construction through to occupancy and asset management, implementing industry-defining changes throughout all phases of the project. The commitments set out in the pathway create a bias for action and establish a framework of transparent targets to deliver net zero carbon for HB Reavis' occupiers.
To reach net zero embodied carbon associated with new development material extraction, transportation and construction, HB Reavis will follow a set process. First, it will measure the baseline embodied carbon as if pursuing business as usual. HB Reavis will then design the project to minimise and achieve the embodied carbon target of <475kgCO2/m2, a reduction of 50% compared to the LETi 2020 baseline. It will offset residual embodied carbon emissions estimated at detailed design stage to have immediate benefit. Finally, it will re-baseline embodied carbon emissions once the building reaches practical completion, offsetting any reoccurring residual emissions if required to ensure net zero or carbon negative.
Offsetting will be pursued as a last resort after maximising carbon reductions through design. The offsetting strategy is an equal split between nature and technology-based offset projects with the funds released as early as possible to have maximum environmental impact. It aligns with the UN Sustainable Development Goals, measured through third-party verification and certification.
Applying a similar set process to operational carbon: HB Reavis will measure baseline operational carbon at the outset; design for performance and target a 60% reduction to 55kwh/m2/y by 2030 compared to a 2017 baseline in base-build operational energy and procure renewable energy for all-electric buildings to run carbon-free. It will follow-up through continuous and collaborative fine-tuning with occupiers to reduce energy consumption, enabling them to meet their own carbon reduction goals.
HB Reavis UK is not only targeting net zero through development and construction activities but also via its corporate emissions, from head office energy use to business travel. The company is targeting Scope 1, 2 and 3 emissions throughout the business, as defined by the GHG Protocol Corporate Standard categorisation for the different kinds of carbon emissions a company creates in its own operations, and wider value chain. HB Reavis has therefore measured its 'business as usual' in the UK to target a 35% reduction in corporate emissions by 2030 compared to a 2019 (pre-pandemic) baseline.
Since its first UK development was completed at 33 Central in 2017, HB Reavis has continued to innovate to ensure it delivers ahead of the industry benchmark. Bloom Clerkenwell is the first commercial building in the UK to achieve the highest certifications for wellbeing (WELL Platinum), sustainability (BREEAM Outstanding and EPC A rating) and technology (WiredScore Platinum). The highly energy efficient building will be powered by renewable energy. The upcoming, Worship Square, targeting completion in early 2024, will be HB Reavis' first project targeting NABERS 5* and net zero in construction and operation.
The Straight to Zero pathway builds on HB Reavis' existing ESG strategy (launched 2020) and outlines HB Reavis' areas of focus: implementing low-carbon solutions in all project stages, including design, demolition, construction and operation to decrease the carbon footprint of projects, as well as delivering and operating buildings that allow clients to maximise energy efficiency in use. The Straight to Zero pathway also outlines HB Reavis' commitment to providing health and wellbeing focused workspaces, with natural environments and a human-centric approach to design.
The HB Reavis team has worked in close partnership with EVORA Global, a leading real estate sustainable and zero carbon consultancy to develop the pathway.
Steven Skinner, CEO at HB Reavis UK said:
''We are fully committed to delivering future-proofed workspaces that protect the planet and contribute to a responsible future.
Recogonising the industry challenges, we have taken an open and transparent approach to our strategy. By reducing embodied carbon by more than 50% and operational carbon by 60% for all our future projects, the environmental impact of our buildings will be minimised. Our pathway to net zero carbon is an improvement to our already strong sustainability targets – our latest project, Worship Square, which was designed two years ago and will complete in 2024 is already bettering UKGBC 2030 targets. We're continually evolving our approach to improve, innovate, and collaborate with our clients, ensuring we deliver the very best and sustainable workspaces."
---
Newsletter Form
"*" indicates required fields