HB Reavis launches Worship Square, a true Net Zero Carbon scheme in London's Tech District
Sustainability and employee experience are at the heart of the new standout Shoreditch scheme
Worship Square will be HB Reavis' most sustainable building to date, and will be net zero carbon in both construction and operation. 
Embodied Carbon targets at Worship Square will be more than 50% lower than the UKGBC 2020 baseline and 18% lower than the 2030 GLA target, setting a new benchmark for London.
Worship Square is the only building known to be on track to achieve full net zero carbon status, BREEAM Outstanding, EPC Rating A, WELL Platinum, SmartsScore Platinum, WiredScore Platinum and designed to be NABERS 5*.
Worship Square promotes employee wellbeing, including a fitness studio, private and communal gardens, state-of-the-art end-of-journey amenities, in-house bookable Brompton's, a destination restaurant and a ground floor, plant-filled lobby with an openable façade leading onto a new public square, which will host a calendar of events.
The building will be enhanced by integrated office and space management technology, monitoring live environmental and energy data, and raising the workspace experience by providing hospitality and concierge services powered by HB Reavis' in-house app.
Designed to offer the greatest level of flexibility, businesses will benefit from three different types of workspace across 140,000 sq ft: efficient HQ office space; on-demand facilities providing additional work, meeting and event space as well as HB Reavis' Ready to Work concept, which is soon to launch at Bloom Clerkenwell, and allows companies to organically expand within the building over time
Today, 7th December 2021, international workspace provider, HB Reavis is launching Worship Square, its first fully net zero carbon scheme. Redefining the workplace, Worship Square is located in the heart of London's bustling tech district, where creative minds want to work and where growing companies want to be.
From design through to construction and day-to-day operation, Worship Square will set a new benchmark for truly sustainable workspaces, proactively supporting businesses and employees to meet environmental goals. Worship Square is a true net zero carbon building in both construction and operation, designed to achieve a 5* NABERS rating and is targeting BREEAM Outstanding. Designed to reduce embodied carbon by more than 50% compared to current industry benchmarks – the equivalent of the average yearly carbon emissions for 3,000 homes and 18% better than the GLA 2030 target for commercial buildings. The building will also be net zero carbon in operation and be free of single-use plastic, as well as fully electric. Operational energy use will be reduced through air source heat pumps, which will create efficient heating and cooling, smart modelling and photovoltaic cells on the roof to provide onsite renewable energy.
Targeting WELL Platinum, the highest certification for wellbeing, it will include a multi-functional fitness studio, with tailored classes for employees, high-end changing facilities, 324 cycle spaces to support the active commuter and free bookable Brompton bikes and e-scooters to facilitate active lifestyles. Enabling a positive daily experience, everyone working within the building will have access to HB Reavis' in-house app that will enable a personalised concierge service, environmental insights and a range of other services. The ground floor lobby will feature a café, destination restaurant and breakout spaces, with an openable façade facing a new square that will host a programme of regular events, providing an engaging public space.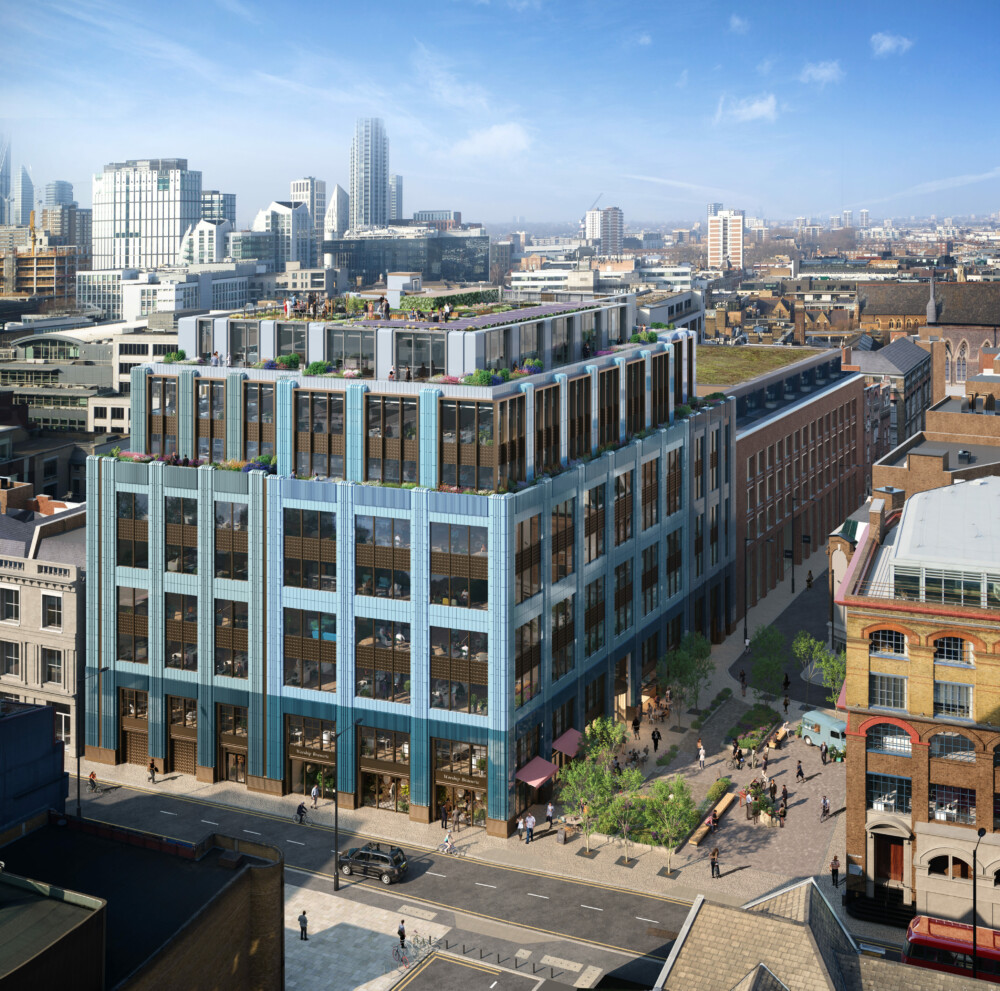 With over 3,200 plants from over 49 different species, Worship Square's biophilic design begins on arrival with a 'green heart' living lobby and provides purer air whilst blurring the lines between outdoors and the inside space. The nature-led expansive terraces mean that working from the office doesn't always have to be indoors. As well as increasing biodiversity and attracting pollinators, the large rooftop communal terrace will include urban allotments where employees can take gardening lessons to learn how to grow their own produce and a wormery to transform employees' organic waste into compost for the terraces.
Smart tech forms the backbone of Worship Square, which has already received WiredScore Platinum and is one of only three schemes globally to achieve SmartScore Platinum. As well as the in-house app, businesses are able to monitor, and report live energy use and water consumption data, helping to continually improve and be as energy efficient as possible. Diverse routes of power and Wi-Fi covering all common areas including the terraces and public Square ensure connectivity resilience to allow people to work anywhere, uninterrupted.
Through HB Reavis' smart technology platform, Symbiosy, businesses can also benefit from workspace analytics, such as monitoring indoor air quality, temperature and room capacity with the ability to adjust settings as needed and allowing full transparency of how the building is being used.
The building will provide c.140,000 sq ft of workspace and over 9,000 sq ft of terracing, designed to allow businesses to grow organically within the building. This includes a range of collaborative and flexible on-demand spaces from desks, studios and offices to meeting rooms, event spaces and an auditorium. Following its launch at Bloom Clerkenwell, Ready to Work, HB Reavis' smart workspace will feature on the first floor for businesses looking for a fully fitted, managed and tech-enhanced working environment. Businesses will be able to partner with HB Reavis on delivery condition and timing, fit out, and services to make their workspace bespoke to their business brand, ethos and culture.
Due to complete in early 2024 and with the construction programme already underway, HB Reavis put a design strategy in place to create a workplace that is both future-facing and user-centric in its design and operation. Inspired by local architecture, Worship Square's eye-catching looks and stunning blue façade, designed by MAKE Architects will create a recognisable local landmark and give the building a distinct identity.
To find out more about the scheme, visit Worship Square
---
Newsletter Form
"*" indicates required fields