Cyril's memories of Waterloo, reimagined through art
Cyril Johnson has worked in Waterloo for more than two decades, and now his memories have been captured in artform by the talented Victoria Long, a student at Morley College London.
Cyril has worked at Elizabeth House, adjacent to Waterloo Station since April 2000. A security supervisor, Cyril has been responsible for keeping the building, and those working in and around it, safe.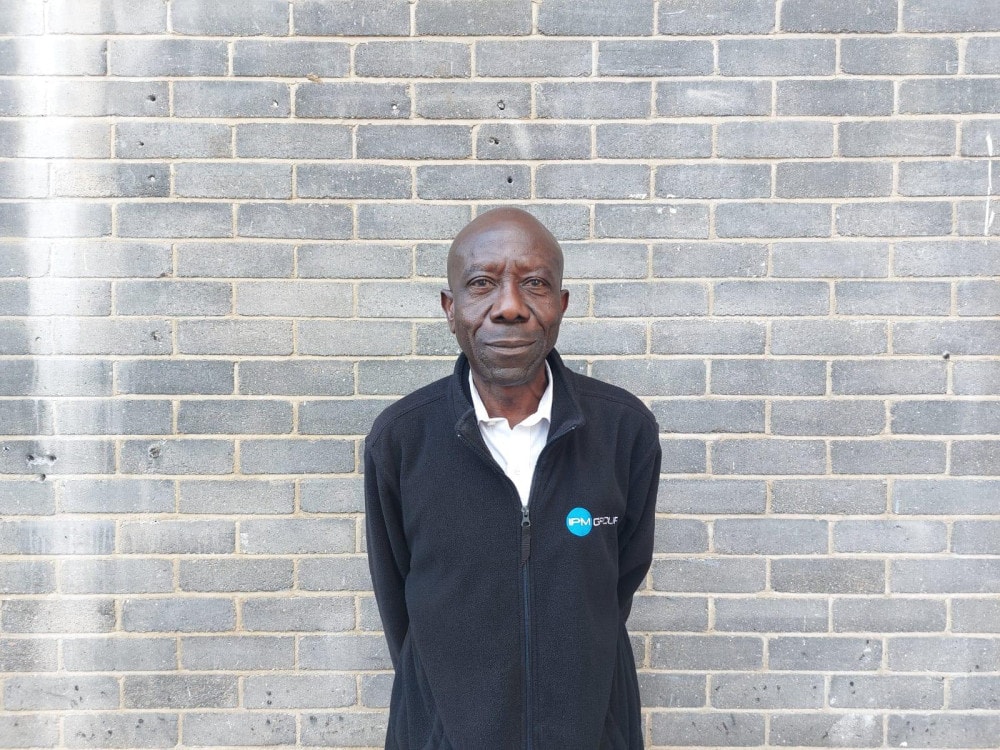 Since then, Cyril has watched the area transform, but one thing that has remained is his love for his work. Cyril has patrolled the area overnight, on Christmas Day and at the weekends, always warmly welcoming visitors to Elizabeth House.
Reflecting on his best moments from the past two decades, he said:
"To me, every day is a good day. When you work somewhere for more than 20 years it becomes more than a job, it is like my home – I fit in here."
Cyril and Postcards from Waterloo
Cyril is part of the local community who inspired Postcards from Waterloo, a campaign dedicated to celebrate Waterloo, Lambeth and the wider area.
In collaboration with Morley College London, we're unearthing memories of Waterloo to be reimagined into portraits or illustrations. These unique pieces of artwork will then be displayed in a celebratory exhibition in summer 2023.
Vicky Long of Studio Long, is on the Advanced Painting course at Morley College London, and was selected to translate Cyril's memories of Waterloo into art.
The result is an exceptional piece that showcases Cyril's story. The clock hangs by Cyril's desk in Elizabeth House and in the picture references the passing of time, while bearing symbols of central London. The 159 bus refers to Cyril's daily journey into Waterloo while the blue, pink and yellow colours are drawn from the graffiti admired by Cyril in Leake Street tunnel. The yellow is also a nod to the colour of Cyril's security jacket, the blue to the sky and Thames as well as to Waterloo Station. In amongst crowds of commuters and visitors is Cyril's portrait, smiling wistfully at the memories he has made over time.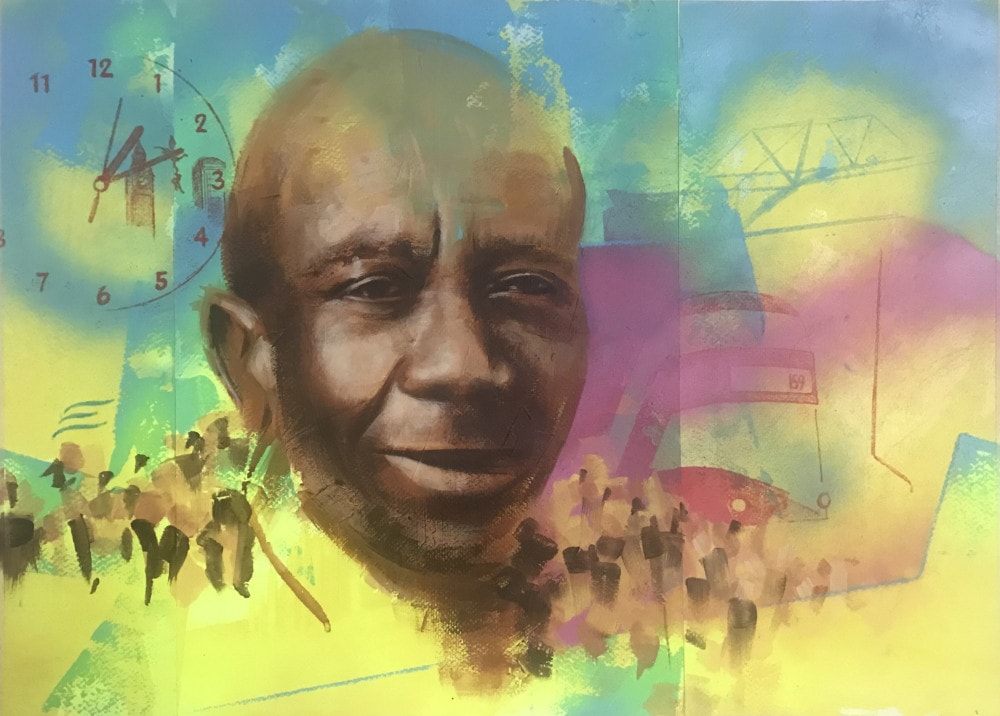 Sharing what it mean to transform Cyril's work into art, Vicky said:
"Meeting Cyril was a pleasure. He had much to say about how at home he felt in his part of central London and many stories to tell of the multitude of people passing through. His steadfast service for over two decades really stayed with me, like an anchor in a dynamic environment."
Speaking of the piece, Cyril added:
"It's a lovely painting and I will cherish it forever.
"Waterloo has changed so much in the time I've worked here, and I'm excited to see what the future holds for the site where Elizabeth House sits, and the opportunity it brings for the area."
Want to receive a piece of art, inspired by your memories?
If you'd like to receive a bespoke piece of hand-crafted art, inspired by your own stories, submit your Postcards of Waterloo today.
Find out more here, or apply via the form below.*
*Terms and conditions apply. Read here.
Postcards from Waterloo
Share your contact details alongside your memory so we can get in touch if your memory is chosen.
Don't forget!
The competition will close at 5pm on Thursday 1 December.
We will inform successful entrants via email before Christmas 2022, so keep an eye on your inbox. Know someone who prefers to put pen to paper? Memories can also be submitted via postboxes located in Coin Street Neighbourhood Centre and St John's Church, Waterloo.
For any questions related to your entry, drop us a message to onewaterloo@hbreavis.com. Get involved in the campaign on social media, using the hashtag #PostcardsfromWaterloo