My EG Future Leaders Journey
By Priscilla Idowu, Social Impact and Inclusion Coordinator 
I recently shared the news that I had been invited to join EG's Future Leaders Programme for 2022, an award-winning programme driven by an aim to showcase the diverse views of hidden talent across the real estate industry.
Taking place over a two-month period, the programme consisted of a series of intensive, skills-led sessions from Ginger Leadership Communications. These qualified coaches delivered unique training to prepare us for the Future Leaders Summit, a day that brought together our new-found skills in a showcase of TED-Style talks to an audience of industry talent. Now that the programme has come to an end, I'm eager to share my experience, to pave the way for the next generations of EG Future Leaders. 
Learning new skills with industry peers
This year's EG Future Leaders cohort featured individuals from some of the most widely recognised names in real estate. Young talent from the likes of JLL, Wilmott Dixon, Savills, Knight Frank, DLA Piper, CBRE, Landsec, Catalyst Capital and the LCP Group joined me on the Future Leaders journey. Our group also occupied a wide range of job roles, from framework manager, surveyor, investment analyst, brand manager, partner, asset manager, and myself, social impact and inclusion coordinator.  
This variety of skills and experiences only helped us as we embarked on the programme. Throughout the workshops we took part in, several reoccurring themes started to emerge.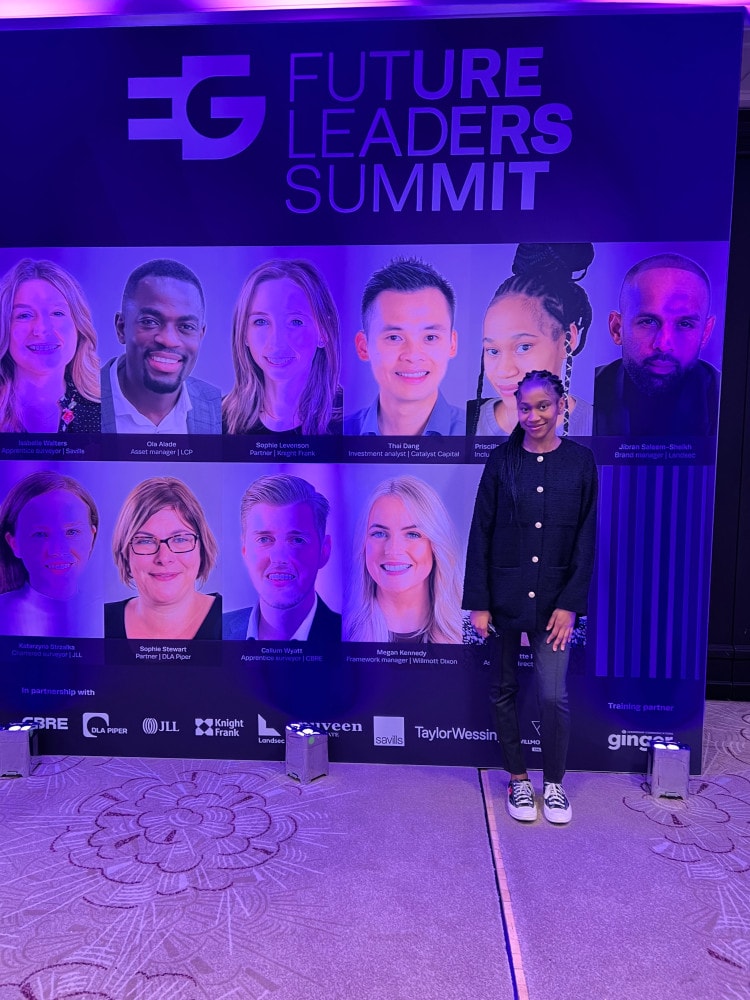 We were encouraged to embody authenticity, relatability, and boldness in everything we did – perhaps an indication of where the industry should be heading! 
For me, the most rewarding session was one that explored how to amplify your confidence that also trialled the different methods of communication delivery. I discovered that my preferred delivery method is a calm, measured approach, and arrived at this discovery thanks to the helpful feedback from the other future leaders and the team from Ginger, particularly Jojo and Helen. 
In anticipation of the November's Future Leaders Summit, where each of us would be giving a presentation, we explored practical techniques to deal with nerves or anticipation. We practiced positive affirmations, different breathing exercises, and were encouraged to live our lives as we normally would. The overarching message was that it was important to keep the bigger picture in mind. It was clear that there was so much to be gained from the opportunity to deliver thought- and action provoking speeches, and here was our chance to make a positive difference. 
EG's Future Leaders Summit 2022
For the first time, this year's Future Leaders Programme culminated in a one-day summit, hosted at the Royal Lancaster Hotel. This full-day experience saw myself, and the other future leaders, take to the stage to deliver a set of thought-provoking talks in front of a room of hundreds, giving us the chance to put our new-found skills and confidence to the test.
Some of the topics explored included how to make our cities thrive, property's role in delivering on place and making our future more inclusive.
Following each set of talks, the room came together in small groups to take part in collaborative sessions that allowed the audience to discuss the subjects presented and to participate in some of the workshops we had explored throughout the programme.
Unlocking the power of Social value
When it was my turn to take to the stage, I presented a talk designed to inspire an awakening. I believe it's time to shine a spotlight on the 'S' within ESG strategies in the world of real estate. It's no hidden fact that social impact initiatives in the industry are not yet stretching far enough, often stemming from a lack of knowledge, resources, strategy, and long-term commitment towards actioning impactful change.
When it comes to making social impact, many companies are currently operating at 'Social OK', when we need to be achieving 'Social Good' in order to make tangible change.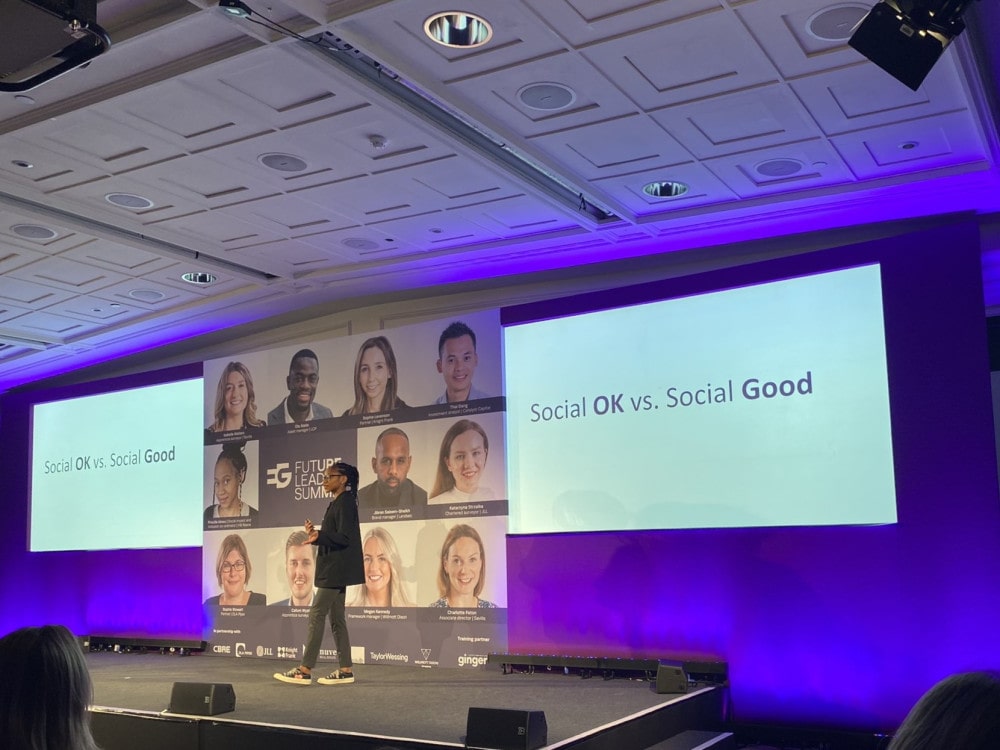 During my presentation, I set out to define how we reach 'Social Good' which is by engaging in initiatives designed to positively impact people and the way that they live their lives. I shared real-life examples of how we've achieved social impact at HB Reavis, such as through a community project in collaboration with Rise365, a community interest company. Rise365 were tasked to activate the area around our Worship Square project in Shoreditch, bringing together the community to learn and engage. The success of this initiative was recognised at this year's BPIC awards as we were crowned winners of the 'Best Community Project' award.
I touched on the internal benefits for companies who invest in social value initiatives, too. Research shows that employees perform better if they are inspired by a higher sense of purpose, which involves investing in social value, and that adversely, a dismissal of social value can decrease levels of productivity within corporations.
To conclude, I acknowledged that social value may still be a world of untapped potential for many companies, and committing to the social value agenda feels like a steep mountain to climb. However, I left the audience with tangible solutions to consider, to take small steps towards promoting opportunities for engagement. This can be through the recruitment of a community advocate or supporting the hiring of a social impact and inclusion manager within organisations.
My entire presentation took place without any notes, standing centre stage in front of hundreds of industry colleagues. Three months ago, I'd have hardly believed that this was possible, but the programme challenged me to step outside of my comfort zone, while giving me the skills and confidence to do so.
You can take a look at my talk here: 
The future of real estate and my role within it
So, what's next? I'm committed to championing social value and embedding this into wherever I work in the future. Alongside this, I'd like to empower the communities I work within to making a meaningful difference.
I've a gained so many valuable and transferable skills during this experience, which will help with both my professional and personal development. I have already seen a positive change in my willingness to speak up, engage with colleagues, and work with my team to encourage and support others.
Since I have seen first-hand the impact this kind of exposure can have to someone's confidence and self-esteem, I am eager for others to reap the benefits of stepping out of their comfort zones too.
Programmes such as EG's Future Leaders are crucial to shaping the future of real estate as they allow a variety of opinions be shared on a wide scale.
This provides the space alongside the opportunity for different audiences, especially the younger members of the workforce, to discuss how to make active change and respond to the challenges affecting our industry. As an industry, we must accept that there is still much room for improvement, but this comes alongside opportunity, which I'm excited to tackle head-on.