Decarbonising real estate: Let's educate and collaborate
How can London's workspace and wider built environment achieve a sustainable future?
By Abhishek Parmar, Sustainability Manager
The UK government has set out an ambitious target to decarbonise all sectors of the economy by 2050. The built environment will play a key part in this drive towards a more sustainable future – the sector currently contributes approximately 40% of all carbon emissions. In more worrying statistics, 85% of the buildings currently contributing to our greenhouse gas emissions are likely to still be in use in 2050.
Our sector must act quickly to ensure we are best prepared and leading the way in addressing the climate crisis.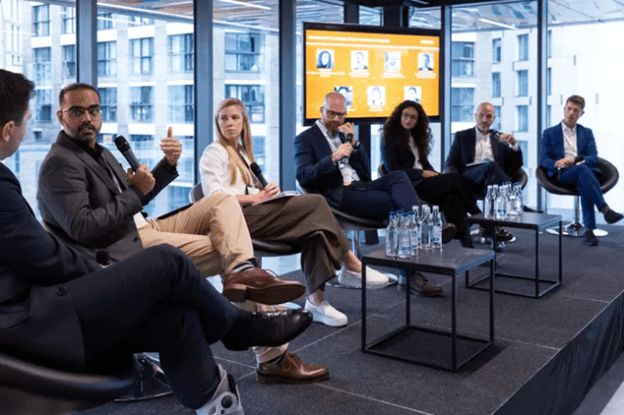 Education and collaboration is the way forward for real estate industry
In October, I joined Bisnow and a panel of industry experts to explore the ways the property industry can meet targets and work together to truly achieve carbon neutrality and net zero. Top-tier larger development companies that have access to more investment and resources are taking a visibly proactive role towards implementing sustainable practices that will reduce carbon emissions contributed by the sector. But we will only see real progress when we work with bodies such as the UK Green Building Council and the Royal Institute of British Architects to strengthen our frameworks and support for property companies of all sizes, encouraging everyone to follow common guidelines that will help them achieve net zero.
Key takeout: There is a need to educate businesses – for example, a unification and standardisation of definitions – to ensure everyone is clear about what they need to be doing to achieve their sustainability goals.
Retrofits – considering the future of industry refurbs
Developers are now expected to have thoroughly considered refurbishment opportunities for a property before submitting a planning application. This has led to developers choosing to refurb or retrofit when they previously may not have considered them.
Key takeout: The extent of retention needs to be looked at on a case-by case basis as not every site is suitable for refurbishment – sometimes redevelopment can be the more sustainable option in the long run.
Using data to work in partnership with occupiers
As an industry, we need to adopt a system that looks at the hierarchy of reducing, reusing and recycling. For example, we should be designing offices based on their actual usage to ensure we are not compromising on the user experience, as well as being mindful not to engineer to unrealistic usage expectations. At HB Reavis, our integrated business model has enabled us to develop an occupier engagement strategy that allows us to work with our occupiers, understand what they need from their workspace, and help them achieve their carbon reduction goals. Our services are all managed in-house meaning that we work in partnership with our occupiers to ensure that every HB Reavis team has the same approach, knowledge, agenda and targets to achieve.
Our proprietary building app, linked to the smart building infrastructure, allows us to work with our occupiers to view their energy usage in real time to create awareness. The app allows us to collect data that can shape how our occupiers operate their offices – for example, we can advise on changes that should be made to make operations more efficient. We make those recommendations based on real-time data, such as office occupancy during the week.
Ensuring we have a holistic approach to running our business will be key to making it easier for occupiers to take greater responsibility for their own workplace ESG requirements looking forward to the future. In the construction industry, it is no longer just the developer's role to provide a sustainable building – it is now about working collaboratively with the occupiers to squeeze the best performance out of the assets. For this, creating awareness by education is key.
Key takeout: Sustainability is not an 'add on' to business as usual – it's a fundamental part of the future of workspace and working in collaboration with occupiers will be the key to unlocking its success.
For more information about how we're working to achieve a more sustainable future, take a look at 'Straight to Zero', our net zero carbon pathway.