Venture into Proptech
On the evening of the 5th December at HubHub, 20 Farringdon Street, we had the pleasure of hosting one of the most exciting event of the year: 'Venture into Proptech' – a digital competition to evaluate best in class to deploy across our projects. The competition attracted 100 high-quality applicants from around the world, from North America to South East Asia. The 10 finalists were selected by 24 independent reviewers from senior executives to department heads at HB Reavis.
As we continue to strive to create the best workspace solutions for our clients, this debut pitch event provided the perfect opportunity to quickly identify innovative companies whose ideas we could support to deploy across our extensive pipeline of projects.
The event was presented by Gaia Arzilli, Innovations & Partnerships Lead at HB Reavis, who highlighted the many opportunities that arise when innovation meets collaboration. The first keynote was delivered by James Dearsley, Founder and CEO of Unissu, the world's largest Proptech marketplace, who spoke about the growth of the industry around the world and the importance of creating location-specific solutions.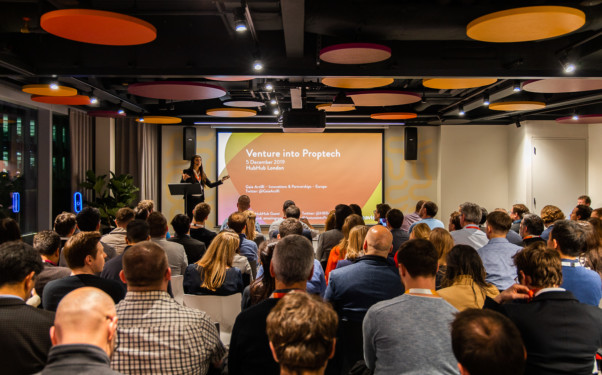 The emerging thinkers in the Proptech sector then had the opportunity to pitch their products and services in front of a variety of decision-makers from HB Reavis and three specialist judges: Lucette Demets, Head of Urban at London & Partners, James Dearsley – also known as the father of Proptech and Lucy Ganbold, co-founder of Propology Capital. The overflowing crowd (so many we had to live stream the event in the expo area) was composed of Proptech enthusiast, real estate professionals and famous disruptors. The impressive shortlisted companies were: Ask Porter, Delta Q, Nucon, Converge, Physee, Limitless Insights, Dabbel, Mymesh by Chess, O.Vision and Ubiqisense.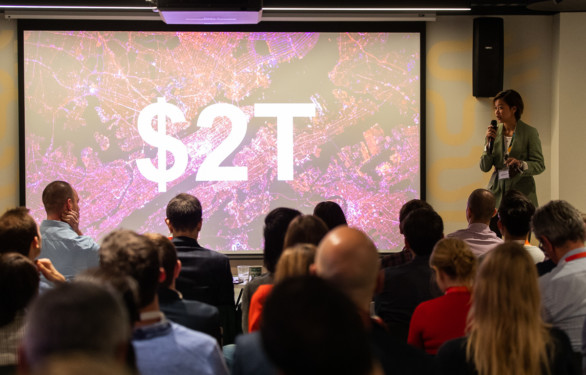 As ever, the HubHub space provided the perfect setting for networking, with some of the most exciting minds in Proptech discussing their ideas with investors and real estate professionals in the dedicated expo area, where each shortlisted company had a creative easel that explained their company. All of this while enjoying the sustainable vegan food on offer! The caterer was chosen specifically for their small environmental impact, their refusal to plastics and their ethos towards leftover food, which was delivered to Mungo's homeless shelter the same evening. 3Gents catering saves on approximately 300 plastic cups, 100 straws and 400 pieces of plastic cutlery each week. In line with both our HB Reavis and HubHub shared commitment to sustainability.
While the judges deliberated on the winners, our HB Reavis UK CEO Steven Skinner, took to the stage to thank everyone for pitching their inspiring products, "at HB Reavis we want to identify innovative companies that we can work with… the two-way relationship allows us to access exciting emerging thinkers, whilst at the same time creating a unique opportunity for these companies to grow with us."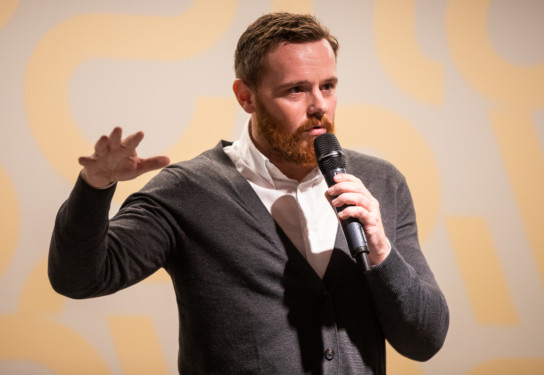 The first prize was awarded by the crowd who selected the best pitch of the night: Nucon. The company won over the hearts of the audience and was selected unanimously by the judges as the winner of the night.
Nucon – Winner of £10,000 & three months' free workspace at HubHub
The outstanding pitch on the night came from Nucon the AI quality manager for construction. Their winning product provides modern machine learning services with pre-trained models highly tailored for the construction industry to prevent and learn from defects: context-aware image analysis, speech recognition, dynamic translation, and conversational experiences. It is a brilliant solution which will create a smarter and safer worksite. Speaking about their prize Adinda Savitri and Caleb Tutty said, "We have come all the way from Singapore to be here tonight, this prize will help us to grow our business in London, we're proud to be representing Asia and we can't wait to begin working with HB Reavis! None of this would have been possible without the support of the Innovation Team".
The judges then appointed three paid pilots which we will deploy on our projects.
DeltaQ – Winner of a paid pilot with HB Reavis
DeltaQ, provides self-learning algorithms that continuously optimize your buildings controls, combining forecast data and AI to match user needs. The judging panel were impressed by DeltaQ's mission to "apply predictive control on buildings to reduce environmental impact and cost while improving user comfort".
O.Vision – Winner of a paid pilot with HB Reavis
Daniel Sozonov of O.Vision has developed a facial recognition building entry system which the judges were able to interact with on stage. The product is a centralized access control system that not only improves security, but also hugely cuts access time during rush hours and decreases staff costs.
Ubiqisense – Winner of a paid pilot with HB Reavis
Ubiqisense has developed a sensor that anonymously tracks people and objects in buildings, removing a lot of the risks often associated with cloud anonymisation. Tomas Melisko, head of Symbiosy, was particularly interested in piloting this solution to continue to grow our own best in class product: Symbiosy.
Choosing the winners of 'Venture into Proptech' was a challenge, yet we endeavour to engage with more Proptech companies in the near future. It was remarkable to see so much talent and creativity under one roof – sourcing the right client and meeting the relevant investor/mentor are the two of the biggest challenges in today's startup market, let alone a new market like Proptech. So, we were delighted to provide this unique opportunity and we look forward to deploying these solutions. We are already looking forward to the next Venture into Proptech!