HB Reavis' Bloom Clerkenwell becomes first commercial building in the UK to achieve the highest accreditations for wellbeing, sustainability and digital connectivity
Bloom Clerkenwell secures a trifecta of excellence: WELL Certified Platinum, BREEAM Outstanding and WiredScore Platinum.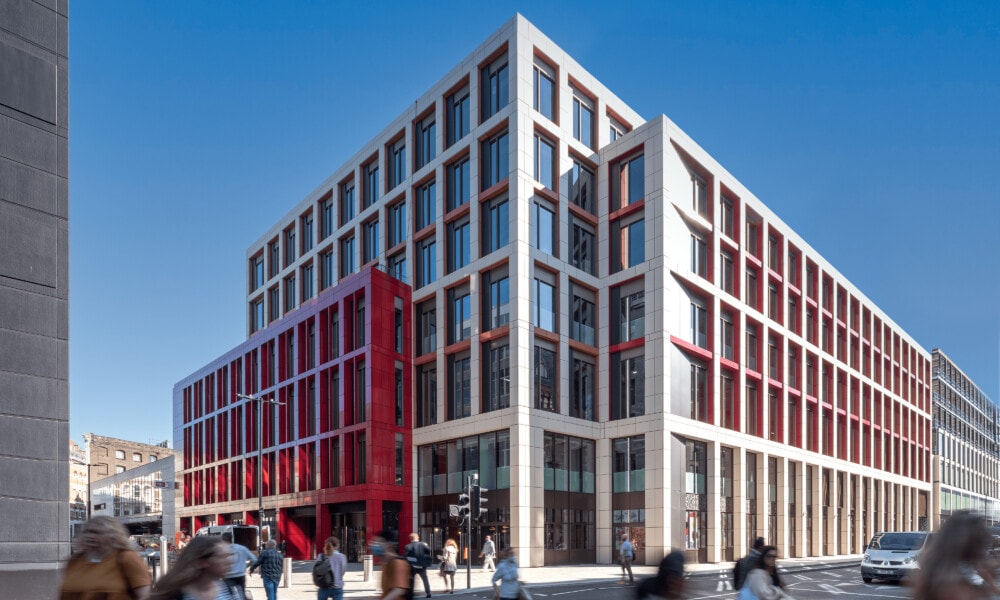 International workspace provider HB Reavis has today (13 July 2022) announced that it has achieved the highest certifications for wellbeing, sustainability and digital connectivity at its recently completed workspace, Bloom Clerkenwell., which secured a globally listed occupier in November 2021. The building was awarded WELL Certified Platinum (Core & Shell) in June 2022 and BREEAM Outstanding in May 2022, having achieved WiredScore Platinum in 2019, making it the first commercial building in the UK to achieve all three of the top certifications.
Securing these accreditations exemplifies HB Reavis' core objective to deliver best-in-class workspaces that prioritise employee wellbeing, sustainability and enhance user experience through technology and services. This has been made possible through HB Reavis' full service integrated model – the team have taken the building from design and construction through to seeing Bloom come to life with occupiers moving in and being managed day-to-day by More, HB Reavis' asset management platform.
WELL is the global building standard designed to enhance people's health and wellness through the built environment and is awarded by the International WELL Building Institute (IWBI). Only 0.3% of UK WELL-registered projects are certified Platinum, demonstrating the level of commitment and expertise required to secure this accreditation.
Features that helped HB Reavis achieve the WELL Platinum (Core & Shell) certification at Bloom Clerkenwell include:
Approximately 11% of the building comprises landscaped terraces (15,400 sq ft), meaning Bloom has one of the highest office-to-terrace ratios of any building in London, offering year-round access to the outdoors. The communal edible garden grows fruit and herbs and creates a space that allows people to relax and manage stress.
Bloom is home to a multi-purpose fitness studio (1,200 sq ft) with equipment for classes and individual use. With no membership fees for employees working within the building, the studio is another option for space to unwind and stay healthy.
The building has been designed to include architectural features and artwork that enhance the user experience, and technology to ensure the highest standards of air and acoustic quality.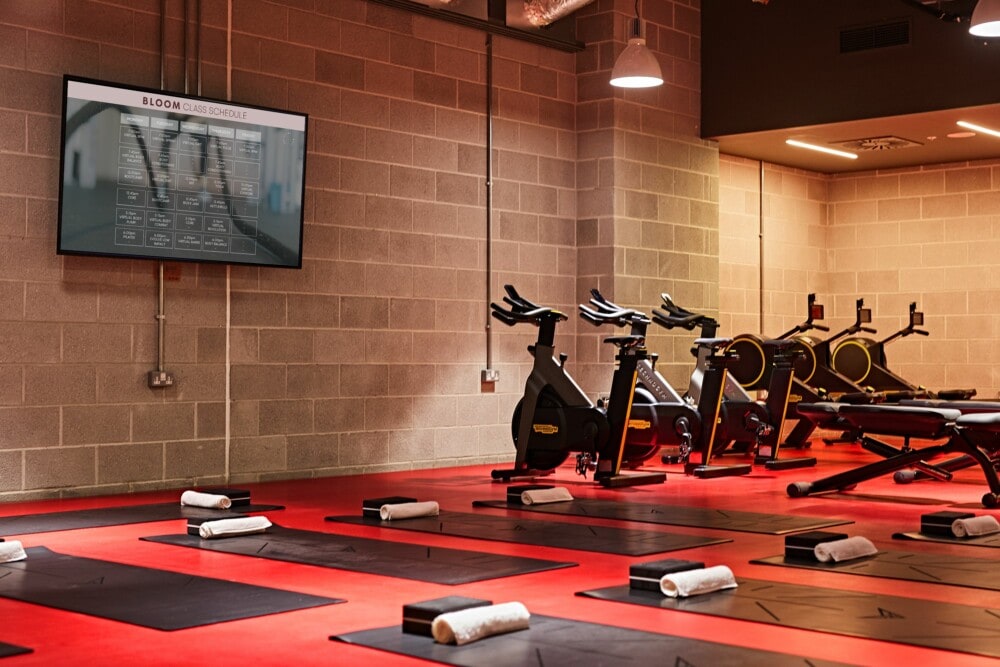 Fewer than 1% of new, non-domestic buildings in the UK have achieved BREEAM Outstanding, the industry standard that evaluates a building's sustainability performance. To do so, a building must achieve a minimum score of 85% in the assessment which is carried out by independent licensed assessors. Bloom Clerkenwell scored 90.63% in its assessment, which was scored against nine key categories, that took into account the building's energy efficiency, how sustainably it was built and how well it will respond to user needs.
Some of the features that have led to Bloom achieving this accreditation and thus becoming one of the most sustainable buildings in the capital include:
An EPC A rating for the base build.
The building encourages and enables sustainable commuting and active lifestyles, with bookable Brompton bicycles to attend external meetings and the ability to cycle straight in from the Cycle Superhighway. It has 248 secure cycle spaces at street level within the building.
All energy aims to be net zero carbon through partnerships with Citigen and E.ON, the largest supplier of renewable electricity in the UK.
Bloom Clerkenwell has also secured a WiredScore Platinum certification, demonstrating it is fully tech-enabled, providing resilient and reliable connectivity. The office community is supported by HB Reavis' smart workspace technology, as part of the building app. The smart technology empowers occupiers to manage their indoor working environment with access to real-time data, such as indoor air quality and space utilisation. The app also facilitates a touch-free arrival and concierge services for occupiers. A robust wi-fi network has been set up throughout the building to ensure seamless digital connectivity, whether in a meeting room, on the move in a lift, or communal area.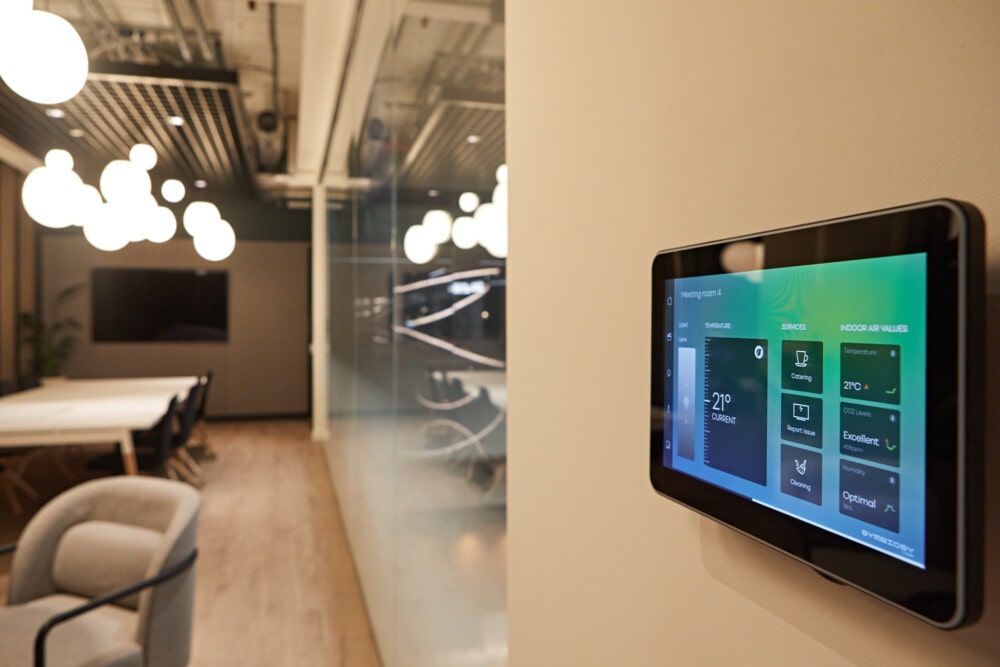 In line with HB Reavis' commitments to achieve the highest levels of wellbeing, sustainability and connectivity in all its projects, it is targeting SmartScore Platinum and NABERS 5* at its newest project in Shoreditch, Worship Square.
Gabriela Guizzo, Project Director at Bloom said:
"From the moment we started Bloom Clerkenwell, we knew we wanted to deliver an outstanding workspace, creating a sustainable environment that supports and nurtures people, giving them everything they need to work and feel their best.
"By targeting the highest level of accreditations, our industry can have a positive impact on the world we leave for our grandchildren. We wanted to push the limits in setting the benchmark for commercial buildings".
Ann Marie Aguilar, Senior Vice President EMEA, International WELL Building Institute said:
"With its platinum level WELL Certification, Bloom Clerkenwell has shown a commitment to advancing human health and well-being in built infrastructure at the highest level. We're so excited to see their commitment across these accreditations, a first in the region."
---
Newsletter Form
"*" indicates required fields