Apollo Nivy is in its final stage and confirms HB Reavis' strong position as a commercial property manager
After almost three years of construction, the Apollo Nivy project has been successfully completed. The first tenants will be welcomed in the second quarter of 2023, and the building will be added to the map of exceptional HB Reavis office projects.
The New Nivy zone will soon come to life with the arrival of new tenants to the Apollo Nivy project, which creates an imaginary eastern gateway to the new centre of Bratislava. It was designed by the prestigious London studio MAKE Architects and the Slovak studio Siebert + Talaš. It is the London design that will enrich the street's character and lead up to a pleasant public square at the intersection of Prievozská and Mlynské nivy streets. The logo made using innovative 3D printing technology from concrete is also unmissable.
The largest floor area in CEE
Thanks to its design and making full use of the land's potential, Apollo Nivy has achieved a floor area of almost 8,000 square metres per floor. In total, it offers more than 55,000 sq m of lettable area on eight floors, making it the number one office building in the CEE region. To give you a better idea, this is space for up to 5 thousand workers.
This potential will be put to good use by its majority tenant. The world's largest technology employer, IBM, will occupy over 30 thousand square metres, potentially offering 3 thousand jobs there. It was recently joined by EOS KSI Slovensko, which has been in the debt management business for 20 years. More tenants will soon be added, and the building will really come to life.
Tranquillity in the bustle of the city centre
Tenants will be able to find rest from the hustle and bustle of the daily agenda in the inner atrium, where plenty of mature greenery, seating areas, as well as a water feature are surrounded by a colonnade of columns around the entire perimeter. The entrances to the retail outlets lead through this space, which will offer all the basic services – a canteen, a bistro, a grocery store, as well as a bank and a special bike café, which is one way to get to the Cycle Hub.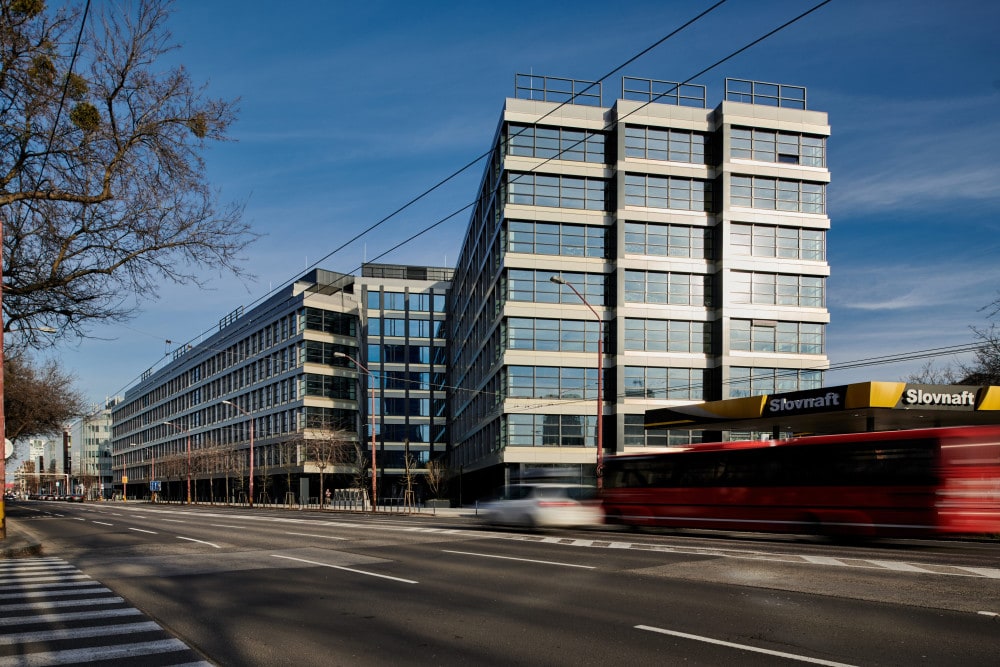 ---
Cycling to work
Creating comfortable facilities for cyclists is a standard in HB Reavis projects. However, the Cycle Hub at Apollo Nivy redefines this standard. On the ground floor level, cyclists will find more than two hundred safe and comfortable racks, a bike washroom, a tool and small service rack, and most importantly, modern and spacious changing rooms with showers. Going to work by bicycle to Apollo Nivy will be a truly enjoyable experience.
HB Reavis is one of the largest commercial property managers in Bratislava and holds itself to the highest standards. Apollo Nivy is no exception and aspires to attain a Well Building Standard certificate to prove it provides a healthy working environment and a BREEAM certificate to attest to the fact that it was constructed sustainably.