Nivy Tower is the first smart building in CEE to receive Gold Smart Building Certification
The Smart Building Collective (SBC), an organisation that measures buildings from the perspective of what they can do for users and their businesses, has awarded Nivy Tower their Gold Smart Building Certification, proving once again that the tallest operating office building in Slovakia was built to promote wellbeing, sustainability, performance, innovation, health and safety. On top of that, the certification also recognises buildings' smart and technical infrastructures. With this certification, the international workspace provider HB Reavis has joined an exclusive club, as Nivy Tower is the first building in CEE to receive a certification at such a high level.
Building smart workspaces where technology not only fulfills the logistical needs and tech demands of busy working days but also serves as a backbone infrastructure for building and monitoring an environment where people feel good and therefore are more productive has been a core part of HB Reavis' strategy for years. Receiving certifications from respected organisations in the industry such as this one just goes to show that these ongoing efforts are paying off.
Six areas where Nivy Tower excels
HB Reavis always strives to achieve above benchmark results, and they were successful in two out of six categories the certification evaluates: safety and security. The international workspace provider also showed the SBC they follow the highest standards in the remaining assessed areas, which are building usage, building performance, the building environment, user experience & collaboration, and connectivity & integrative design.
Platinum Certification within reach
HB Reavis has been playing an active role in transforming the office industry by pioneering smart workspaces and focusing on buildings and their overall features. The company strives to follow in the footsteps of the first building ever awarded Platinum Smart Building Certification (a level above Gold), the EDGE Olympic in Amsterdam. Nivy Tower has advanced technology infrastructure, including a fiber optic backbone with redundancy and high-speed Wi-Fi connectivity for visitors.
The building's design is integrative, incorporating seamless access solutions for integrations between systems, such as lifts, parking, visitor management and access control. The solution also supports both physical and mobile credentials. On top of that, cutting-edge cybersecurity features have been implemented.
Furthermore, HB Reavis continuously improves building functionality and efficiency to accommodate users' needs. According to the SBC, with some adjustments to the current implementation, overall Platinum certification is attainable in the future.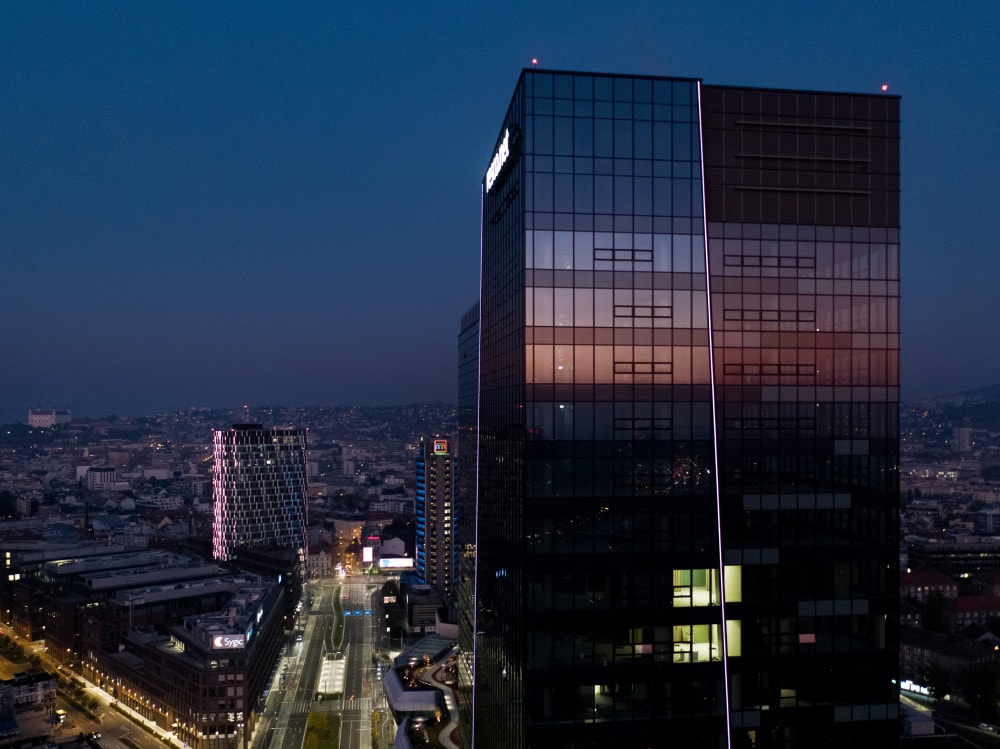 ---
Notes for editors:
Nivy Tower was delivered in 2019 in Bratislava and has welcomed respected brands in its premium space, such as Danone, GoHealth, XTB, Resco, Kuehne+Nagel and CBRE's Global Workplace Solutions division. Nivy Tower is located in a prime location in the business centre of Bratislava and has chosen a fit-out design that is high quality but also flexible to continue delivering a future-proof space.
The Smart Building Collective is the international institution behind the Smart Building Certification. The Smart Building Collective is made up of professional institutions and companies dedicated to creating smarter and more efficient buildings using technology. Its certification body has assessed buildings in European capitals such as London, Berlin, Helsinki, Amsterdam and Ljubljana. In addition to certification, the organisation provides resources, education and networking opportunities to those in the industry, from architects, engineers and designers to contractors, property managers and energy consultants. The Smart Building Collective aims to facilitate collaboration between professionals and promote the use of digital tools and technologies in the industry. Through its events, publications and online presence, the organisation has become a go-to source for the latest trends and news in the industry. The SBC Framework and benchmarks provide a language of transformation.