What are the two elements of biophilic design?
People have a natural affinity for the outside world. And it makes sense why – nature is shown to make us happier and enables positive social interactions through greater sensitivity to others and their needs. We not only can get aesthetic enjoyment out of nature but also mental and social benefits too. But how can these positive effects apply to the workspace?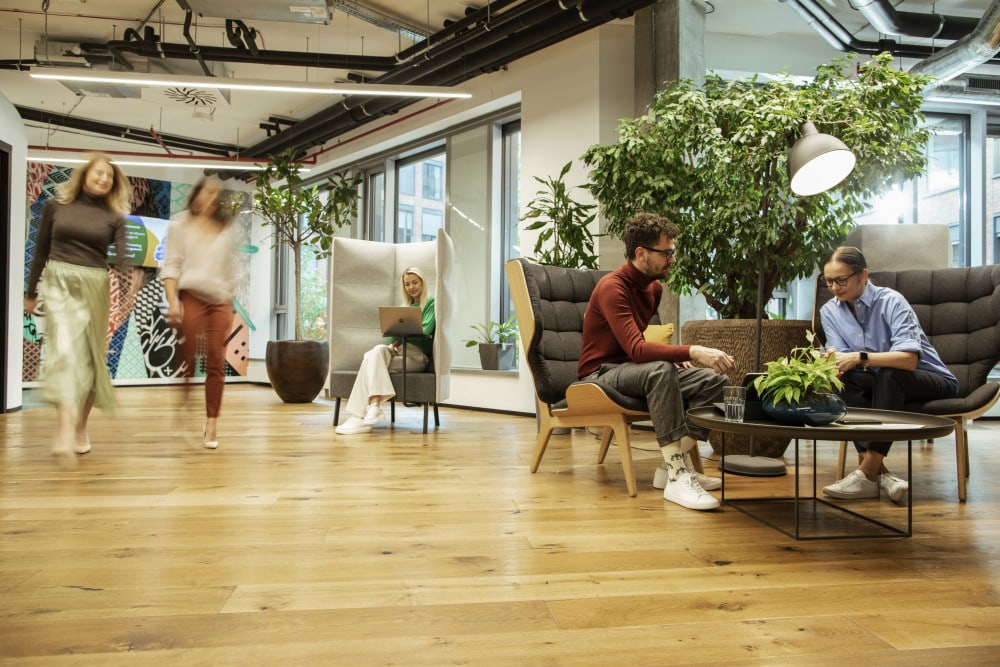 There's a word for blending nature with a building's design – biophilia. With the right knowledge of biophilic design, nature's positive effects can be harnessed to improve the in-office experience for employees. It doesn't only make people happier; it can also benefit wellbeing and productivity.
This isn't something new to office design. The benefits of biophilia have been recognised for years but oversimplified by adding a few plants to the office. Whilst this can increase wellbeing and productivity, further benefits can be unlocked with more than a monstera.
Including natural aspects is about more than what we can see, which is why it needs to go further and become part of the office surroundings and experience. There are actually two key elements to biophilic design:
Direct biophilic design
Indirect biophilic design
Direct biophilia
Direct biophilia means having a direct experience with nature. This includes not only plants but also natural light, fresh air, and views of the environment and landscapes. And there are many opportunities to provide this direct experience through office design.
You can start by adding live nature to the indoor environment. But by spreading this greenery out into entire natural outdoor spaces, biophilia can be shared among the workspace community beyond their desks.
In Germany, DSTRCT.Berlin's New Building has three green inner courtyards, providing a positive natural space for people to work, connect, or spend time relaxing alone. All whilst they absorb the advantages nature can offer.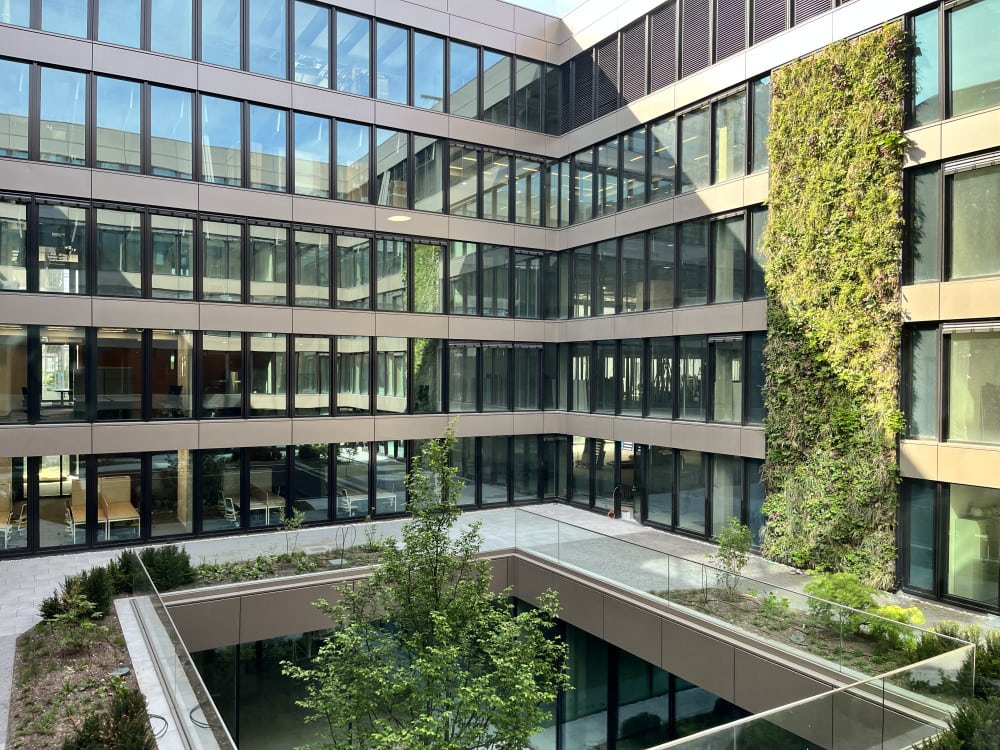 And with thoughtfully placed windows, your employees can maintain this contact with nature even when they're back at their desks. Direct contact with windows means they can also enjoy the positive effects of natural lighting, proven to boost wellbeing and engagement. According to a study by the University of Oregon, natural lighting and views of nature could result in people taking up to nine hours less sick leave on average. Those in internal facing offices said they would take any view over having no windows at all, showing the vast difference that can be made from a small change.
In Bratislava, we achieve this change by ensuring 95% of workstations are within 12.5 metres of view windows and that 75% of the space is within 7.5 metres of view windows. By using wellbeing data, we're guaranteeing everyone has access in some way to natural light and views.
Even if they're not green, any outdoor space can benefit employees. Fresh air is also crucial when stepping outside for a break, offering people freedom, relaxation, and stress relief. And it's proven to increase energy by 90%.
Forest has a public patio and terrace so people can step outside, get some fresh air, and enjoy this with family and friends. The New Building in DSTRCT.Berlin has a 1,200 sq. m panorama terrace where people can step outside and enjoy the views.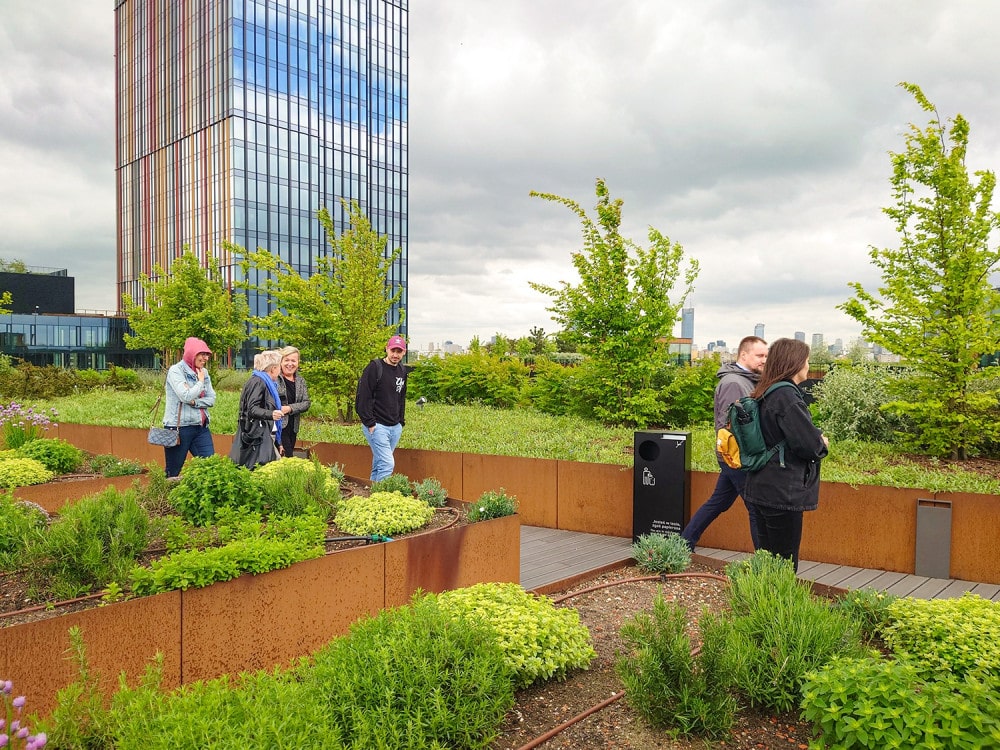 Indirect biophilia
Indirect biophilic design is more about the emotional and subconscious connection to nature, and a key part of this is nature's aesthetics. For example, décor can simulate different aspects of the outside world. Just a glimpse of the colour green has been found to stimulate innovative thinking and creativity.
A good way to approach this is by using natural materials and colours. For example, elements such as wood or stone in your building design and furniture subtly introduce the outside world. You don't have to turn your space into a jungle to gain the benefits of nature. Simple suggestions of nature can bring about the same positive effects.
The bronze-coloured panels of the façade of Forest are designed to look like tree bark to support its natural theme. Bloom Clerkenwell also features natural materials such as marble in the reception and wood throughout the building.
And the air we breathe inside is just as important as fresh outdoor air. Increased concentrations of fine particulate matter and lower ventilation rates in offices have been associated with slower response times and decreased accuracy. By implementing an air purification system, you can provide that fresh air feeling so people don't have to step outside. Smart office technology can help you continually monitor this air quality and control the temperature and humidity.
And where it's not possible to light a space naturally, simulate it with optimised artificial lighting. You could even take this further by lighting different areas to create atmospheres inspired by times of the day or seasons. Warmer lighting, for example, is reminiscent of sunset, which is great for relaxation and comfort. On the other hand, cooler tones that mirror full daylight improve productivity. Overall, ensure lighting isn't too harsh – nobody responds well to this.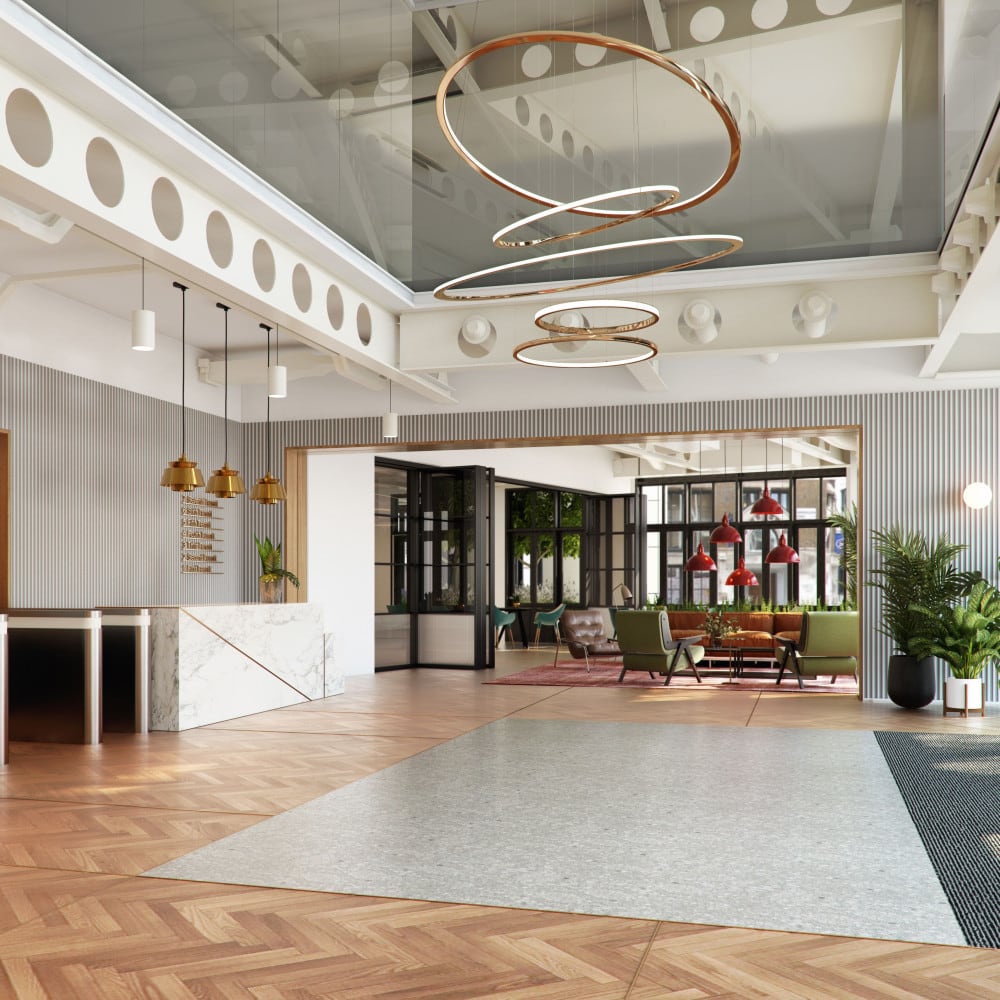 Nature and workspace: The perfect harmony
Through both direct and indirect means, biophilic elements are proven to boost productivity, mood, and wellbeing. Incorporating this in the office has the potential to enhance both the in-office experience and business performance.
Working with a workspace expert can help you include this seamlessly and creatively into your office design. We've journeyed together with the businesses using our space, integrating natural elements and outdoor areas that enable their employee community to thrive.
Discover how Origameo can help you find the perfect natural elements for your office. See our projects for more unique ways biophilia can be blended with the workspace.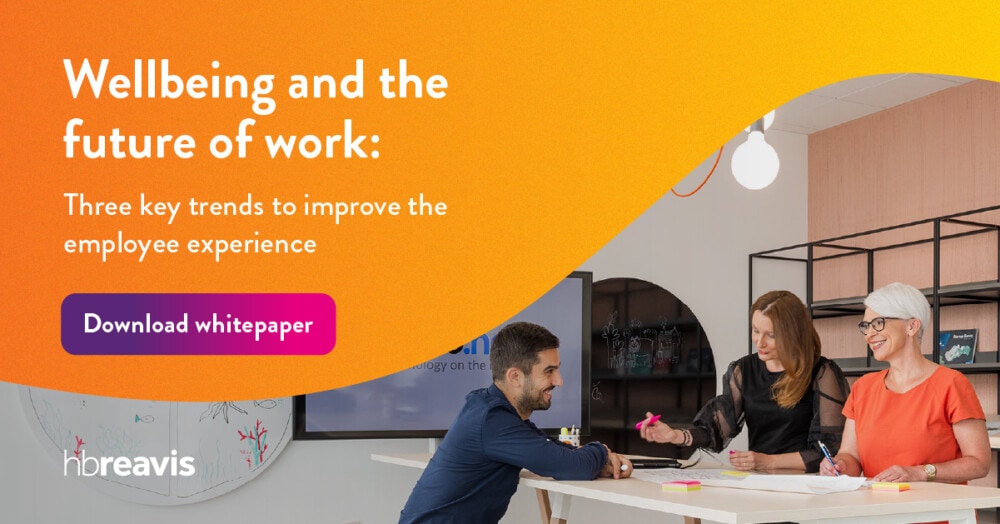 ---
Don't miss out on any of our resources. Sign up for our newsletter and we'll keep in touch:
"*" indicates required fields