How to approach office design for hybrid working success
Offices are always evolving. But when it comes to hybrid working, most are still playing catch up. From enhancing health and wellbeing to making it easier for employees to streamline their day, getting people back through the door on a more regular basis – and unlocking the many benefits this brings – means the office needs to offer a better experience than it did before. And this has changed the game when it comes to office design.
Efficient space planning is at the heart of this shift. This has always been important, of course. Businesses want to get the most out of any investment, especially in their physical footprint. But it's even more important in a future that's embracing hybrid working with both arms.
The question is, what should space planning look like for companies that want to get employees back into the office more regularly? We spoke with Amy Morgan, our expert UK workspace consultant, to find out.
Hybrid working has changed the game
"Hybrid working brings new requirements to the office," says Amy. "Human connection can't fully be recreated virtually, so it's important to make collaboration easier when people are together. This means thinking carefully about design, such as balancing out meeting rooms with open plan spaces where people can connect in a more ad-hoc way."
Indeed, in a hybrid working future, the success of any workspace will be measured by how well it can bring people and teams together, creating a sense of belonging that will also help to attract and retain talent. This has led to the concept of the 'destination' office.
The destination office: It starts with insight
At its core, a destination office is a space employees want – rather than need – to be in. For some, this will conjure up images of on-site barista stations to catch a caffeine break with colleagues between meetings. For others, it might be an on-site gym that'll save them hours in their day.
The important thing to consider is that every company is different. Turning the office into a destination won't happen by chance; it'll only work if properly planned. That's why this journey must start with data. Use this as a starting point, but don't forget that office design is never 'done'. It'll evolve and iterate over time as more data becomes available and as working habits shift, which is why it's important to continually check in with employees.
Amy puts it best when she says: "Turning the office into a destination means understanding employee expectations and requirements, so the right office design gets rolled out and the right amenities get offered. But this is easier said than done. Working out what employees truly need means looking beyond how the office is currently used to consider how it could better serve employees and the business in the future."
From insight to informed decisions
For occupiers, it can be hard to take a step back and plan how an office space can better support hybrid working when they're in it every day. Creating an office space that works for everyone and creates genuine collaboration is tough. Yet it's vital to get this right, as, without the right environment, businesses will struggle to make hybrid working sustainable and successful.
Origameo – HB Reavis' inhouse workspace consultancy – makes this process easier. Bringing together advanced analytics and best practice from decades of experience, the Origameo team helps occupiers make decisions that are based on data but informed by emotion.
"We put a lot of value on the employee perspective. We run visioning workshops, hold 1-2-1 interviews, and conduct surveys to work out what will make employees say 'wow'," says Amy. This softer, emotive side combines with insights from our smart sensor technology. It works out what an office space is lacking, where the pressure points are, and what layout and design changes could be made to bring new efficiencies and seamlessly support future ways of working.
"Not only does this create an environment that's more engaging, but our approach can bring several other benefits to occupiers like helping to reduce absenteeism, attract new talent and create a happier, healthier workforce," says Amy.
Office design for the future of work
Only by delivering on the expectations of employees can businesses tap into the collaboration benefits of having everyone under the same roof. For this reason, the office of the future will be different to how it was in the past.
In the wake of hybrid working, the office will be a hub for flexibility and a tool for building processes that make things easier for employees. Different zones, amenities, integrated services, and more will help create a campus-like feel, offering a more engaging experience while making efficient use of the space available.
If you're undertaking a redesign project or considering a move, get in touch to find out how we can help.
---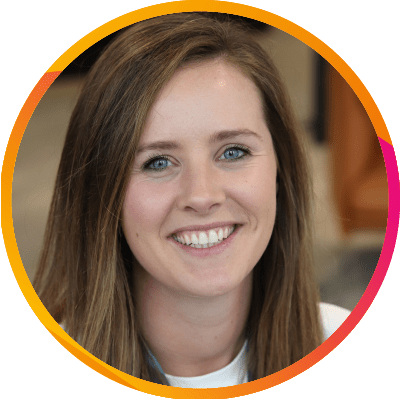 Amy Morgan
Workspace Consultant – UK