Crafting a creative workspace in a monument
Our first German project, DSTRCT.Berlin, is far more than its new building. The development includes two historic halls which give the workspace a unique identity.
We can't thank Mrs. Kerstin Lindstädt enough for her help on the project. As Head of the Department of Preservation Order at the Urban Development Office of Pankow, Berlin, her advice has played a key role in the restoration of these great spaces.
Kerstin has been a preservationist for 30 years and is the author of the book 'Berlin-Pankow – Aus der Orts-und Baugeschichte'. She grew up in a monument, just like our halls, and grew to love art and crafts at an early age. In fact, she had the perfect background for such a project: before moving into preservation, she was a bricklayer and studied structural engineering!
A preserver's view
We recently asked Kerstin about her experience of DSTRCT.Berlin, and the area's newly-revitalised personality. Her first thoughts was of the future tenants. Architects, advertising agencies, IT companies; a high-quality organic grocer; healthy cuisines and gastronomic events – all will be within easy reach whenever she visits.
She's excited by the thought of the spacious halls and industrial architecture, in the middle of Berlin's trendy Prenzlauer Berg district, filling with life once again.
As the lead historic preservationist, she feels this is the highlight of every project – when you know the old walls will soon be used again. That the site of an imperial-era cattle yard which fell into disuse is being embraced by people again.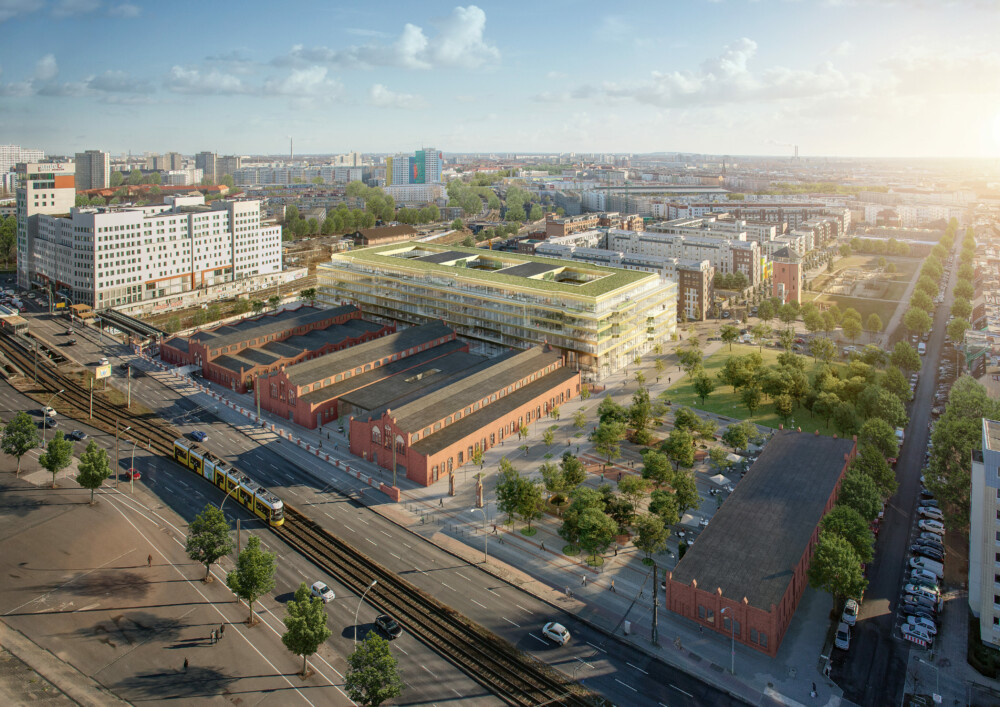 Better ideas
Preservationists don't want to create museums, they want to shape living spaces. So Kerstin's been involved in all the key discussions.
She knows that a number of spaces are yet to be leased. So while architects or event caterers could move in; it could just as easily be an innovative environmental start-up next to a fairtrade coffee mill. But either way, she sees something extraordinary: that outstanding buildings are attracting outstanding companies.
To quote a Creative Director's mantra on profile-building workspaces, Kerstin believes there's a difference between walking into a random building and walking into something special. For her, DSTRCT.Berlin's appearance, personality, look and feel, and tension between old and new, shape the way you think when you're here. Kerstin points to another quote, this time from an advertising head, who said that a good environment creates better ideas.
Breaking out of conventions
It's the rough surface textures that inspire Kirsten. A complete contrast from the new building, the former cattle halls' visible ceiling beams help to create enormous floor heights – at nine meters, they're three times the height of most new buildings. And it's this, the escape from today's building conventions, that elevates the historic halls into monuments worthy of protection that will inspire creative and intelligent minds.
Preserved graffiti
And that's not all. We wanted to preserve some of the graffiti that had accumulated in the halls over years of neglect.
From a preservation point of view, it's a delicate matter. The surfaces have to be restored as much as possible to their original condition. However, Kirsten agreed with us that some of the work was very artistic, and was happy for us to preserve some pieces – agreeing that there's cultural value in the period they were sprayed on the walls.
Again, they add to the creative quality of the space. Future tenants will recognise the difference between curated graffiti, created afterwards for the workspace, and the authentic graffiti that's connected to the building's history.
As we said, Kirsten doesn't want to create a museum. She's helped us create a vibrant, inspirational, living spaces.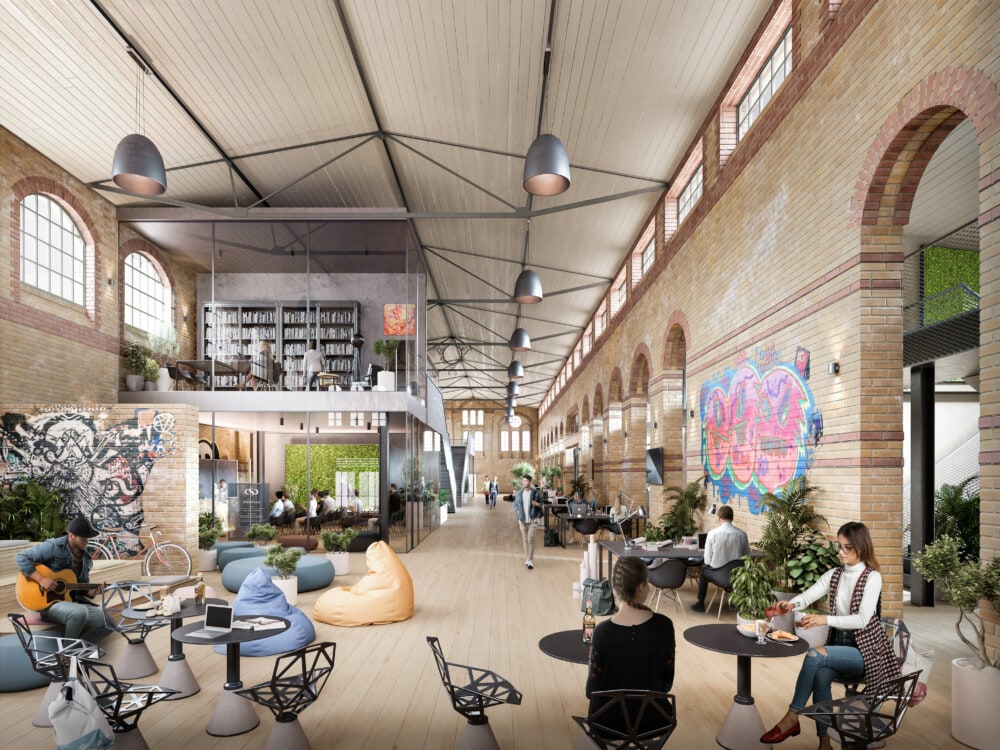 DSTRCT.Berlin's recent welcome festival featured delicious food and not only live music but live graffiti workshops led by skilled artists. The resulting 11 large-format paintings will be on show around the site over the coming months and are visible proof of our focus on creating spaces that inspire people, promote wellbeing and strengthen business communities.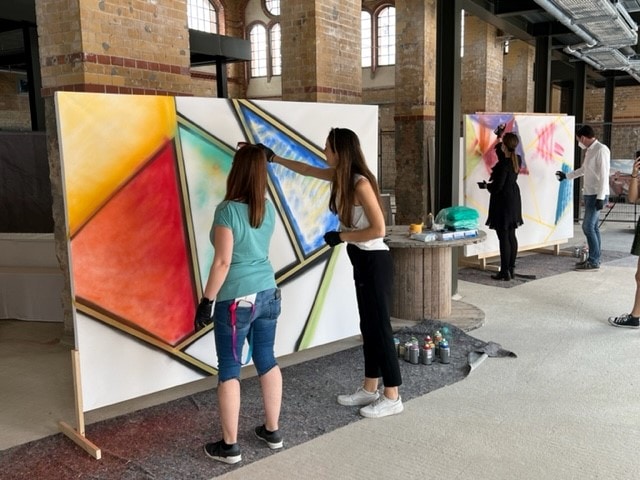 ---
Don't miss out on any of our blogs. Sign up for our newsletter and we'll keep in touch:
"*" indicates required fields