Is noise drowning out your productivity?
The first of our new #workingWELL blog is all about sound. The word 'sound' is generally defined as a vibration through a medium such as air. Why is it important in the workplace? Well, let's first look at some of the misconceptions around noise in the workplace – and how it impacts concentration and productivity.
Myth: If a room has a door and it's closed, conversations within will be private.
Fact: Rooms with closed doors only keep conversations private if they have adequate sound proofing. Otherwise sound will leak around doors, or through walls, ceiling or ducts.
Myth: Sliding doors are as good as hinged doors when it comes to sound proofing a room.
Fact: Most sliding doors are much less effective at blocking sound, because hinged doors typically have better seals that hold sound in (and keep noise out). Good sliding doors are available, but often cost more.
Myth: Speech privacy means 'I can't hear you talking or 'I can't see you when you're talking.'
Fact: Speech privacy is defined as 'Techniques… to render speech unintelligible to casual listeners."
Myth: Sound absorption products block sounds travelling between spaces.
Fact: Acoustic panels absorb echoes and reverberations, but can't stop sound travelling between spaces.
Sound in the workplace
It's clear there's more to workplace noise than meets the ear. In fact, it's one of the key themes reviewed by WELL, the leading building standard for health and wellbeing.
Obviously, few people want to work in complete silence. So WELL assesses buildings in terms of the levels of sound. Today, with 32,893 buildings now assessed, across 98 countries, WELL knows a thing or two about the impact sound has on work and the mental state of employees.
A space can be acoustically comfortable, and improve occupant health and wellbeing. But equally, too much noise and a lack of privacy reduces focus and wellbeing (and are among the most common complaints in the workplace).
Safe to say, it's a widespread problem. 99% of people say that office noises, from unanswered phones to colleagues' conversations, get in the way of work.
Not only is it a disruption when you're trying to focus, it can interrupt social interactions too. In fact, it's the number one workspace annoyance for employees – by quite some distance.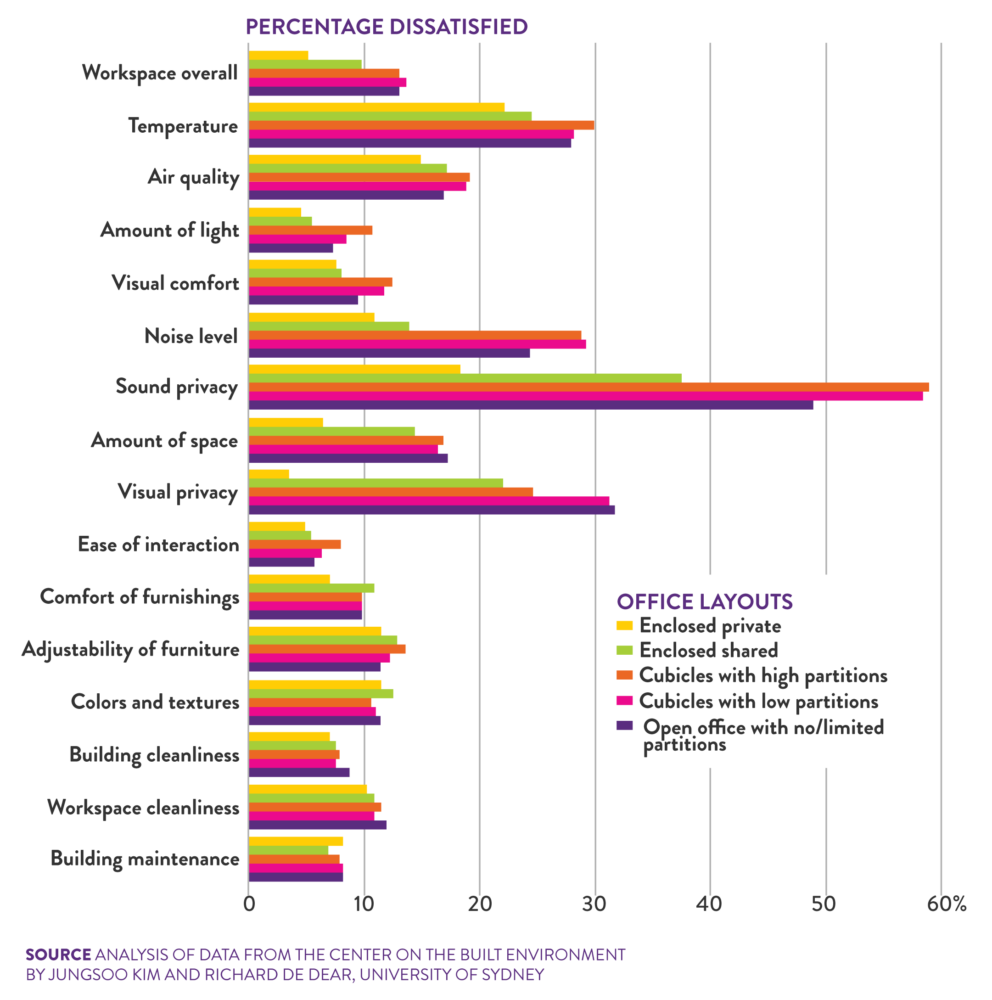 Improve your space and the employee experience
Our Space and Experience Toolkit (SET) has around 300 science-based tools to help you create a better workspace – focused on everything from productivity to engagement, wellbeing to simple employee satisfaction.
It's a great starting point if you're looking to reduce the noise in your workspace. You simply choose which ones you need and directly link them to your business and even individual employees' goals.
Now you know the facts from the myths, read next week's #workingWELL blog for our 10-step solution to making sure noise doesn't interfere with your success. Sign up here and we'll tell you when it's available.
"*" indicates required fields