24 days. 1 million Nivy mall visits.
Read press release
Nivy mall has certainly captured the imagination of Bratislava – it's racked up over a million visits in just 24 days!
The 70,000 sq m shopping mall is just one feature of the Nivy mall, which includes an international bus terminal, green roof, and fresh produce market. Almost 90% of the mall's GLA is now taken, with the roster of brands including global names such as Zara, Pull&Bear, Massimo Dutti, Mohito, and Sinsay.
Eat, work, run, and road trip
As well as its range of fresh produce, the 3,000 sq m food market is now the go-to lunch and dinner option for locals, with its cooking shows and workshops already hot tickets.
Upstairs, the "Trafalgar square" size green roof, full of plantings reflecting Slovakia's diverse greenery, boasts two play areas and a half kilometer running track. The views of the new and Old Town city centres are also dotted with buses heading from the international bus terminal to over 300 towns and cities in Slovakia and abroad, including a direct route to Vienna airport.
Next door, Nivy Tower is Slovakia's tallest office building. It meets WELL and BREEAM's highest specifications, and includes 30,000 sq m of traditional, serviced, and coworking workspaces that have already attracted tenants including Resco.net and Capco.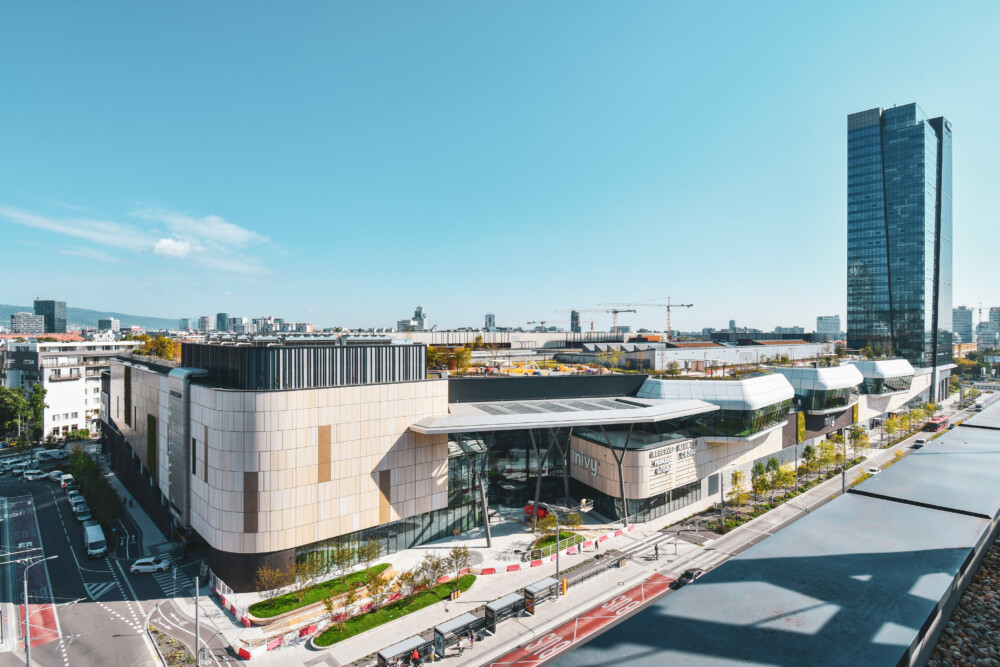 BREEAM Communities 5th best zone ever
The wider Nivy zone complex is certified with BREEAM Communities at the Excellent level. The certification assesses areas for their housing quality, civic amenities, infrastructure, and the use of energy and natural resources, as well as lifestyle and economic opportunities – and of the 13 zones that have managed to reach Excellent level, Nivy scored the 5th highest.