We've opened Nivy mall and welcomed almost 330,000 visitors during week one
Read press release
There's much more to Nivy mall than retail, as the complex's name implies. We've combined a shopping centre with an international bus terminal and an office tower. This challenging and visionary project that's not only changing the skyline of Slovakia's capital, but the ways Bratislavans shop, travel and work, drew the attention of hundreds of thousands of visitors during the first week after opening on September 30.
10 Trafalgar squares full of cutting-edge services
Every one of the complex's 130,000 sq m is a piece of a truly multifunctional space puzzle. You can grab a coffee after shopping and sip it on the green roof while watching runners go by, as there's a running track open for all sports enthusiasts. And if you suddenly start craving a pastry, you can just follow the delicious smell coming from the farmer's market. You can be sure you'll find some mouth-watering treats there.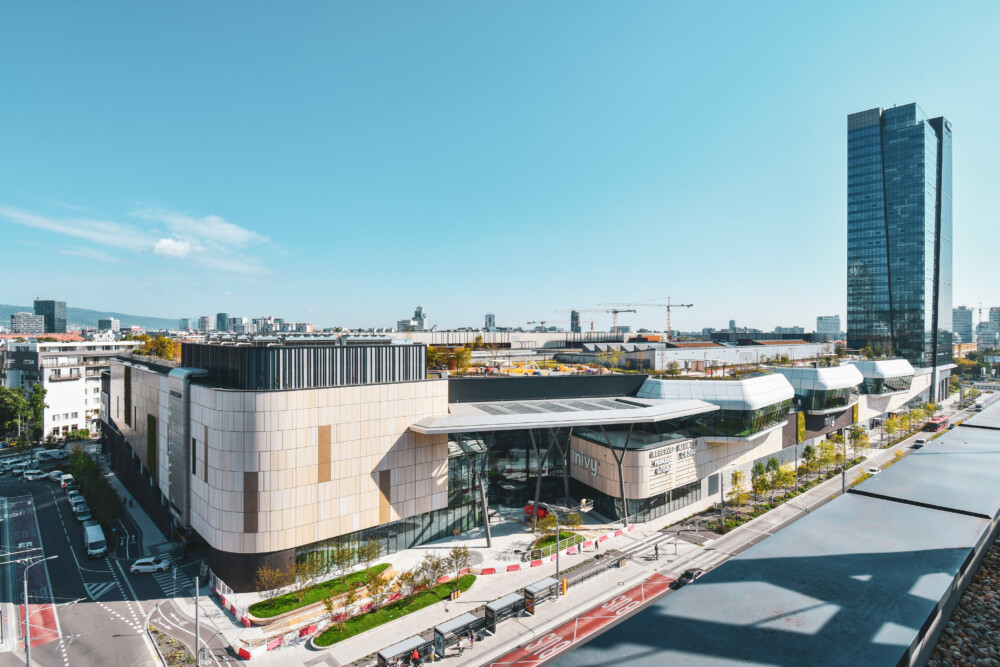 A business trip to Vienna? Just hop on a bus right at the bus terminal attached to the mall. You will instantly feel the "being at the airport" vibe in the modern, highly functional and comfortable spaces where navigating is easy and yummy snacks are accessible – all in addition to overall great infrastructure. This will make your trips to 300+ towns and cities across Slovakia and abroad more enjoyable. And the icing on the cake – there's an underground roundabout! Pretty breathtaking. Take our word for it. Or better yet– come see for yourself!
The adjacent Nivy Tower, the tallest office building in Slovakia and home to successful companies like Resco, completes the whole ecosystem. We all know how hungry one can get after spending hours finishing a presentation before a big meeting. Just a couple of steps to the mall and here you are – having a nice refreshing lunch or running some quick errands before getting back to the office.
In the heart of the Nivy zone, one of the 13 highest quality areas worldwide
You can find Nivy mall in the Nivy zone. It wasn't long ago when we got a BREEAM Communities certificate at the Excellent level, and this zone became one of the 13 worldwide to meet these extremely demanding standards. We're actually no.5, which makes it even more exciting. The certification evaluates entire areas in terms of housing quality, civic amenities, infrastructure and the use of energy and natural resources, as well as lifestyle and economic opportunities. So, next time you visit Nivy mall, remember that there are just four places in the world where you can get the same kind of experience!