We #StandWithUkraine
As it's hard to find the words to react to the incomprehensible series of events in Ukraine, we've decided to join other businesses and organisations and light up Varso Tower in Warsaw, Nivy tower in Bratislava and Agora Budapest in the Ukrainian national colours and start a joint donation initiative across the company with an initial contribution of € 1,000,000 made by HB Reavis Group.
Support from the clouds
Varso Tower, Nivy Tower, the two buildings that we lit up and will carry the yellow and blue beams until Monday evening, are the tallest buildings in the EU and Slovakia, respectively. Let them standing firm and rising into the sky be a metaphor for not bending to the will of those violating basic human rights. Alongside them, Agora Budapest will be lit up too. We stand with the Ukrainian people.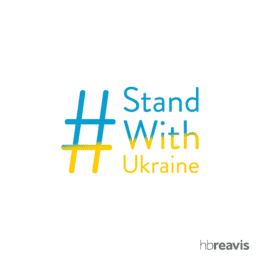 We all donate together
In addition, we are starting a joint financial donation campaign to support Ukrainians and all those who have been made refugees. HB Reavis Group has made an initial contribution of €1,000,000 and encourages colleagues across teams to join them in their efforts.
Approximately half of the money donated in this joint initiative will be used to support trustworthy humanitarian organisations operating directly in Ukraine. The amount of donations remaining will cover efforts in Slovakia, Poland, and potentially other countries to help the refugees this conflict has created. We will focus on concrete projects. e.g. renting and financing a particular hotel accommodation that will serve as a refugee camp, financing shipments of medicine and food, joining forces with the City of Warsaw, among other projects. As a matter of principle, we will only support humanitarian, not military, efforts.
Have a look in our gallery and spare a thought for Ukraine with us.