New research: Why 2021 will be the tipping point for smart office adoption
One in three people don't have a dedicated workspace at home. This figure doesn't just describe a temporary issue from the pandemic but an ongoing, real-world issue facing hundreds of millions of business professionals.
If this doesn't speak to your personal experience over the last year, try to visualise what this number represents for your business. How is performance being affected if a third of your staff are trapped in an environment that doesn't allow them to perform at their best?
This statistic is one of many we uncovered in a comprehensive survey issued to almost 500 European business leaders. From this research, we identified a number of insights into how workspaces will evolve in 2021. These insights each have a story to tell regarding how employers and employees feel about full-time, at-home working and what they want to change in the future.
To understand the implications of this, we grouped our findings into four trends. What we discovered is that hybrid working, digital experiences, agility, and wellbeing will be the four pillars supporting business growth – and employee productivity – in 2021 and beyond.
Let's take each in turn.
Hybrid working will be commonplace
By this point, you will have heard of, or implemented some degree of, hybrid working. And this is with good reason. For almost all businesses, there are some tasks that can only be performed on site or are better conducted in collaboration with others. But there are many other tasks, including focused work, that can be effectively undertaken at home for those that choose it – giving them more control over their working day.
However, getting the balance right is about having the flexibility to choose the correct environment for the task at hand. While some have embraced the change forced upon us by the pandemic and found at-home working a great fit, employers feel that most people are less productive when made to work at home full-time. When asked how they felt about their team's productivity when working virtually, 45% of managers reported it is just satisfactory or below satisfactory.

---
A key reason for this is that full-time, at-home working restricts overall collaboration, knowledge sharing, and peer learning – essential factors for the growth of any business. This was something noted by 66% of respondents who described a 'moderate' or 'high impact' upon company infrastructure in the transition to virtual work. Foregoing these interactions has a real impact on productivity and creativity. As a result, both employers and employees recognise the importance of adjusting their working environment based on their current needs. And a crucial step in that direction is hybrid working.
Smart technology will be used to better understand the office
Yet, simply returning to the traditional office environment for collaborative tasks isn't the answer. Instead, employees need to be able to make the best possible use of that space to enhance efficiency. And what employers are realising is that people are more productive when supported by the right technology to create new digital experiences.
Some are more ahead of the curve than others. Nearly one-fifth of businesses already plan to implement at least one form of technology to enhance the employee experience and improve performance, and this number will surely grow throughout the year.
So how does this work in practice? On a basic level, employees need an environment that is safe to work in. This means touch-free entry, for example. But that's only the tip of the iceberg. Employers are also realising the additional value provided by bringing data-driven insight into the office environment.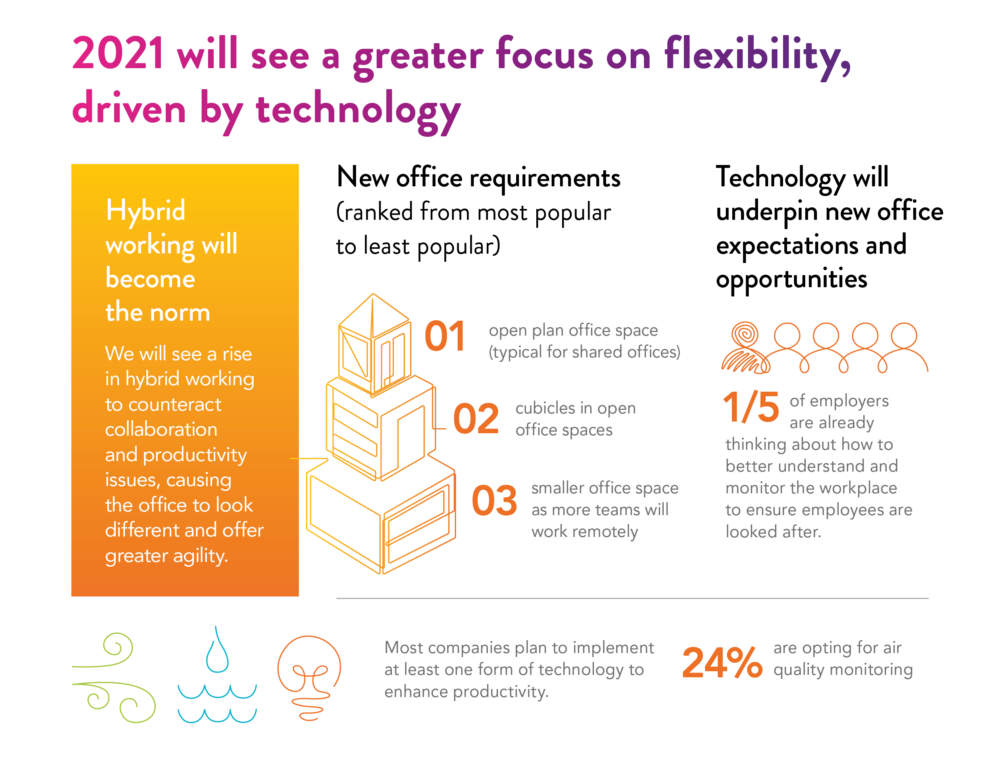 With smart technologies, the workspace itself can drive efficiencies through analytics. For instance, with air quality monitoring, the workspace can be automatically optimised to the needs of employees. Given the importance of air quality to productivity and wellbeing, it makes sense that 24% of companies are already looking at this.
Agility will be necessary at all levels
Another insight revealed by our survey is that business needs aren't set in stone. In fact, among our respondents: 10% increased their staff number in response to the pandemic while 27% decreased their staff and 15% paused operations entirely. With such large shifts taking place, businesses need the ability to pivot at will and this means having an agile workspace. To realise this, you need to increase agility at all levels of your business if you are to quickly and effectively respond to change.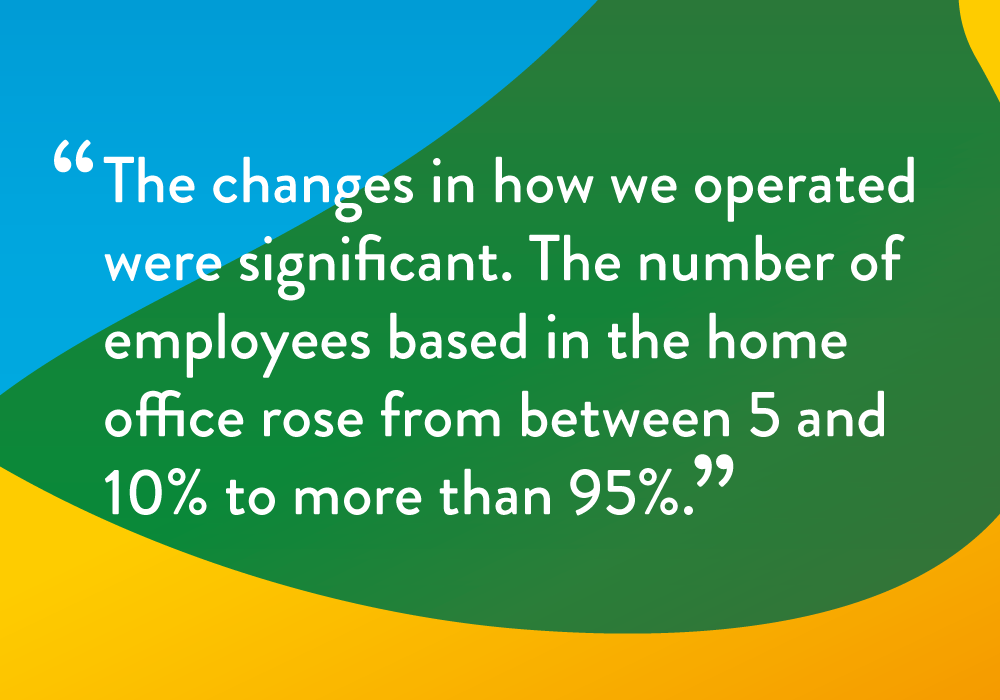 ---
At the individual level, employees expressed a keen interest in personalising their working environments to better suit their needs in the future. Likewise, at the management level, our research revealed a split decision across what type of office they planned to use in the return to work. With businesses divided between cubicles, open plan, long term and short term contracts, picking an agile workspace layout and flexible contract to suit your needs is a priority.
Health and wellbeing will be more than additional perks
We've already discussed how technology ensuring employee safety, an agile office layout, and hybrid working will be major trends for this year. In part, all of these trends are driven by employee concerns for their health and wellbeing. But with employees increasingly concerned about these factors in 2021, we should consider them as trends in their own right.
Beyond the necessary equipment to make their workspace safer, employees want an environment that supports their wellbeing. And this takes several different forms, many of which are exclusive to the physical office. For example, a common sentiment among employees is that they miss the level of social interaction only available when working in the same building: more than half said they miss office banter or the chance to 'run into' a colleague, while more than a quarter said they miss office lunches.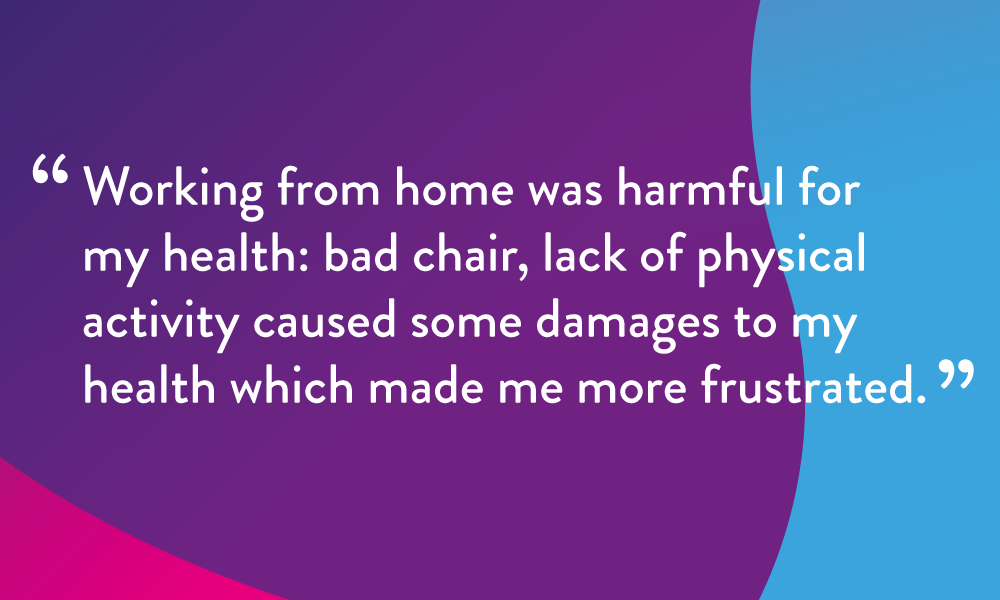 ---
And while this is just one example, health and wellbeing are significant factors that improve employee performance. When combined with other factors that drive wellbeing, such as tailored, customisable workspaces and access to smart workspace technologies, the cumulative effect is significant. For the average business, the workforce accounts for 90% of their operating cost, so why not invest in them?
Smart office solutions are shaping the future
While these trends show there is significant change on the horizon, they also show a lot of opportunity. With workspaces becoming better optimised in response to the challenges of 2020, the office of the future will allow businesses to drive productivity and efficiency gains through the environment, while also creating the digital experience employees desire – making this year the tipping point for smart office adoption.
To understand these trends in greater detail and to see how they align with the future of your business, download the full report: