The destination office: a space for employee wellbeing, community, flexibility, and more
What does it mean to "go to work" in a world where people can work where they want?

What the recent whirlwind of remote and hybrid working has shown us is that the role of the office has changed. Work is no longer a place you go but a thing you do. For some, this has brought into question the importance of the office itself. If tasks can be ticked off from any location, does that change what the office represents?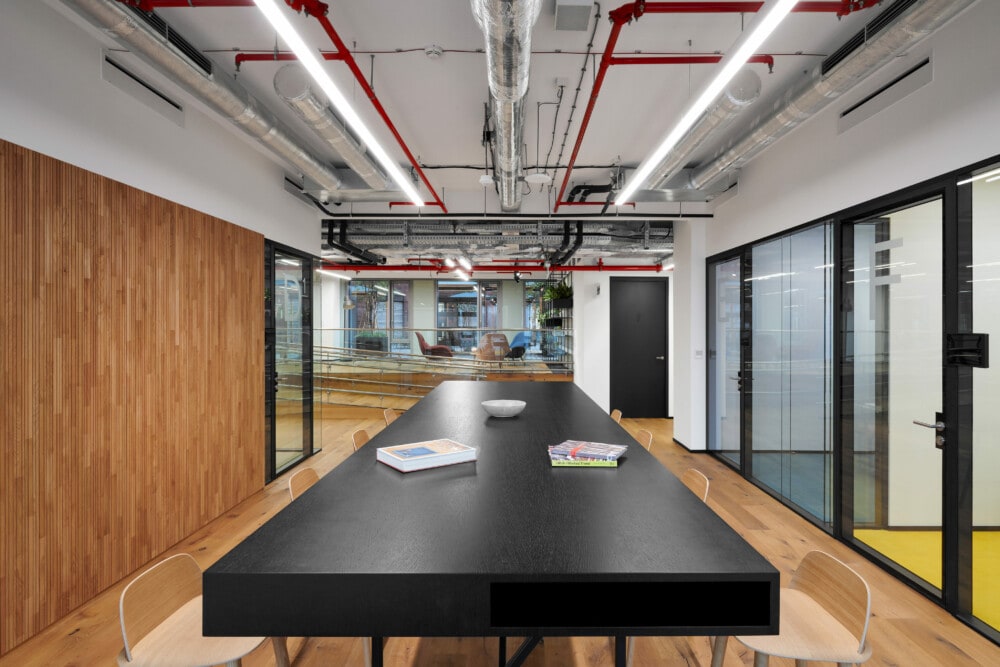 Yet, as data has shown, the office is still hugely important to employees. Now more than ever, it represents a hub for collaboration, community, and wellbeing, which is why nearly half of employees want to return to the office full time. And many are, as the cracks with hybrid working begin to show.
The challenge for businesses now is to address the needs of the remaining 50%. How can they make the office an attractive place to be when every second employee has grown comfortable working from home?
What do employees want from the destination office?
First, business leaders must ensure their workspace matches the changing needs of its users. Employees are looking for an office that becomes an extension of their workday – making the most of their time.
But more importantly, the office needs to provide something extra: an enhancing, rewarding experience that can't be found at home. This is what employees will come back for. It starts by bringing people together to collaborate, but also to be entertained and be healthy – all under one roof. In other words, it needs to become a destination office.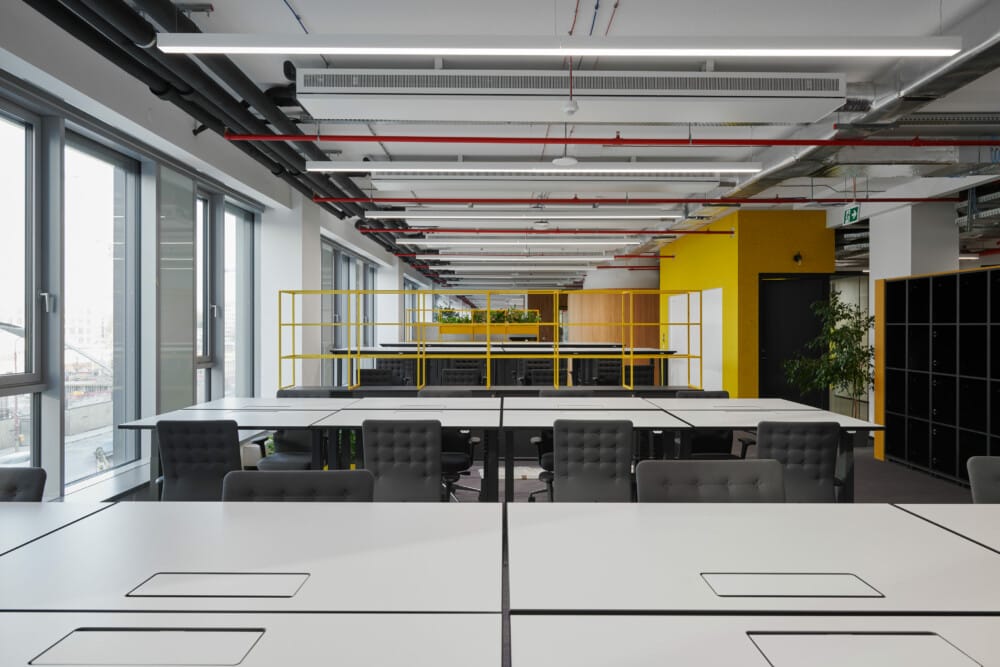 To transform your workspace into a destination office and make it a success, there are six factors to consider:
1. Boosting employee wellbeing
Employees are starting to put their workplace wellbeing first. In fact, 54% of employees in London say they prioritise their wellbeing at work more due to the pandemic. And whether remote, hybrid, or in person, the working environment affects wellbeing. For example, 80% of UK workers felt remote working impacted their mental health. Despite this, for employees to truly want to come back, they'll need a workspace that champions wellbeing across the board.
But how can you address a matter as personal as physical and mental health? To start, think of the smaller factors that influence a working day. For example, how can you regulate temperature, soundproofing, and lighting to ensure the indoor environment is comfortable to work in?
Also, what amenities can you offer as extra perks? Campus-style workspaces that provide various amenities under one roof, such as gyms, wellbeing classes, rooftop gardens, and shops, will win the day here. These are the things that boost workplace wellbeing.
By the time we reach 40 years old, we'll have spent 36 years of our lives inside. This is why employees want their office to give them something in return, and why the prioritisation of wellbeing is so important. As we say in our video with BBC StoryWorks and the Global Wellness Institute, people need to feel happy and healthy at work, as it is happy and healthy people who make good employees. 
Head back to our resource centre to read our expert guide on the destination office, along with more of our insightful reports and infographics about workplace wellbeing.
2. Creating community
Remote working also led to a breakdown of workspace community. Now 57% of employees say they've lost a sense of connection with their colleagues, and 51% miss socialising the most about the office.
The need for connection, then, is a crucial part of the destination office's success. A well-nurtured workspace community will remind people what they've been missing these past two years. This isn't just about Friday night drinks – although socialising is a crucial part of community. It's also about encouraging activities that unite people in the office, whether that's tending a community garden, working on a fundraising project, or attending a wellbeing event together.
3. Providing purpose
Employees need a place to work that adds value to their day. Having wellbeing and community features is great, but there needs to be more motivation than this. 83% of workers think their employer isn't doing enough to be more sustainable. A workspace that gives back to the local community and supports sustainable practices will create a powerful reason to come to the office.
Provide transparency on your office emissions and work with your teams on reduction strategies.



Support the local community by reducing the number of cars on the road with hireable bikes or other sustainable travel.



Collaborate with local employment schemes and schools to nurture new talent.


This approach holds benefits for productivity, too. A motivating environment builds positive momentum and enables better collaboration between employees.
4. Focusing on flexibility
It's important not to forget about those wanting to remain remote. The destination office needs to support all participants equally. This means having the right tech in place to support a seamless collaborative experience between colleagues, whether they're in the office or remote.
Creating an equal environment also extends to individual needs. Some prefer focused, individual work, requiring a quieter, distraction-free space. Others will undoubtedly be looking for a room to conduct collaborative work. Flexibility is necessary, allowing people to choose how, where, and with whom they work.
Flooring is a key factor in enabling flexibility. Think about how you are "zoning" your space to accommodate different needs and consider removing walls to adapt the "zones" for different days.
5. Listening to employees
Designing the destination office is about understanding what your employees need on an individual level and being flexible with this. For this, you need to listen to your employees and get their insights before you start designing.
Above all, listen to those who seem the least engaged – they'll provide the best insights into what your space is lacking.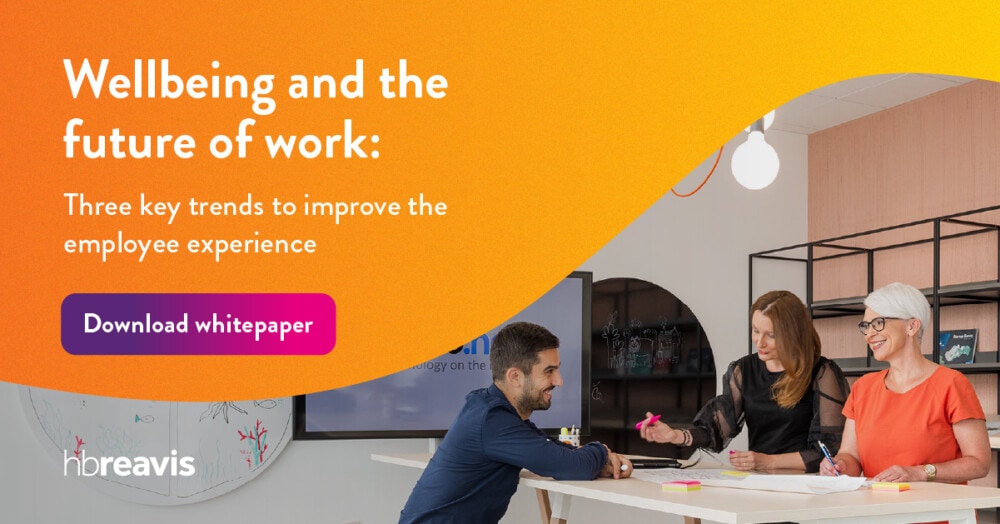 6. The role of smart technology
Smart technology must be central to the destination office to address the five factors above. It supports workflows and flexibility and can be tailored to the individual.
For example, building apps that provide a view of where space is free, technology sensors to help adapt the internal conditions, and live data reporting to track your emissions footprint. Above all, your approach should be data-driven and ever-evolving to match employee and business needs as they change.
---
Don't miss out on any of our resources. Sign up for our newsletter and we'll keep in touch:
"*" indicates required fields