A new office experience: 5 lessons businesses can learn from university campuses
Picture the destination office. There's ample space to work, standout amenities, and everything people need to get the most out of their day – all housed under one roof. It's a place to learn, work, be healthy, and thrive – somewhere employees actively want to be.
Sound familiar?
For those who went to university, this is a fond experience to look back on. In the wake of flexible working trends and following the arrival of the destination office concept, the future workspace is transforming to incorporate the best of the university campus lifestyle.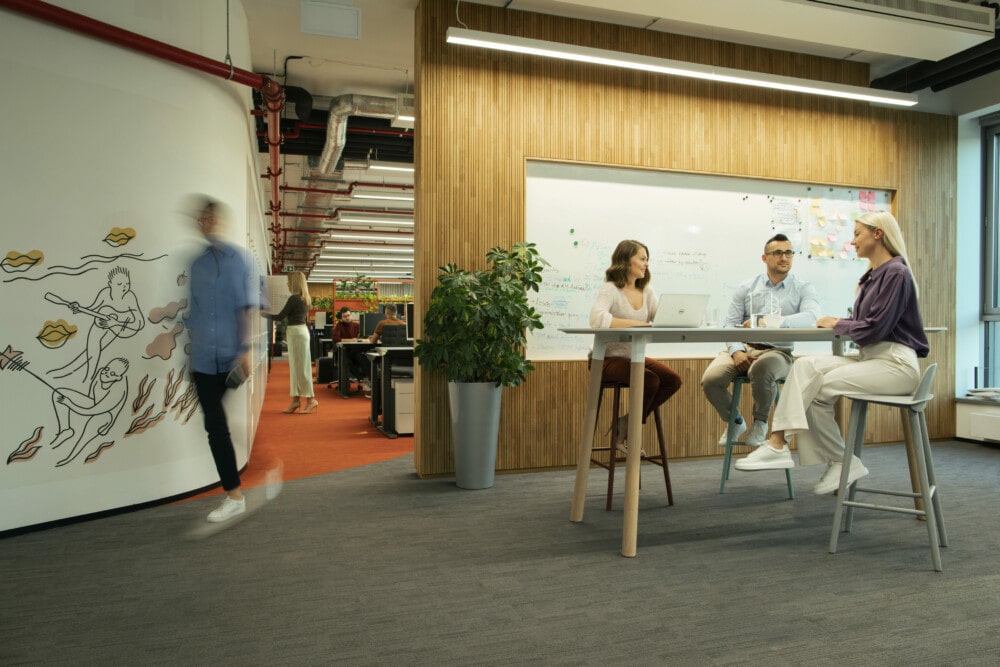 The office's new look
Creating a campus-like experience means transforming the workspace into a hub for flexibility, equipped with the best amenities and a variety of zones to help employees get the most out of their day. This is especially important as businesses operating in cities form 'innovation hubs' – areas orbiting local universities and colleges that generate top talent.
Graduates, used to campus lifestyles enabling a mixture of study, socialising, and lifestyle, are on the hunt for a similarly enriching experience in the workspace. And as offices adapt to meet these needs, this could be the difference between an accepted or rejected job offer, meaning businesses that don't act on this trend risk losing out on the top talent their city has to offer.
How can the workspace channel campus energy?
Luckily, creating a campus experience marries up with designing the destination office. By making the workspace an ideal place to be for your employees, the growing positive sentiment will help attract top talent that will shape the future of your business.
To ensure that today's spaces and new designs stand the test of time, here are four lessons the working world can borrow from the campus world:
Locality is everything
Good commuting links have always been an essential feature of the office. But especially in the flexible working era, employees are looking for an accessible office so they can pass in and out as needed.
Think about how close your office is to transport hubs and investigate nearby walking and cycle routes to promote safe and sustainable travel.
With 243 cycle spaces accessible directly from the Cycle Superhighway, plus three underground lines and Thameslink overground, safe, sustainable, and easy routes are made possible for everyone at Bloom Clerkenwell.
Socially conscious
CSR is increasingly important for recruitment and talent retention. Many uni students are activists, and this doesn't go away when they go to work. Young people between 15 and 23 years old are four times more likely to have actively taken part in protest movements than people aged 30 or older.
Responsible, sustainable practices and local community initiatives will be a core aspect of the destination office. Consider how to make your emissions footprint and reduction strategies transparent to your employees. Stay vocal and active on local community projects and broader global issues where relevant.
Using the data insights and analytics provided by Worship Square's smart building monitoring solution Symbiosy, businesses will be able to monitor and understand their carbon activity.
All the amenities
A vital part of the campus world is its amenities. Not only that, but those amenities are accessible. At university, this made studying away from home all the more inviting, making it very convenient to visit the gym, pop to the shop, or get a coffee with friends.
The office should be no different. The working day can be made more meaningful, healthy, and productive with on-site gyms, bookable exercise classes, food, local bars, gardens, parks, walkways, shops, and community event spaces.
Our Forest project in Warsaw centralises the campus lifestyle with standout amenities. There are cafes, a grocery store, and a green urban garden for the community to use to grow their veg and herbs.
Individualised workflow support
With all the amenities, social spots, and community opportunities that make a university campus special, it's easy to forget the reason most people are there – to learn and work.
Tailored design is needed to meet a variety of preferred working styles. Quiet, comfortable study spaces such as cosy nooks or solo pods with everything set up will serve those needing space to focus. Open-plan, collaborative group workspaces will support meaningful teamwork and face-to-face connection.
Supporting different workflows must be enhanced with tech. Invigorate your workspace with efficient smart technology and ergonomic facilities for an experience that can't be found at home.
Give the power to your employees to choose how they work. With a smart workspace app, they can book desks and tailor the room's environmental conditions to their preference.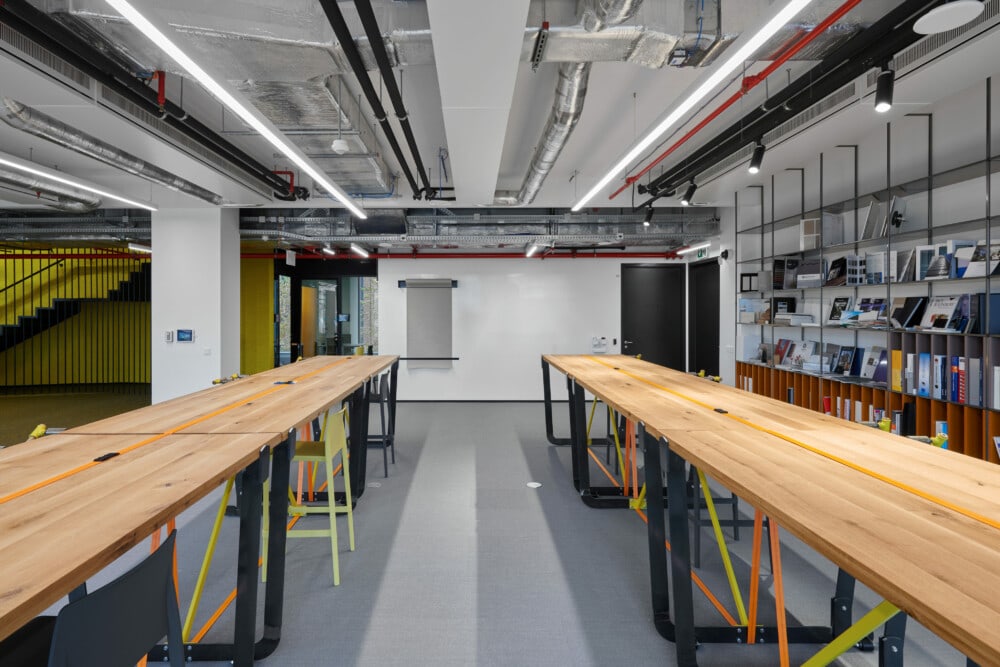 Create a community feel
Community is at the heart of a university campus. Events are always taking place, encouraging students to spend more time on campus mixing with their peers. A similar approach can be taken in the business world to unlock a range of benefits.
With communal areas and recreational facilities, modern office buildings create a true business community. Networking sessions and other events can happen on site, encouraging different companies to easily come together, meet, and share ideas that can lead to new opportunities.
Business communities are increasingly being built around flexible coworking offerings, such as HubHub. Strategically located in the heart of most European metropolitan cities, HubHub offers scalable office space solutions powered by the latest tech, and supported by communal work areas filled with like-minded professionals.
Everybody together
For an authentic campus feel, there needs to be a strong community atmosphere. To get this right, you need to listen to your employees' needs to understand how to make your destination office work for them.
Listening attentively and designing with these insights in mind is a process, but with support from a team of workspace experts, you can create a space that brings people together to be healthy, productive, and happy.
Or discover buildings that put the employee experience first – fitted with standout amenities that boost wellbeing and productivity.
If you're considering a move or want to know more, please get in touch!
---
Don't miss out on any of our resources. Sign up for our newsletter and we'll keep in touch:
"*" indicates required fields