Reducing your carbon footprint: Four features to look for in any future workspace
A sustainable workspace benefits employees and employers alike. In a 2021 global survey by the IBM Institute for Business Value, 71% of employees and job seekers said environmentally sustainable companies make for more attractive employers. In addition, over two-thirds said they were more likely to apply for jobs with environmentally and socially responsible organisations – and nearly half would accept a lower salary to do so.
What's becoming increasingly clear is that people want to make an impact, and they're more motivated to work for a company that cares. Getting this right also helps to attract and retain new employees in the first place – especially millennial and Gen Z talent.
Creating the sustainable office of the future
Investing in an office that's built and managed with sustainability at its core is clearly an important decision. However, as a business, the difficulty is in knowing what you should be looking for when choosing your next home.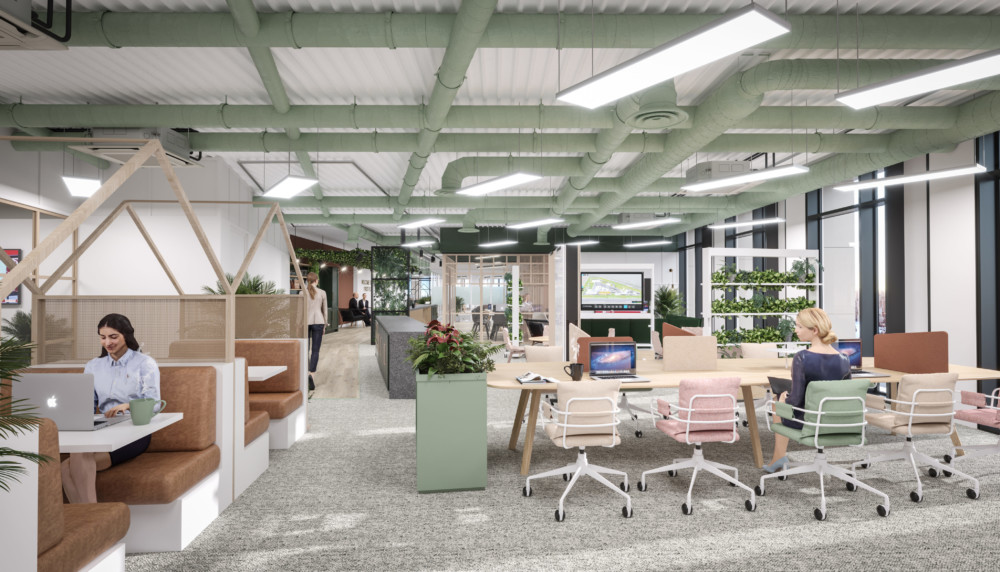 Here are the four sustainability features to consider when looking at any future workspace, together with examples of how we approach each of them in our own buildings.
1. Efficient electricity
As a prospective office building occupier, there's an important thing to keep in mind: the most energy efficient buildings are those that are green by design.
Our Bloom Clerkenwell project is one such example. Powered by Citigen – London's highly efficient energy centre that delivers sustainable electricity, heating, and cooling – and supported by a range of carbon reducing initiatives (e.g. PV panels) and smart design choices, Bloom is a building that achieves this goal. It's also one of the first commercial buildings in Europe to be certified as BREEAM Outstanding, something that fewer than 1% of non-domestic buildings achieve.
Across Europe, we're aiming to build projects that help users maximise energy efficiency. For us, it's a major priority – from design through to construction and operation. With efficient solutions and optimisation techniques, from maximising the use of energy from renewable sources to reducing wastage at every stage, we're able to continuously boost the energy performance of our buildings.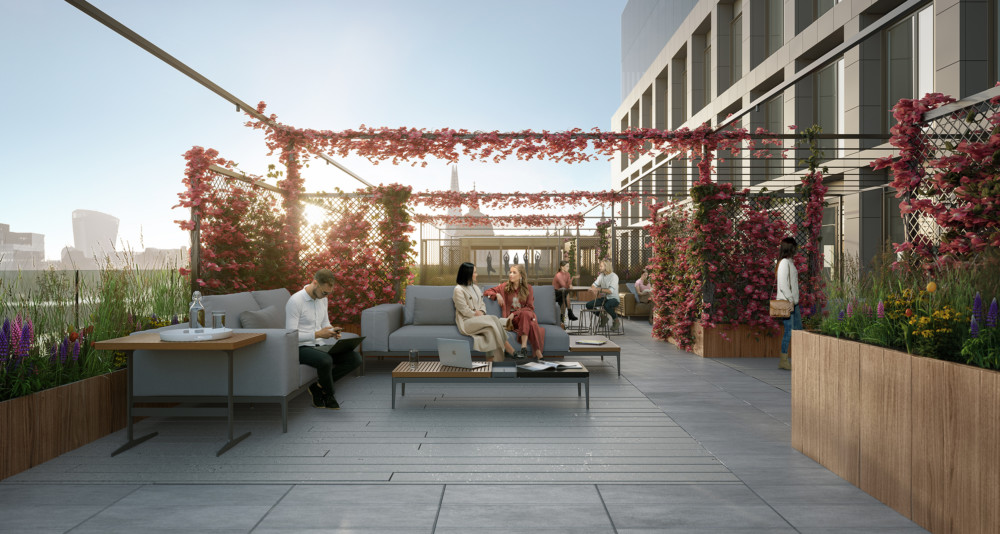 2. Power to the people
Reducing a building's energy consumption also requires good practice from its occupants. Where space is used inefficiently, more energy and amenities are needed, racking up costs as well as emissions. That's why we're working hard to support the ongoing responsible management of our buildings too, helping occupiers strive to be more efficient with their own energy demands.
Smart building management software helps achieve this, minimising energy usage while simultaneously enhancing productivity and collaboration. Symbiosy is our smart office technology that works by creating a 3D virtual model of your workspace. By doing so, it can provide live data on environmental conditions including temperature, CO2, energy usage, humidity, noise, lighting, and electricity consumption.
Paired with control over the indoor environment – such as enabling control over smart lighting – smart building management software like Symbiosy limits unnecessary energy usage. And, by directing employees based on occupancy, and offering desk booking capabilities to streamline office usage for hybrid workers, it can also make better use of indoor space as a result.
The level of granular visibility provided lets employees play an active role in reducing their employer's carbon footprint, too, while providing the insight you need for your own ESG reporting.
3. Pedalling progress
Reducing a company's carbon footprint is a team effort, which means bringing your employees along on the journey.
The daily commute is one of the biggest considerations – it's a significant part of your employees' daily carbon emissions. We help occupiers encourage greener, more sustainable commutes by facilitating green transportation choices and fostering healthy, active commuting. This includes sufficient and accessible bike storage and cycle hire options for work-related transport, together with electric vehicle and e-scooter charging points and more.
Located in central urban areas, our buildings are walkable and, in many cases, feature integrated links with existing public transport options. Inside our buildings, staircases are visible to encourage use. Outside, a lot of effort goes into creating visually attractive and appealing pathways that include infrastructures such as seating and drinking fountains.
4. Green values
When searching for new office space, there are various certifications you can look out for that will help assess a building's green credentials. Some are dependent on the country you are looking to relocate within, but three of the major schemes recognised globally are:
BREEAM – a sustainability assessment framework used around the world. It measures sustainability through a series of categories, including the impact of design, carbon emissions reduction, durability and resilience, biodiversity protection, and more.

NABERS – a rating from one to six stars based on the energy use of a building. The aim is to demonstrate whether offices are on a net zero carbon trajectory and aligned with the climate change ambitions of their occupiers and investors. The scheme started in Australia in 1998 and has since expanded to New Zealand and the UK.

SmartScore – a global standard for identifying best in class smart buildings. Certification is based on the building delivering an exceptional user experience, driving cost efficiency, meeting high sustainability standards, and being fully future-proofed.

Selecting an office space that boosts your sustainability values
To ensure you move into a workspace that will contribute to your ESG targets, you need to know your workspace provider's values match up with your own business. You also need to see the building is futureproofed, able to contribute to your net zero carbon goals, and is demonstrably sustainable – something the above certifications can help with.
The four features outlined here are a great starting point for assessing the environmental credentials of your future office space. Get in touch if you're ready to find out more or are interested in learning about our projects or building management software.
---
Don't miss out on any of our resources. Sign up for our newsletter and we'll keep in touch:
"*" indicates required fields