The future smart office: How technology is shaping the employee experience
When you think of work, you think of the office. Yet the office has come a long way since the first dedicated workspaces built in the 1700s, generally keeping pace with big technology trends. With the invention of the internet and the many advances in computing, we have seen a lot of changes in the last 50 years. And as smart technologies see greater adoption in buildings around the world, even bigger changes are on the way.
To understand what the office of the future will look like though, we must first consider what this environment looks like today. Think about how your employees use technology for their day-to-day tasks, and how that enhances their experience. If you were to place your employees in an office from 50 years ago – without the tech they rely on – the impact on productivity, efficiency and wellbeing would be immediate and significant.
And yet, the use of tech in the workspace is about more than just devices and computers. In fact, the introduction of other technologies to our working environment is shaping the smart office of the future.
But what should this look like for your business? Let's find out.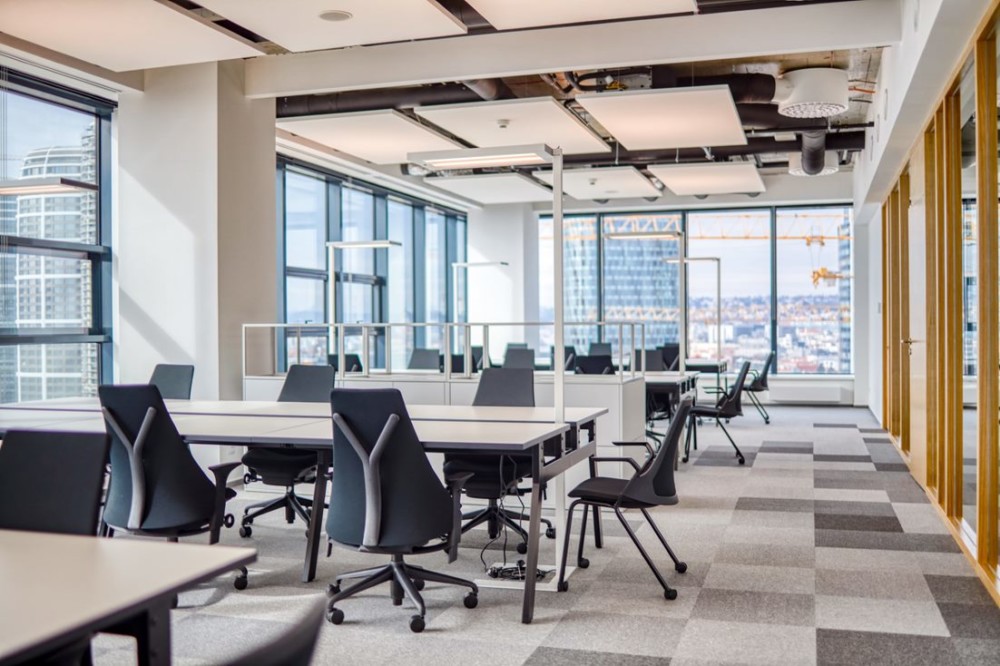 The shape of smart offices to come
Think about your most effective employees and how their output benefits the wider business. They have greater wellbeing, produce good work, deliver on time and have naturally tuned themselves into the working environment around them for maximum efficiency. Now imagine your company if everyone was able to work in the same way. Overall productivity and wellbeing would be massive. But, while this is an attractive idea, how do you make this a reality?
The answer: agile workspace design. This means implementing smart devices that can monitor and control the working environment and use data analytics to tailor it further. With the right technology in place, you can understand your employees needs and preferences to build a workspace designed to help them deliver their best work.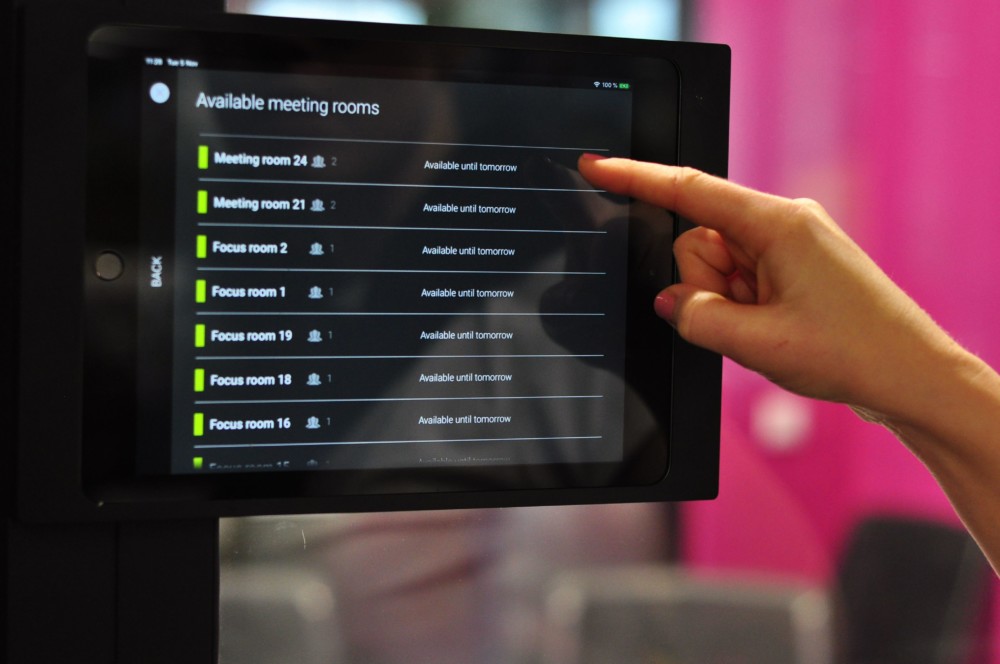 To demonstrate, let us look at three important areas related to the overall employee experience: wellbeing, productivity, and efficiency.
Welcoming wellbeing to the workspace
For your employees returning to the office, health and wellbeing are front of mind. And with COVID-19 a lasting concern, in order for your people to do their best work, they need to feel safe at work.
Fortunately, the right smart technologies can support these efforts. For example, environmental monitoring can create conditions that inhibit the spread of COVID-19, and with the use of smart ID tags to track occupancy, you can ensure social distancing. Likewise, monitoring and controlling humidity through the use of smart office technology mitigates the risk of airborne pathogens.
Humidity and capacity are only a few of the factors you need to consider in this respect. Light, noise, and green spaces, to name a few, all play their part in employee health and wellbeing at work. To optimise the employee experience further, all of these need to be considered.
Prioritising productivity
Employees who feel better work better. Yet this doesn't only extend to health and wellbeing at work. This same range of factors influence how productive your employees can be.
The key to enhance this is to better understand their work environment. By collecting the right data – how hot meeting rooms are, what the air quality is like, etc – you can identify and match preferences to different employees based on who's using that room or workspace. Better yet, a clearer picture of your employee preferences can be built over time to make these adjustments automatic.
With an advanced and interactive smart office solution, you can provide this information to employees directly. At a glance, they can now see the conditions across the office and find a place to work that suits them. With everyone working in a space they like, productivity as a whole will rise. But this technology can do more than just optimise what's already there; it can also inform the office design itself for even greater efficiency.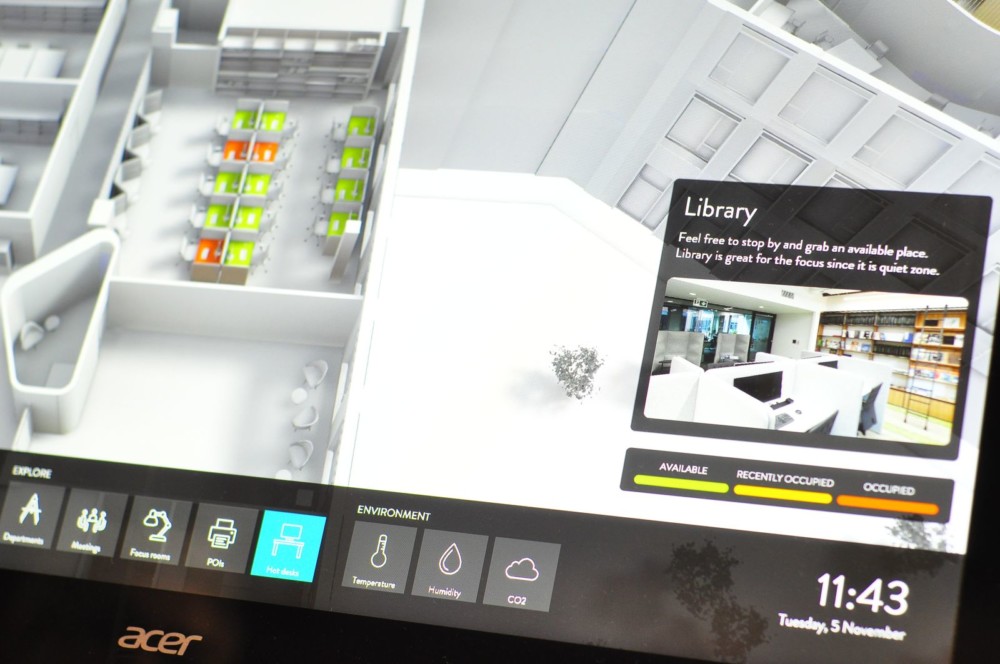 Are there too few meeting rooms? Are there too many desks? Do employees have enough collaborative spaces and do those spaces serve their purpose? These are the questions smart facility management via the use of technology can answer. With the right data-led intelligence, smart offices create actionable insights that allow for continuous optimisation, delivering a truly agile workspace layout.
Unlocking efficiency with agile workspace ideas
"Where do you see yourself in five years?" is a question we have all heard before. And we all know that answering it is difficult. Trying to answer this question on behalf of your company is even harder.
The issue for many is that office leases are long term and rigid. For large companies, where future plans reach years ahead, longer leases are a good fit that reduces complexity for meeting the needs of employees. Yet, in today's environment, anticipating business needs even six months in the future is a challenge, let alone five years. The same is true of office design itself. How many staff will you have in three years' time and what will their needs be? Ultimately, businesses need flexibility if they are to maximise operational efficiency.
To address this issue, we are offering the world a new model: Qubes. Qubes offers a fully serviced office on short term contracts that flex to your requirements. With an agile workspace layout that is on your terms, you only use the assets you need.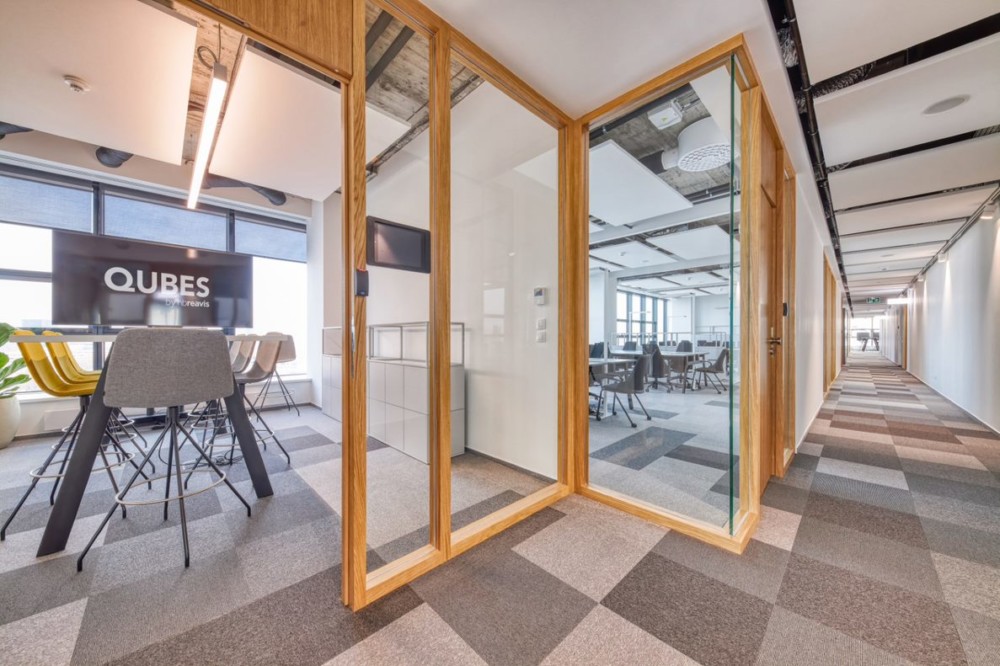 A future at all levels
While these changes are significant, the experience for your employees is seamless. Instead of forcing new ways of working, these approach fits their existing processes. And just as employees will feel everything running smoother, so will the wider business. The benefits at the individual level extend to the corporate level, creating a company that has greater wellbeing, productivity, and efficiency.
To find out how you can bring these benefits to your business, learn more about our Symbiosy, Origameo and Qubes services.