Christian Awe unveils his first artistic inspiration for DSTRCT.Berlin
Art may be born from inspiration. However, it also requires courage – to go against the grain and cross boundaries. To constantly question oneself. And to sweat through tough challenges. At HB Reavis, we can certainly vouch for the last of these, at least when it comes to STRATO's lobby in DSTRCT.Berlin.
In the end, it took four hours to install this work from Christian Awe. To make sure STRATO could continue working without interruption, the installation took place after office hours. Two lifting platforms were needed to put the 4m x 5m piece in place. And the team then took their time to ensure the lighting was perfect: clear, without shadows, and showing off the colours in all their glory.
What's especially exciting is that the lighting setup changes depending on the time of day – the setting here is for sunrise.
Now, we're looking forward to putting Christian's next piece on site at DSTRCT.Berlin, for home24.
When art is placed in a work environment, the aesthetic experience can move us personally and spiritually – and spark creative moments (as proved in Max Planck study for the Institute for Empirical Aesthetics).
Effectively, this means DSTRCT.Berlin's lobby is a creativity generator. Plus, 73% of Germans like to see art in their workplaces, citing that it promotes creativity and productivity, and reduces stress. And its impact on potential new colleagues and customers shouldn't be underestimated either. In short, virtually everyone loves good art.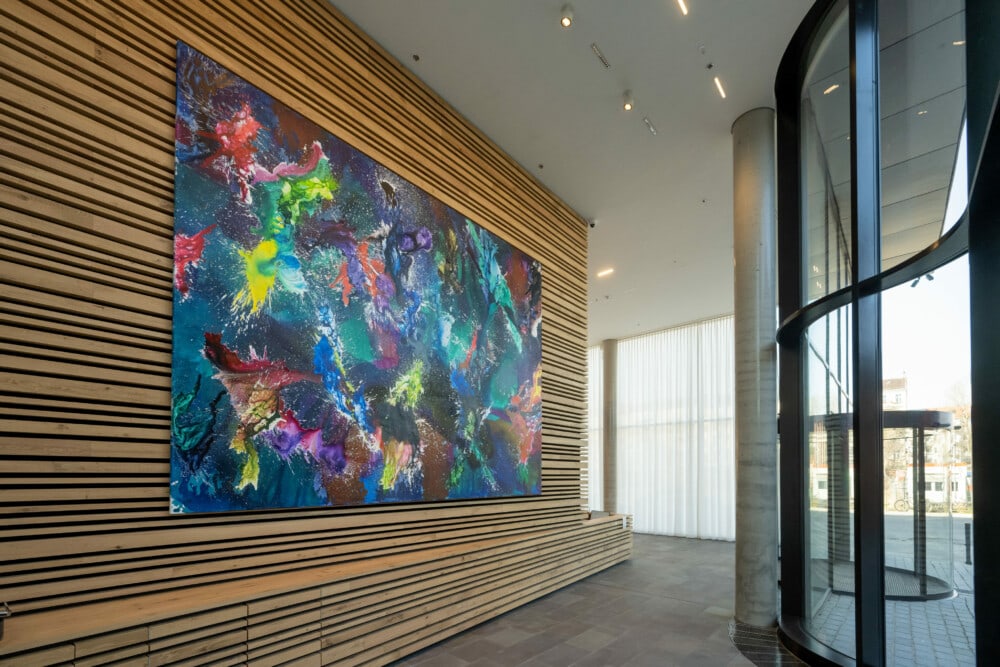 ---
Don't miss out on any of our blogs. Sign up for our newsletter and we'll keep in touch:
"*" indicates required fields