London: a city we increasingly feel at home in
We recently sat down with our Group CEO, Marian Herman, to talk about his experiences at HB Reavis and our vision for the future. He also took the opportunity to discuss our blossoming relationship with the UK capital.
Did you find London tough to break into?
After working in London as an investment banker for 10 years, this was basically a home market. I helped the team scout locations. But nevertheless, you're right, there were barriers.
When we arrived, no one would talk to us. We'd arrange meetings with agents, and they either didn't come at all or only sent junior staff. We're talking about brands which normally work with us in Central Europe.
But we also saw tremendous opportunities. London's large, and has growth potential – even after Brexit. Yes, it took two years to settle in. But now, the key players talk to us.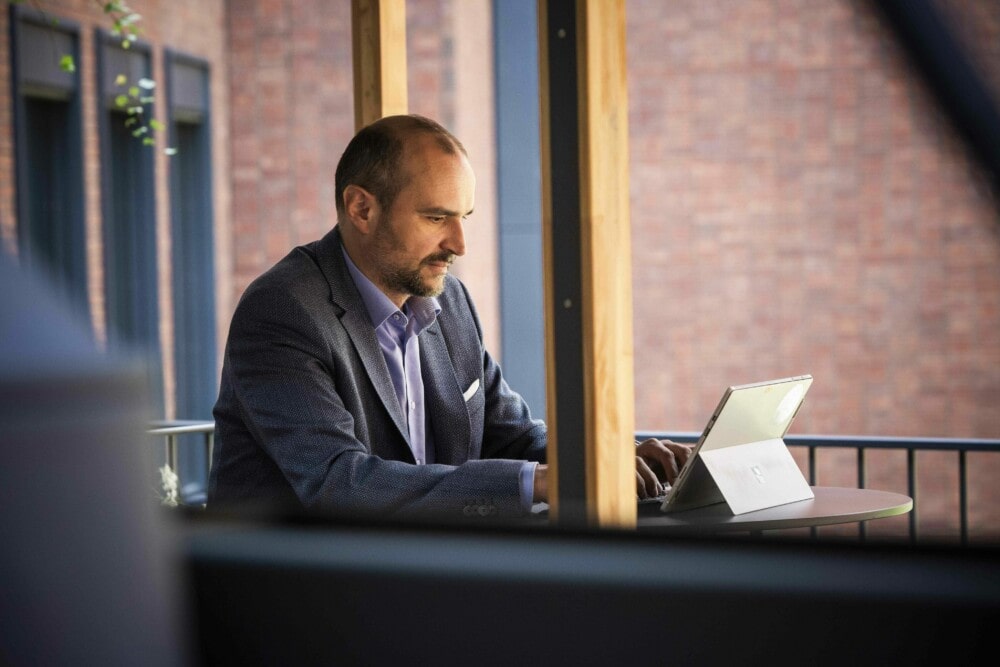 What exactly were you looking for?
We were looking for old existing buildings suitable for a complete reconstruction or demolition. There are plenty, even though you're limited by certain rules. In fact, everyone was telling us that we wouldn't make a profit, because the local players have already mastered the details.
Nonetheless, we knew we had a slightly different business model. We've got our own general contractor, and do much of our design work ourselves. Even with procurement and construction – we take a different approach that helps us achieve higher margins than our competitors.
Another thing is that even back then, we looked at the product differently. We wanted it to focus on employee productivity, and offer a healthy environment.
Five years before COVID, we started saying air and sunlight influences productivity. And since most of our tenants are service companies, if we improve employee performance, we improve our buildings' rentability.
For example by regulating the supply of fresh air?
That's a key factor. If you don't have enough oxygen, you feel tired after an hour-long meeting. You need a coffee and a break. Your head doesn't function so well. If you're a lawyer or consultant, that's a big impact.
So what happened?
In 2013, we purchased 33 King William Street for £62 million: a brutalist 60s building by London Bridge, which we later renamed to 33 Central.
Its owner wasn't paying the mortgage so the bank put it up for auction. And one of our advantages is that we have our own capital and can react quickly. Other developers have to go to banks for financing – they might not get it, or end up paying more than they want to get the capital.
We bought it with an existing permit but expanded the project into a beautiful modern glass and iron building. We tore it down and built anew.
How much did you make?
Everything we build, we build speculatively. We usually rent them out near completion when the client can visualise how it will look.
Wells Fargo were initially looking to rent about 60% of the building. But they liked it so much that they came back to buy the whole building. We signed the contract about two weeks after Brexit. And as the first post-vote transaction, the media used it to illustrate that things were fine. We finished the building in 2017 and Wells Fargo are still there to this day.
We thought that London would be a low-margin market. Paradoxically, 33 Central showed us the opposite. We could only dream about the margins from our first London project compared to many of our Central Europe projects.
It turned out that the size of the market and its maturity influence profitability. There's a similar situation today in Germany. In Berlin, the market grows significantly faster than probably anywhere else in Europe. Yet there are few offices there. When you've got the right product, you get premium rent.
What's the biggest market for you today?
Today, most of our investment is in Warsaw, second London, and third Bratislava. Then comes Berlin, but we are growing fast there.
In London, we took on three projects in two years – fully renting out and handing over Cooper & Southwark and 20 Farringdon Street over to investors. Then, we purchased Bloom Clerkenwell, which is 80 per cent let. Even post-COVID, our financial performance shows we're seeing great success.
And Brexit?
It's no longer an unknown. Yes, the banks had to move some operations to the continent, but that was only hundreds of people.
Just 15 years ago, London's the financial sector in London constituted a third of all office space. Today it's less than half. That happened before Brexit. Banks' real estate footprint is shrinking.
Contrary to that the so-called TMT sector is growing: communications, media, technologies, biotechnologies and healthcare. In these areas, London and Berlin are the European hotspots for start-ups and small to mid-sized businesses. Brexit did no harm to them.
Have you got enough resources for your plans?
We bought One Waterloo in 2017 for £250 million – our own money. And we've spent years and tens of millions to change it from 70,000 to 120,000 sq m.
Yes, we could get financing sooner. But if you approach the market too soon – when you're not even speaking to potential tenants – it gets very expensive.
Even in an age of relaxed currency politics and cheap loans?
Banks rarely finance projects without a permit. British banks won't loan until you've rented at least 30%. Investment fund financing costs over 10%, which significantly lowers your margin.
We draw financing only once we reach a certain rent-out percentage. Until then, we use our own capital. It's one of our great advantages.
You've pointed out that you do a lot in-house. But you can't exactly relocate Slovakian builders?
We thought about it. But it was hard legally – and even more so now, after Brexit. Plus, the companies were reluctant to enter the UK market, they were intimidated.
But it's fine – our strategy doesn't rely on importing cheap workforce.
Developers in London usually sign a complex contract with global construction companies that completely ties the developer's hands. More sophisticated ones divide projects into five or six phases, such as foundation of the building, steel construction or facade.
To ensure we have flexibility and competitiveness, we go one or two levels deeper, and are more engaged in the entire process.
Does that mean more project management?
Yes. But it's our strong suit. Almost half of the company does procurement and construction.
There's another big benefit. Imagine if we gave the 33 Central contract to a global subcontractor. And then Wells Fargo decides they want a trading floor with non-standard height.
A global subcontractor would either not allow it at all, or charge an enormous amount of money to change it. Our approach allows us to make amends even in the middle of construction. Even an internal stairwell, which a tenant might think is a simple change, can affect statics, ventilation system or fire routes.
Our ability to react quickly and make changes even during construction sets us apart in terms of both our bottom line, and our ability to deliver for customers.
Learn more about our vision for London, starting with our Worship St development.
---
Don't miss out on any of our blogs. Sign up for our newsletter and we'll keep in touch:
"*" indicates required fields