Worship Square: Raising the bar for responsible design in the heart of London
The message from the IPCC is loud and clear: the world must reach net zero carbon emissions to avoid irreversible climate change.
Strategies in response have varied from country to country; in the UK, for example, the goal is to decarbonise all sectors of the economy to be net zero by 2050. The target set by London's regional governance body, the Greater London Authority (GLA), is to achieve net zero carbon in the Capital by 2030.
Something that cannot be ignored on this journey is the large proportion of the world's carbon footprint that comes from the built environment: globally, building and construction is responsible for 39% of all carbon emissions. The construction sector is also the largest user of materials and accounts for a third of the world's waste.
We all need to recognise that greener spaces built today must be a big part of the solution when it comes to reaching net zero carbon emissions and reversing climate change. And this is what we've set out to achieve with Worship Square.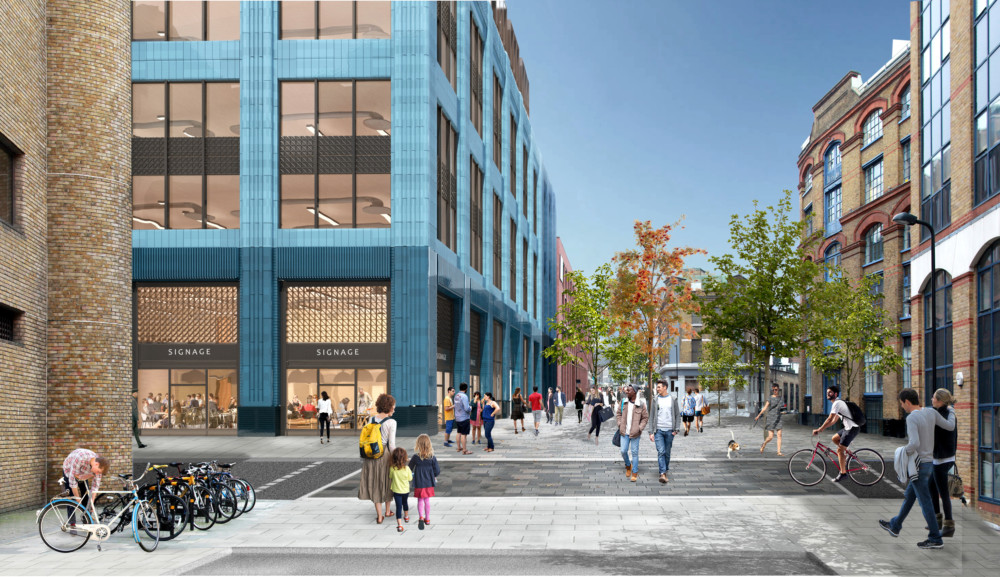 What exactly does it mean to be net zero carbon?
You can find a detailed overview in our article here, but in a nutshell: 'net zero' refers to the equal balance between the amount of greenhouse gas produced and the amount removed. A net zero carbon building is highly energy efficient, powered by renewable energy sources first and foremost, as well as having renewable energy onsite. Any residual emissions must be offset. The framework definition in the UK outlines two approaches: 'net zero carbon – construction or embodied carbon' and 'net zero carbon – operational usage and emissions'.
Worship Square at a glance
Location: Shoreditch, London, UK
Size: 140,000 sq ft
Completion target: Q1 2024
Facilities include:
Fitness studio
Wellness facilities
Street level cycle store
Rooftop communal garden
Achievements include:
Net zero carbon in construction and operation
Targeted: BREEAM Outstanding, WELL Platinum
Designed to achieve NABERS 5*
Achieved: SmartScore Platinum and WiredScore Platinum
Find out more about Worship Square and its other accolades here.
Construction: Slashing embodied carbon targets years ahead of time
One of the fundamentals of hitting the GLA's 2030 target will be tackling 'embodied carbon', a term that refers to total carbon emissions associated with all aspects of a building's construction. It includes everything from extraction and transportation of materials to their manufacture and installation on site, and all operational and end-of-life processes after that.
The UK Green Building Council (UKGBC) has set a baseline for embodied carbon (it's 1,000 kg CO2e/m2, i.e. the maximum amount of embodied carbon per m2) but we knew we could go further. We want sustainability built into every terracotta tile of Worship Square. So before construction began, we ensured green demolition of the previous building. This has meant only using machinery powered by biodiesel or renewable energy – and we have diverted 100% of demolition materials away from landfill. 
We've left no stone unturned when it comes to ensuring responsible construction of Worship Square. The building design and the materials we are using to build it are carbon efficient – it's why Worship Square will take advantage of lightweight concrete and high-grade steel. The result will be one of the most responsible buildings to date, and one that's built to stand the test of time.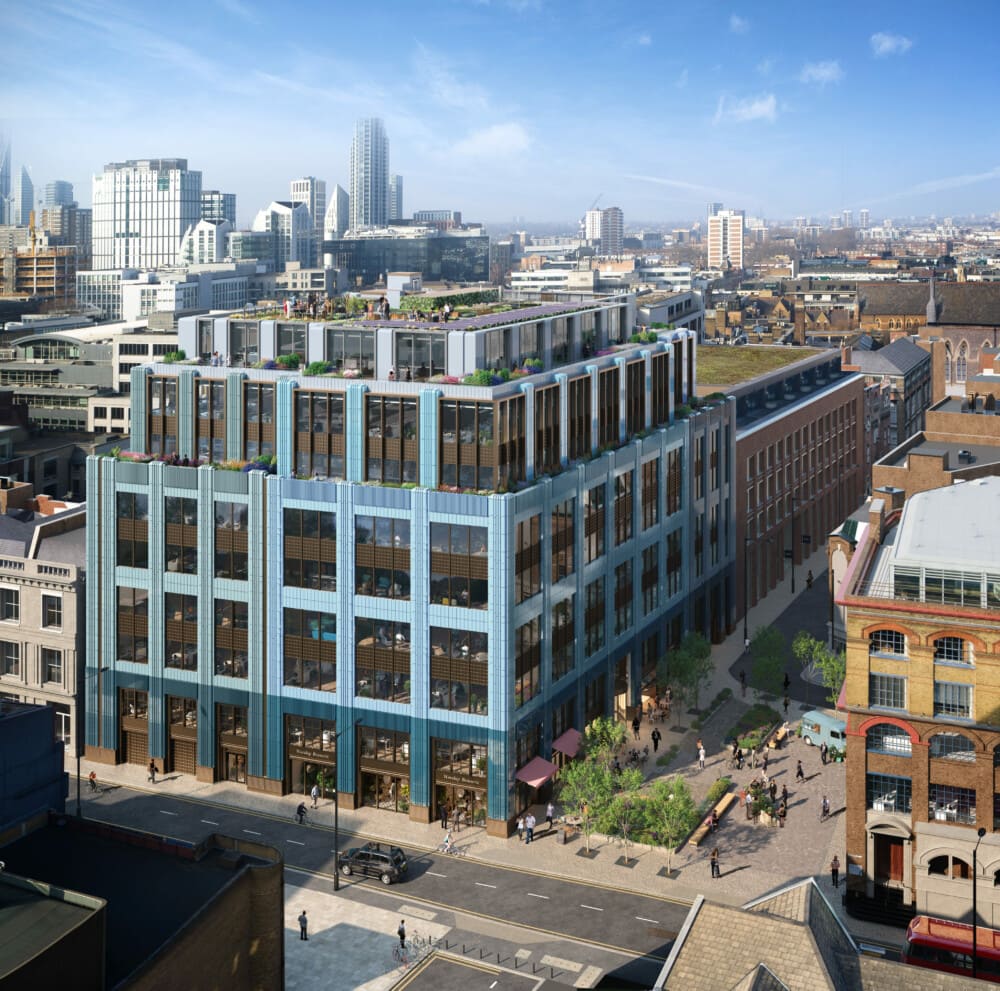 Embodied carbon of Worship Square is targeting just 492kg CO2/m2
50% less than an average new build
50% less than the UKGBC baseline
18% lower than the 2030 GLA target
Operation: Our pledge to protect the planet, every day
Our integrated model of both developing and managing workspaces means that we can guarantee Worship Square's industry leading sustainability pledge is maintained during its day-to-day operation. For one, the building is all-electric. It generates much of its own power through 67m2 of solar panels predicted to produce more than 10,500 kWh annually, with all other electricity guaranteed to be REGO certified. This is combined with air source heat pumps and an optimised façade design, which ensures efficient heating and cooling.
Using our smart building management software, we will use live data on energy, waste, and water usage to aid reporting, identify any inefficiencies, and help our occupiers consume less and achieve lower daily emissions to meet their own sustainability goals. We're also aiming to make the last mile of every delivery to the building carbon-free or low carbon by ensuring they are handled by green modes of transport such as cargo bikes and electric vehicles.
Worship Square will take resource efficiency to another level
Targeting 25% lower annual CO2 emissions than the UK's baseline energy-efficient scheme
Targeting 10% more energy efficient than the UKGBC 2030 target for buildings
Targeting 55% less water usage than the BREEAM 'baseline building' target
Community: Because everybody's on this journey together
We want to help those working at Worship Square to reduce their own carbon footprint too.
From taking the stairs instead of the lift to riding one of the Brompton bikes instead of the tube, we'll give people multiple daily opportunities to make a difference while keeping active and looking after their wellbeing. And with the building app providing live details on electricity and water, everyone will be able to see Worship Square's green credentials.
We also have those working at Worship Square covered when it comes to waste and recycling – even food waste. It's a great system for reducing their own daily carbon footprint: organic food waste will go to the Worship Square wormery, and the resulting compost will be used to grow fruit and veg on the rooftop garden. For the green-fingered, Worship Square will be home to 3,200 plants from 90 NASA approved species, hand-picked for their air purifying qualities.
Worship Square: A new benchmark for green developments around the world
Designing a responsible future is a huge responsibility and it's one that we take very seriously. At Worship Square we're proud to be developing one of the most pioneering sustainable pledges, not only in London but globally.
We love knowing that Worship Square's operational design and its reduction in embodied carbon during construction is helping the city meet its net zero carbon goals – to put it in perspective, it's a saving equivalent to the average annual carbon emissions of 3,000 homes.
Like the rest of the world, we remain on a journey to net zero carbon – and we're committed to making many more big strides with our projects to get there. Watch this space.
---
Don't miss out on any of our resources. Sign up for our newsletter and we'll keep in touch:
"*" indicates required fields