Our offices in Bratislava and London proved to be outstanding work environments
We build workspaces where people feel well. To make sure it's not an empty promise, we partner up with Leesman and assess the actual situation in our offices across Europe. This year, we focused on Bratislava and London and scored above average in both locations.
The Leesman Index is a standardised framework measuring employees' workplace experiences and how well workplaces support people. This year, we opted for Leesman Hybrid and explored how our teams feel in both WFH and office settings. We scored 83.4 Lmi for the office and 71.7 H-Lmi for the hybrid experience in Bratislava, and 78.6 Lmi and 75.4 H-Lmi in London, respectively, out of 100. In 2019, the best office in the world scored 89.6 Lmi, and according to the Leesman report published in 2020, both of our offices would have made it in the top 30 workspaces in the world with their scores.
Scoring in hybrid
We exceeded 70 Lmi in both locations, which equals to providing an outstanding office experience. The survey took over three weeks and offered extensive insights and data confirming that people-centric design, which has been our strategic mantra for years now, is the right route to take, especially in these challenging times.
Soon after the pandemic started, we started guiding companies through the rapidly changing office world, offering guidance with hybrid work setups. We made sure to apply the same core principles to our offices to make them future-proof places where everyone feels supported, even when they are not actually there.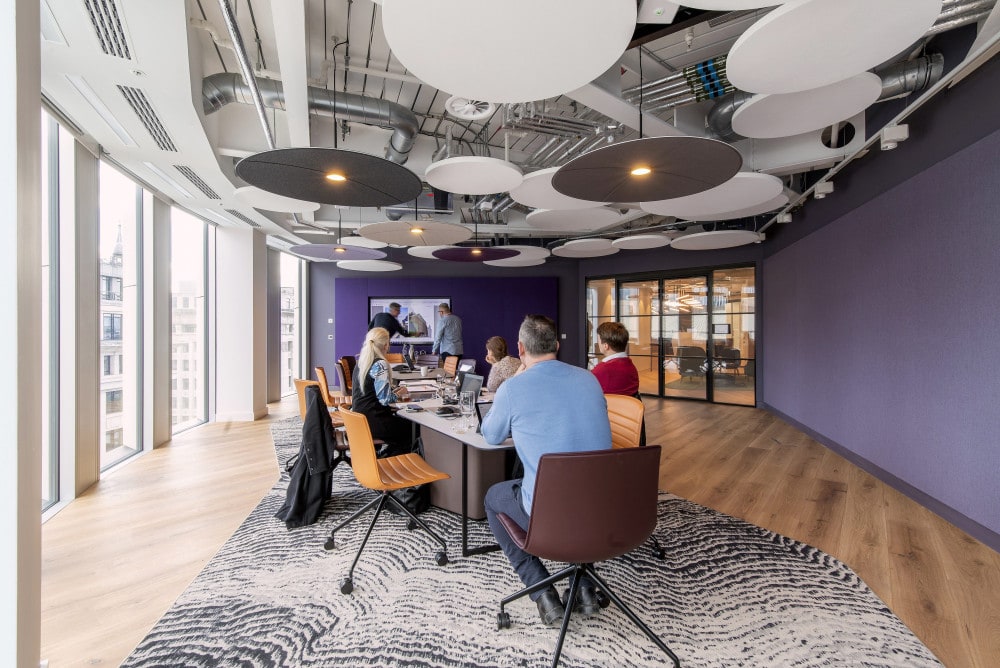 ---
The Leesman Hybrid Survey combines both office and home survey methodologies. The survey was carried out online, and around 500 employees were asked to approach the questions from the perspective of both worlds: What's your access to technology like? What's your overall perceived productivity and your sense of connection? How do you feel about your work-life balance? These are just a few examples of the questions our teams answered.
Offices that make businesses grow
Supporting wellbeing goes hand in hand with boosted productivity. The Bratislava survey revealed that the working environment supports these two activities the most: relaxing / taking a break and working on individual work tasks. In London, people feel the workspace design mostly supports business discussions, project work and creative thinking. This is exactly what a people centric-office boils down to: trust, freedom and an encouraging environment where things get done.