Wellbeing in the office: measurable through certification
What used to be rather "nice to have" is now increasingly a mandatory requirement for attracting top talent on the labour market: an office that actively helps people to work better and more relaxed. An office that demonstrably brings health and wellbeing effects for people, instead of just being an arbitrary, interchangeable space. The International WELL Building Institute (IWBI) quantifies office environments in terms of how great this feel-good and health effect is on people.
Air, water, light
Among other things*, air quality is examined. CO2 content and air humidity are two important factors that determine mental freshness or fatigue, clarity or headaches at the workplace. The same applies to dry or sufficiently moist eyes. The IWBI accordingly checks whether modern sensor technology can keep the CO2 content and air humidity permanently in the healthy range. In addition to air quality, the IWBI also focuses on the quality of tap water. Another topic is the light and sunlight concept: from a structural point of view, shallow room depths and panoramic windows are advantageous here to ensure a high degree of natural light incidence.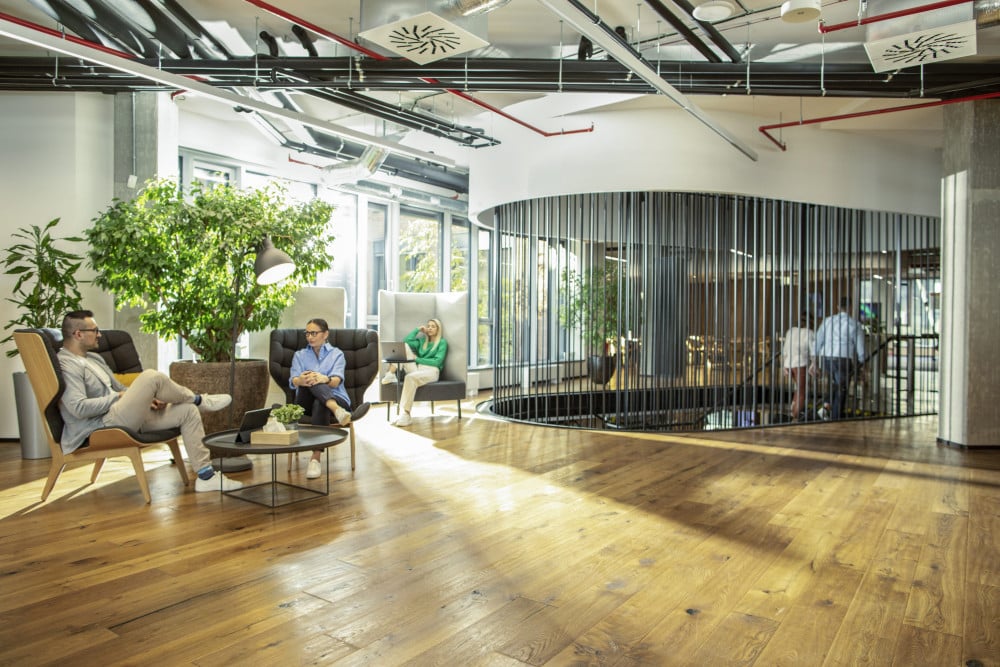 ---
Being active and relaxation
Another point of examination is the so-called active design. This involves the question of whether a property provides people with impulses that encourage movement. The impulses can already concern the way to work – for example, if the office building offers attractive bicycle parking spaces, which can tip the scales when it comes to choosing between a car and a bicycle. The IWBI also checks whether the property promotes people's mental health in addition to their physical health. Are stress-reducing factors such as greenery present indoors as well as on the facades? Are there outdoor areas such as roof terraces that invite people to linger and take a deep breath?
PLTFRM.Berlin gains precertification
Our current project PLTFRM.Berlin has recently received pre-certification by the IWBI. Pre-certification because the property is still under construction and a final certificate will only be issued after completion. Whereby "final" does not mean that owners and landlords can rest: The IWBI regularly puts the analysed properties to the test again and again to see whether a first-class Wellbeing level continues to prevail.
* This article only highlights a small section of the complex criteria landscape.