Global leader in offshore wind energy Ørsted grows in Varso Place
The international workspace provider HB Reavis has recently signed a renewal lease agreement with Ørsted. The global leader in offshore wind farms has extended its current office footprint and expanded it by a further 2,355 sq m. One of the world's most sustainable energy companies will now occupy a total of 7,160 sq m of space in the Varso 2 building.
Ørsted is the world's largest and most experienced developer of offshore wind farms with over 30 years of experience. Originating in Denmark, the global leader in the offshore market currently operates in several markets, including the United States, several countries in Europe and the Asia-Pacific region. Ørsted is a global leader in climate action and is the only energy company in the world with a science-based net-zero emission goal endorsed by the Science Based Targets (SBTi) initiative. Poland is one of the key markets for Ørsted and where the company already employs over 650 people in its Warsaw office. Ørsted supports the green transformation of Poland by investing with PGE in the Baltica Offshore Wind Farm that has a capacity of 2.5 GW.
The Warsaw office exemplifies Ørsted's vision of striving to build a world powered only by renewable energy sources. Based on the idea of less waste, the workspace reduces negative environmental impacts through the use of biodegradable and recyclable materials. The office has been designed to meet the principles of the circular economy. This human-centred work environment also combines functionality with a focus on employee wellbeing. Natural greenery is ever-present here – 1,752 individual plants have been used, making the plant to employee ratio 3 to 1.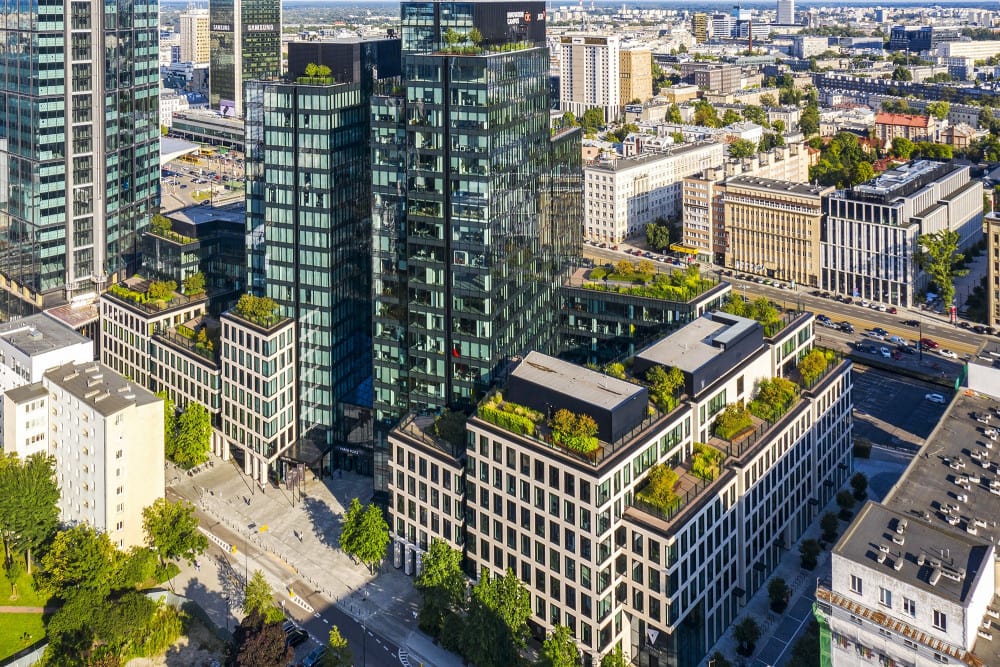 Among the most sustainable office buildings in Poland, Varso 2 employs environmentally focused solutions to reduce its carbon footprint and maximise resources. The BREEAM- and WELL-certified design by HRA Architekci pays great attention to biophilic design and wellbeing, which is exemplified by the green rooftop terraces that offer a place for employees to unwind.
Varso 2 is part of the mixed-use Varso Place development by HB Reavis that includes offices, a hotel, an innovation centre, a fitness club and a medical centre. The ground floors offer food and beverage offerings from Quattro Formaggi, Meet&Eat, Vincent and Green Caffe Nero in addition to convenient retail options like Rossman, Paper Concept, Żabka, Hair & Nail Spa and Enterprise Rent-a-Car.
Varso 2 occupiers also include Bank Gospodarstwa Krajowego, CIC Warsaw, Nvidia, Workday, act BSWW, Ipsen and Tink.