New research: The company of the future and its real estate needs
"Our data analytics team has exploded as a result of Covid," says James Ainsworth, Estate Management and Acquisitions & Strategy Lead at PwC UK. And he's not the only one.
At a time when people can work from anywhere, companies such as PwC, Mastercard, and Virgin Media O2 are finding that the office has become more – not less – important. Understanding employee behaviour and how preferences are changing so businesses can get the most out of their office investment is the key to this. And it's sparked a shift in what occupiers expect from the UK real estate market going forward.
How the office landscape is changing
The challenges businesses are facing have changed. The expectations of their employees have changed too. By truly understanding what their vision of the future looks like, we can use our expertise to better anticipate how real estate services should evolve to address this. Based on first-hand feedback from major occupiers, our latest research report uncovers the drivers that are impacting business decisions as they assess their post-pandemic office needs.
Following the in-depth interviews and workshops conducted for this report, three main trends arose in terms of the role real estate plays in shaping the companies of the future:
Location and transport connectivity as a magnet for talent
Transforming the office into a service-led environment for connection
Gaining business agility through leasing flexibility
Let's look at each in turn.
Location and transport connectivity as a magnet for talent
There's a direct relationship between quality of talent and business performance. Yet nine out of 10 UK employers say they struggle to hire people with the skills they need. This poses an obvious challenge, made worse by more than two-fifths of people saying remote working is the worst way for their teams to learn.
In response, businesses are putting greater importance on offices in areas that have exceptional transport infrastructure links. As staff are more likely to be distributed across the country after Covid, they must be able to get to the office easily. Without this, everything else comes unstuck.
This is especially true for fast growing sectors such as med-tech and life sciences, set to become the world's next trillion-dollar industry. To access the best talent, med-tech companies are migrating to the city. Yet, they still need strong transport links to labs and other facilities out of town.
Many businesses are shunning the hub-and-spoke office model, too. For example, PwC says this approach no longer works for them. Their reasoning for getting employees into the office is so they can more readily build relationships and share ideas, which isn't so easy if employees are trapped in a small satellite office with just a handful of their colleagues.
Transforming the office into a service-led environment for connection
The office has become the playing field in the competition for talent. Companies are recognising the value of the office as a cultural and collaborative environment – creating a space where it's easier to train and upskill employees, and to attract new talent in the first place – by offering added reasons to come into the office.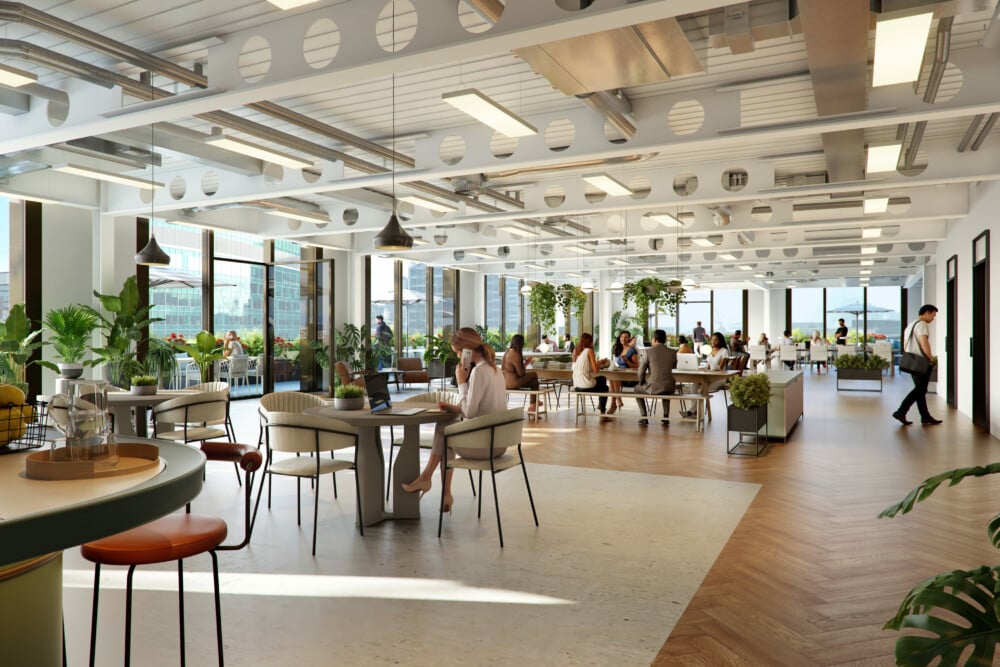 This concept is at the heart of crafting a better employee experience. Chris Early, former Estates & Development Manager at Telefonica O2 UK, summarises this perfectly when he describes the office being a destination that adds value to each employee's day: "As an occupier, being part of a development where you have access to an events space, gym and other services adjacent to your workspace is going to be so important."
Viewing the building as more than just a place to work extends to how the office environment must also support ESG goals. Luis Constantino, Global Head of Workplace & Corporate Real Estate at Graphcore, captures this point when he says: "When we look for a new office now, one of the first priorities is its sustainability credentials. This is massively important for us and is what our employees want to see."
Employees report finding more satisfaction in jobs that take these issues seriously. And with Millennial and Gen Z workers – generations that place greater importance on environmental and social concerns – expected to represent 72% of the global workforce by 2029, pressure will only grow for employers to match these concerns.
Gaining business agility through leasing flexibility
Agility and flexibility has become a strategic pillar for how businesses operate post-Covid, and this extends to their real estate needs.
Occupiers are on the look-out for buildings that can offer them greater business agility in this regard. This can be in the form of shorter leases or the flexibility to scale up or down under one roof, helping to manage changes in headcount and continued evolution in working styles. To support occupiers in differentiating themselves to attract and retain talent, however, it's important this flexibility doesn't come at the cost of a service-led experience that looks after employee health and wellbeing.
Solutions that offer flexible pricing and access to bespoke design and tailored fitout without the upfront cost – like Ready to Work at our Bloom Clerkenwell building – are already available. We're seeing this approach becoming more in demand, with CBRE finding 86% of major companies across the globe plan to use flex space as part of their real estate strategies post pandemic.
The company of the future
The businesses interviewed for this study highlighted several other societal, environmental, commercial, and technological changes affecting how they plan to use their office space, informing future real estate strategies.
Download the full report to discover the other factors impacting the future of work and how companies plan to measure the success of their office investments.
---
Don't miss out on any of our resources. Sign up for our newsletter and we'll keep in touch:
"*" indicates required fields