Designing your pathway to an emission-free future
When forming the right sustainability strategy for your business, it's important to pick ambitious goals. But those goals must also be realistic and accurately reflect your business values. This will better motivate your employees and other stakeholders to achieve them.
We like to practice what we preach, which is why the environmental pillar of our ESG approach defines our six focus areas with respect to designing responsible buildings. In fact, all our buildings across Europe have been designed with this ethos in mind.
These six focus areas underpin our approach to sustainability, and we hope you can use them as a springboard for your own sustainability journey.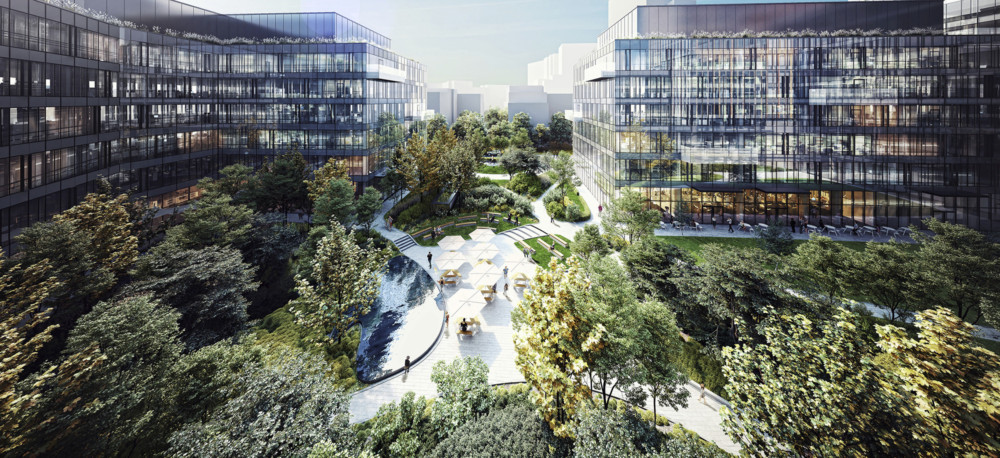 1. Our buildings use as little energy as possible
Energy usage is at the forefront of people's minds when it comes to sustainability. It's our mission to build and operate buildings that help maximise energy efficiency for the people that use them. We're always on the lookout for new solutions to boost the energy performance of our buildings as a result.
For this reason, we champion the use of renewable energy, as well as its efficient usage. This doesn't just mean our occupiers get to take advantage of how our projects have been carefully designed to save energy, but also that they have access to real-time data and insights on their energy usage. In turn, these insights can be used to continually improve their carbon footprints.
Energy performance goals we achieved in 2021
We applied dynamic energy modelling to the design phase of our new projects. This is a highly precise tool for assessing environmental performance, helping cut energy consumption and minimise emissions.
We redesigned our One Waterloo project in the UK to boost its energy performance and to improve its overall environmental sustainability.
We created processes to keep building users in the know about energy performance and how to improve their own carbon footprint.
We adopted an objective, third-party framework for energy benchmarking, certification, and performance evaluation specific to each market. In the UK, for example, this is NABERS. In Germany, our new projects will target the LEED Zero Carbon certification.
2. We're as green as possible during the building phase
Reducing emissions during the development stage is an important step for achieving net zero. For us, this is an opportunity and a goal. Unlike the average workspace provider, our end-to-end approach means that we're responsible for the entire lifecycle of our buildings.
As such, we can minimise emissions at every stage of our projects. From efficient design and demolition to green construction and sustainable operation, our goal is to reduce carbon at every stage – and design away waste.
For this, all our new projects go through a life cycle analysis. This helps us find out how best to reduce embodied carbon and get sustainable materials from reliable sources. A dedicated Green Site Manager makes sure the standards set out in our in-house Environmental Code of Practice (ECoP) are followed for each building.
But it doesn't stop there. We know our buildings will not stand forever, and so they are also prepared for easy end of life deconstruction, reuse, and recycling.
Carbon performance goals we achieved in 2021
We started setting out our long-term roadmap for net zero carbon. The UK arm of our business has committed targets for aching net zero carbon emissions. The pathway to net zero for the whole HB Reavis group will be finalised this year.
We set operational carbon reduction targets for new projects and refurbishments, with our Worship Square project in the UK and Ostbahn project in Germany.
We developed an internal standard for designing low carbon buildings, based on the experience at our Ostbahn project. It's due to go live this year.
We developed an Internal Sustainability Policy, including guidelines for how our employees can reduce their own personal carbon footprint, which will also be finalised this year.
3. We use technology to cut water wastage
Water wastage is a big part of the threat to the planet today. Part of our sustainability pledge is to save water using Water wastage is a big threat to the planet today. Part of our sustainability pledge is to save water using technology in our buildings. We aim to maximise rainwater and greywater use, prevent water leaks, and encourage responsible water use practices.
By the end of 2022, we're aiming to harvest and keep up to 100% of rainwater onsite in all our new projects. We're also careful to track water consumption and strive for efficient use during the construction phase.
Water use goals we achieved in 2021
We introduced ongoing water quality monitoring and usage reporting across all of our projects, together with project-specific improvements. At our Ostbahn project, for example, we designed water tanks in the basement to gather rainwater, which will be used for watering plants.
Adhering to WELL standards, we continued to deliver high quality tap water in all of our developments.
We developed legionella management plans for all our projects. This included detailed plans to prevent legionella and similar waterborne bacteria from ever taking hold.
4. We send as little as possible to landfill
With good design and construction practices, we want to minimise waste across our activities. We're especially keen on reusing materials from demolition, construction, and operational waste. This follows our Environmental Code of Practice standards, which our dedicated Green Site Managers ensure are met during construction.
We also support everyone working in our offices to recycle by providing everything they need to support this goal. And we're aiming for our offices to be plastic-free and paperless.
Recycling goals we achieved in 2021
We sorted, reused, and recycled construction waste into several different waste groups, both onsite and off-site, with trusted external partners.
All our contractors and subcontractors are required to follow our ECoP, including monthly environmental reports on waste management and other environmental data for all new demolition and construction sites.
5. We support green commutes
Green commutes are essential to a business's sustainability practice. We make sure the users of our buildings can access emission-free transportation more easily, with charging stations, cyclist facilities, and e-car sharing capabilities that all exceed local market standards and regulations.
On top of that, we promote and enable bike sharing in all our buildings. Besides cycling, we also put effort into creating supportive walkable environments by building our projects in central urban areas. And there's always a good connection to public transport, too.
6. We embrace plant power
We want to be green inside and out – and this includes the plants used in our buildings. We're increasing the biodiversity around our projects. This plays a vital role in natural conservation in dense city environments.
Our biodiversity support is holistic. We plant resilient trees and introduce plants supporting local ecosystems and working as great air purifiers. These are selected by our very own landscape architects, who help design green areas across our projects.
We want to create the best possible environmental conditions by reinforcing pollinators and finding solutions to protect existing habitats. That's why, moving forward, each new project will have a qualified ecologist on board. They'll identify species to be protected and planted during both the construction and operational phases.
Striving for better
From the very beginning, we've approached building design and operation with responsibility at the front of our minds. We acknowledge the environmental impact that our business has and endeavour to minimise it as much as we can. We have almost a decade's experience in exceeding sustainability standards. During this time, we've built up a wealth of expertise that has enabled us to not only achieve – but exceed – our goals. And we'll keep striving to do more.
Of course, the workspace is a core part of sustainability strategies and net zero carbon goals of businesses across Europe, not just ours. Investing in an office that's responsibly managed is becoming increasingly important for both companies and their employees.
If you have questions when it comes to your business's sustainability strategy in the office, feel free to get in touch with our workspace experts.
---
Don't miss out on any of our resources. Sign up for our newsletter and we'll keep in touch:
"*" indicates required fields