How to master serendipity in office design
When Alexander Fleming discovered penicillin, it didn't come about through painstaking trial and error or years of lab work. It came by mistake. Fleming was known to be careless in the lab, and his discovery followed the accidental contamination of his samples. This unplanned breakthrough led to the creation of the most widely used antibiotic in the world.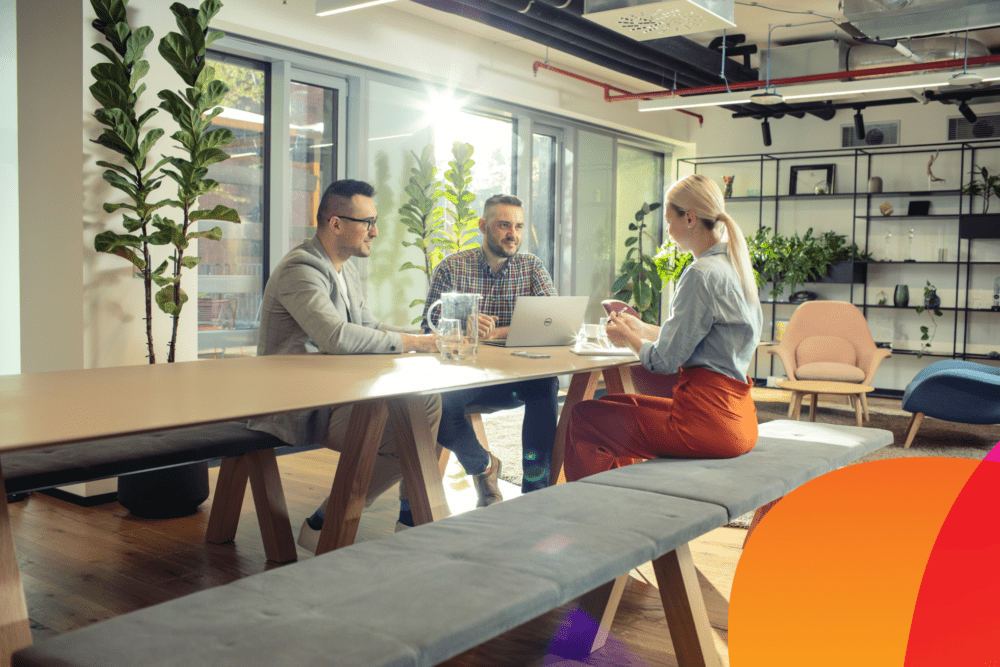 There's a lesson here: we don't have to fear the unexpected. In business, when looking to break new ground and encourage creativity, our reaction is often to plan and prepare. Whilst this is valuable, it can lead us to forego the benefits of the unplanned.
There's a name for it – serendipity.
Serendipity is the small conversations and interactions between employees that drive businesses forward. These aren't scheduled meetings but natural conversations that happen throughout the day.
How serendipity can boost your business
Whilst a quick chat in the hallway or bumping into someone at the coffee machine might seem unimportant, these random moments can be the key to sparking vital creativity and innovation. It can allow different departments to interact in ways they otherwise wouldn't, opening opportunities for new ideas. You may not have planned for a five-minute chat with a co-worker, but what if that conversation sparked a game-changing idea?
47% of people feel their connection to their team and company is the main thing they need to feel good at work. This positive office culture allows people to have the type of spontaneous conversations that can lead to innovation.
Serendipity, then, is something businesses should strive to achieve. But are these encounters simply chance, or can we plan this phenomenon? Is it possible for workspace design to support the odds of these random encounters?
Remote working hurdles
Remote working during the pandemic meant opportunities for chance encounters slipped away. When interactions shifted to structured and planned Zoom meetings, this left little room for spontaneous conversations. Moments that delivered great inspiration and innovation among co-workers were lost. Following this, a third of employees said not being able to collaborate as easily when working remotely was the main driver behind their drop in productivity.
Interacting through a screen means co-workers struggle to understand each other's moods and personalities, creating further roadblocks for innovation. According to our Wellbeing 2.0 whitepaper, 57% of people felt they lost a sense of connection with their colleagues through remote working.
Remote working also impacted the informal mentoring that naturally occurs in the office. 10-second interactions turned into long-winded email chains or Slack ping pong. Asking a simple question became a formal interaction. This meant that new starters missed out on the little tips that make assimilating just that bit easier.
Being in the office allows for easy communication to overcome minor issues or large tasks. And with smart office design, serendipity is something businesses can work to foster. But when it comes to hybrid working, how can businesses nurture chance encounters when employees may not always be in the office at the same time?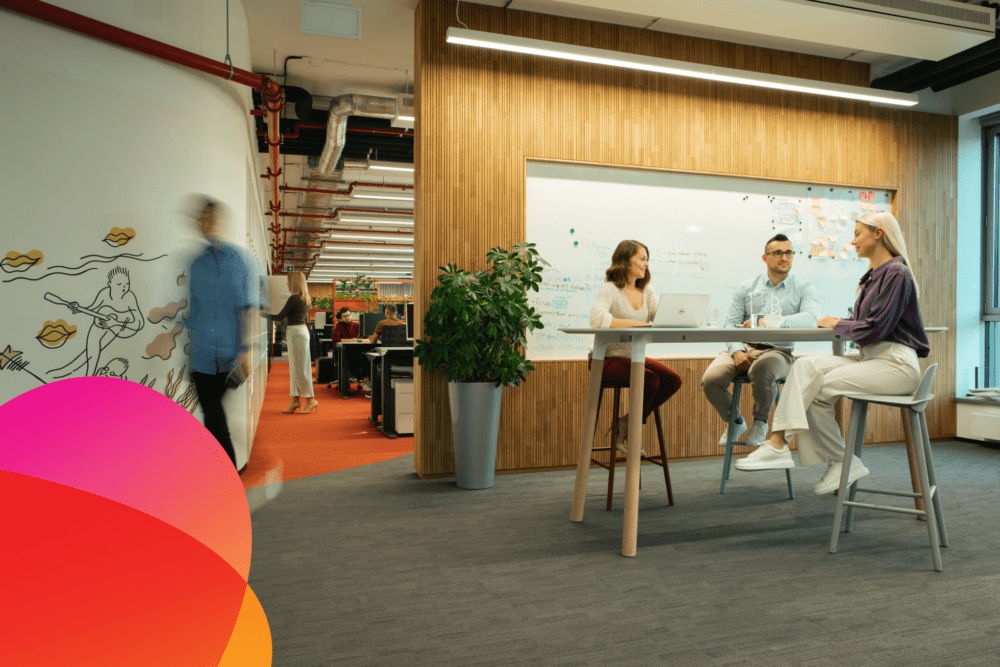 Designing opportunities
Businesses must make their office a modern destination for these small but vital interactions. Serendipity doesn't happen without in-person moments, and the destination office champions collaboration and creativity.
Yet the design changes to your office don't need to be drastic. Here are some simple opportunities to promote serendipity:
Removing walls opens the floor and connects departments that wouldn't usually interact. The unexpected conversations, as people from different areas share their ideas and opinions in the same space, lead to innovation.
Creating new common spaces gives employees room for chance encounters. A comfortable communal environment allows people to relax and have those chats that form new connections.
Using furnishings to your advantage, with sofas and shared desks to support conversations. This is the simple foundation for collaboration, reaching across the boundaries of a typical office.
Power to the people
In the end, serendipity is down to the people. Who employees sit and collaborate with can change daily depending on their needs – so put this power into their hands. A smart workspace feature such as desk booking can foster cross-departmental conversation, so employees can find themselves next to someone unexpected. And giving employees this choice has the power to bring about serendipitous moments.
Make these connections go further, especially when hybrid. Coworking spaces allow your employees to have these moments with other businesses and people from different sectors. It means your team can now grow and connect more broadly. 82% of people feel a coworking space has expanded their professional network.
Don't leave it to chance
Promoting serendipity is about designing with people in mind. It means giving employees the space to have human moments with their co-workers. And with the right workspace expertise, you can bring this to your business.
Our Origameo team can work with you to prioritise serendipity in your workspace. By working with you and your team to create the destination office, you can form spaces for employees to interact easily and develop new ideas.
Serendipity is both spontaneous and manageable. With a carefully designed workspace driven by data insights, this phenomenon can be harnessed, transforming the office into a hub for innovation, creativity, and collaboration. Don't miss out on these attainable and invaluable occurrences.
---
Don't miss out on any of our resources. Sign up for our newsletter and we'll keep in touch:
"*" indicates required fields