The strongest office developer brand in Europe? HB Reavis!
It is Wednesday evening, June 23rd, and we´re sitting in the Axica Centre in Berlin right next to Brandenburg Gate at the Real Estate Brand Award 2021 Gala. The real estate industry's strongest corporate brands are just about to be announced. Shortly after the presenters move on to the category of Developers Office, go through all the nominees and announce the winner, we make our way to the stage. We did it! HB Reavis is the strongest office developer brand in Europe.
Disruption met resilience and silver has been replaced with gold
The European Real Estate Brand Institute (further "Institute"), which organizes the Real Estate Brand Award, picked the headline "Disruption meets Resilience" for this year. They focused on the driving indicators of the industry – employer branding, ESG, resilience and digital marketing leadership.
Above all, resilience was the value that helped us make it through 2020. We did our best to innovate and upgrade our processes and services despite the ongoing pandemic. Among other things, we codified our responsible business principles and focused on the top trends in lead generation marketing. After our second-place finish last year, we are extremely humbled and pleased to see that the industry professionals who assess the brands competing for the award noticed our continuing efforts and awarded us the top prize this year.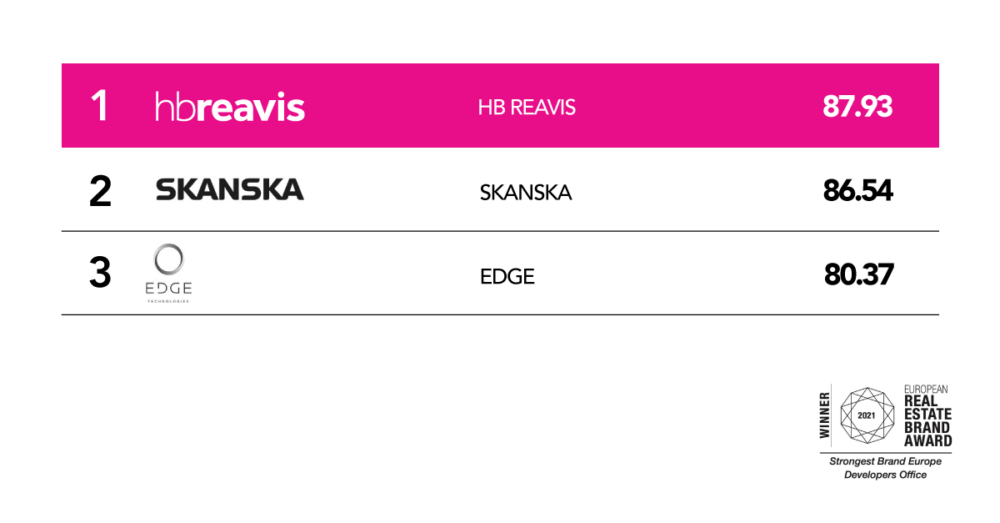 Workspace as a Service strategy helps us thrive
In contrast to awards that are presented by a jury, the European Real Estate Brand Institute team identifies the top brands in Europe based on the scientifically accredited REB Brand Potential Model that's based on extensive feedback collection between industry professionals. The Real Estate Brand Awards map the true positioning of companies in the competitive real estate market by collecting feedback from industry experts and final users.
Valid empirical data helps the Institute to decide how the nominees' brands are oriented strategically and their specific market differentiator. For us, the Workspace as a Service approach is what sets us apart and helps us deliver the most tailored office experience possible by combining the services of our 5 brands: Origameo, HubHub, Symbiosy, More and Qubes.
The award coming directly from the business leaders is an incredible honor and continues to push us to do even better.