The psychology of office design: Productivity, decision-making, and collaboration
The smallest things can create a psychological reaction. A rainy day can make us hungry, and the type of music we listen to can change our perception of the world. Our brains don't switch off; they constantly react to the world around us. And this doesn't change when it comes to the workspace. On average, people will spend a third of their lives at work, and now how they feel about their workspaces is more important than ever.
From the architecture to the office interior, it's now recognised that everything impacts how employees feel and make decisions. This is why more informal workspaces are growing in popularity – people want to enjoy the space they may spend a large chunk of their lives in, especially as we're starting to welcome more and more people back into the office.
But how can human psychology be affected by the working environment? And as today's cohort of office users has become more outspoken in their expectations, how should the workspace transform to support them?
Milestone moments
Creating a positive and encouraging space is key to creating a workspace where people want to be. The office should support landmark thinking and celebrate the achievements of those inside it. This is especially important for new starters, as strong onboarding increases employee productivity by 70% and can improve employee retention by 82%.
We onboard with pride. By inviting all new starters, regardless of seniority, to our office in Bratislava, we build a real sense of community. From meeting other team members, seeing the sights, and learning more about HB Reavis, our new starters across the world have spoken highly about the benefits of this in-person experience.  
So, where does office design step in? It's hard to form genuine connections with people in a space that feels rigid and formal. Creating informal social areas encourages a warm atmosphere, allowing these interactions to occur in a genuine and meaningful way. Make them an office they can't refuse, with connective spaces such as:
Soft furnishings like sofas or booths
Meeting rooms fit to accommodate big decisions
Relaxation areas where people can step away, have casual conversations, and celebrate achievements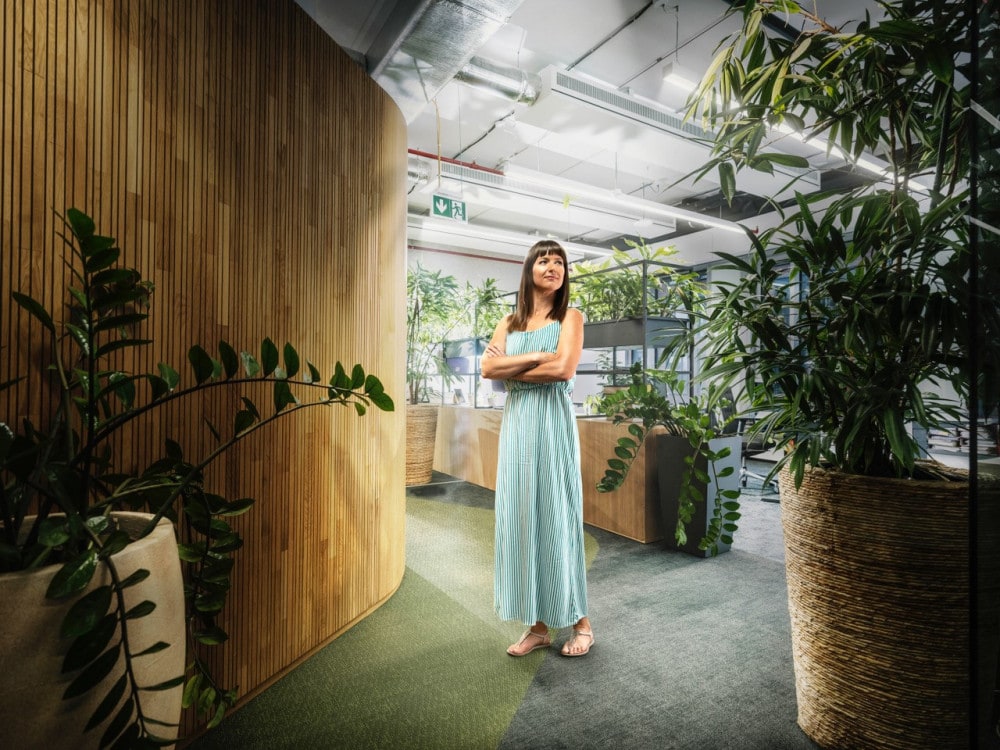 Structuring collaboration
One thing has become clear; people want their office to accommodate their needs and working styles, not the other way around. Yet from day to day, the number of people working in the office changes, as does how these people prefer to work. A good place to start is giving decision-making authority to your teams to set their office working practices together.
For this to work, smooth communication between relevant departments and the space to support each team in their activities is essential. For example, you could zone your workspace to create experience-driven spaces such as 'teamwork zones', 'meeting zones', and 'quiet zones'. This means that people can be in the right space needed for the right experiences.
A healthy workspace is a happy workspace
One of the most crucial aspects of the psychology of office design is the mental and physical wellbeing of those inside it. Since the pandemic, 54% of workers place more importance on their wellbeing. The workspace should not only promote mental and physical health but actively aim to support and improve it.
There are several pillars of healthy workspace design:
Air – Poor air quality can cause decision-making abilities to decline and work days to be lost. Ensure ventilation channels natural air into the space.
Light – 80% of workers say having good lighting in their workspace is important. Natural light is a priority, while artificial lighting should not be harsh or produce glare.
Active design –The workspace can introduce the benefits of exercising in the workday by providing exercise equipment or supporting an active commute.
Mind – Our minds all work in different ways at different paces. Different types of spaces within the office let people find the place that suits their working style, whether in the middle of the action or in a quiet corner. 
Comfort – Being happy at work is hard if you aren't comfortable. Ergonomic and adjustable furniture gives people the comfort of home in the workspace.  
These concepts come from the WELL Building Standard, which we design and build our projects to meet.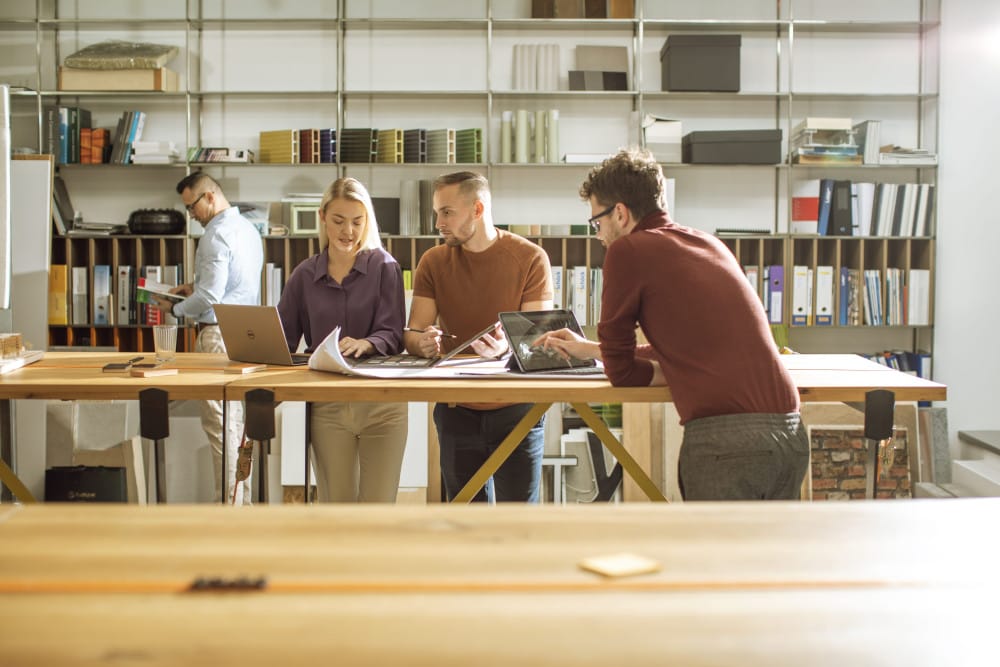 Office design – it's a brain game
The workspace forms an important part of people's lives, so it makes sense to tailor it to have a positive psychological effect. A space that makes people happy and meets their needs is a space they want to be and work in. Who wouldn't work better in an office created just for them? Increasing productivity by just 1% means the value generated per employee can increase by €50-200 per month, and a well-designed office can increase productivity by 20%. Not only does this mean an improved sense of company culture and wellbeing, but an actual increase in revenue.
The benefits to an office that responds to its people are vast, and the continued popularity of the workspace demonstrates how effective office design can be. With the number of people returning to the office increasing, gaining this productivity increase is even more important.
Want to know more about how your workspace could boost productivity? Get in touch with our workspace experts!
---
Don't miss out on any of our resources. Sign up for our newsletter and we'll keep in touch:
"*" indicates required fields